Luxury Home Plans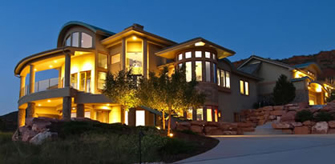 All of our luxury home plans were designed by architects for their clients, and since all have been built, we display photos of the exteriors and interiors.
Our portfolio of unique luxury home plans is expanding rapidly. The luxury homes on the site span many styles (from traditional to contemporary); and sizes (from modest to mansions). Like the rest of our plans, our luxury floor plans are extremely detailed and complete, enabling your builder to construct the house exactly as it was designed.
We are fortunate to have good photos of nearly all of the homes constructed from our luxury home plans, which we know is of great help to our customers. Luxury homes often have beautiful detailing that can be hard to see from a computer-generated image.
Common Characteristics of Luxury Home Floor Plans:
Typically, but not always, quite large
Can be one or two stories, of any style
The foyer is typically large and grand, as are the rooms
Nearly always have a formal dining room
Usually has lots of expansive windows
Feature tall and vaulted ceilings, at least on the main level
Master suites are usually quite striking and spacious, and include a huge bedroom with a commanding view and a fireplace, walk-in closets the size of small rooms, and a luxurious bath area
Typically have a large kitchen with all the most current appliances
Great lighting and sound throughout the house
Great attention is paid to the detailing, inside and out
Styles
Types
Other
Helpful Links
Click a name or photo below for additional details.