Lake House Plans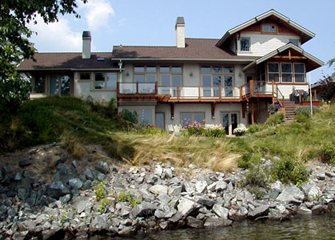 Our collection of lake house plans include many different styles and types of homes, ranging from cabins to large luxury homes. But they all have one thing in common – tons of glass on the side facing the water.
While most homes built from lakefront house plans have a view to the rear, this is not always the case with our homes. They invariably have decks (open and/or covered), and frequently also have screened porches. And all of these outdoor spaces can be accessed from both inside and outside of the house.
Because lakeside lots often slope toward the water, it's common for lake homes to be designed to have walk-out lower levels. This is true for both one-story and two-story homes. However, not all lakefront lots have a sufficient slope (or no slope at all) for this type of foundation. In any case, if you find the perfect lake house plans, basements can always be added or removed to suit your needs.
Styles
Types
Other
Helpful Links
Click a name or photo below for additional details.