Bungalow House Plans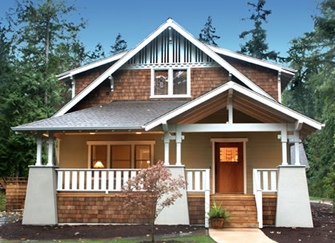 Our bungalow house plans come in a variety of shapes, sizes and styles. Homes built from bungalow plans tend to be fairly small, and have a cottage-like look and feel to them. In fact, they're often referred to as cottage bungalows.
The floor plans are typically configured within a fairly narrow envelope, but this is not always the case. Houses built from bungalow home plans can be found on beaches, in urban infill lots, and in many older neighborhoods. We hope you'll be pleased by our selection of bungalow designs!
Common Characteristics of Bungalow Style House Plans:
Can be one, one-and-a-half, and two story homes
Typically have a low-slung roof, which can also be flared
Normally fairly simple homes, and thus less costly to build
Sometimes have wide porches, often with tapered square columns
Often fit on narrow lots
Styles
Types
Other
Helpful Links
Click a name or photo below for additional details.