Cabin Floor Plans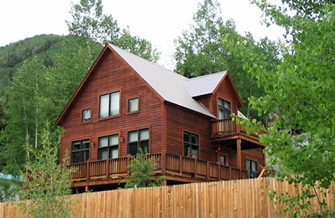 Our cabin floor plans are just as complete and detailed as our plans for larger homes. Cabins are typically fairly small, but this is not always the case. Our small cabin floor plans start at just 636 square feet, while our largest designs are for homes over 3,000 sf.
Cabins usually have a rustic look and feel. They tend to be used as vacation homes, but lots of our cabin house plans were designed for year-round living. And of course they can have one or two stories, and sometimes they have a basement level. Lofts are quite popular as well.
Common Characteristics of Cabin Floor Plans:
Nearly always built in nature, and often by water or mountains
Tend to have a small foot print
Often serves as a get-away vacation home
Typically appeal to folks who want a rustic, outdoorsy look
Often simple and inexpensive to construct
Most often not lived in year-round
Easy access to – and views of — the outdoors
Rarely fancy, nor does it try to make a statement
Very efficient floor layout
Often have fireplaces or wood-burning stoves
Styles
Types
Other
Helpful Links
Click a name or photo below for additional details.