Beach House Floor Plans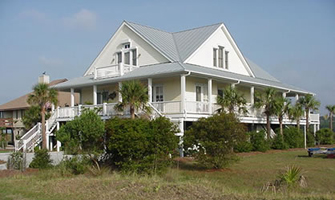 Our collection of beach house floor plans is small but growing. The designs range in type from beach bungalows and cottages to seaside estates, and in style from Cape Cod to Southern California. Most beach homes are designed to have either the front or the rear facing the waves, but some of our plans for beachfront homes provide views in all directions. They almost invariably feature outdoor spaces facing the water — like porches (screened or open) and decks (covered or exposed). They can be constructed just off the beach, or on the sand itself.
Whether one story or two, the side of the house facing the waves is nearly always filled with glass, including picture windows, transoms, and sliding doors. Ideally, both the living and sleeping areas are able to enjoy the view.
Common Characteristics of Beach House Floor Plans:
Often designed with foundations that raise the main level above the waves
Typically feature wrap around porches and/or decks
Range from simple cottages to large multi-level vacation homes
Styles
Types
Other
Helpful Links
Click a name or photo below for additional details.