Adobe House Plans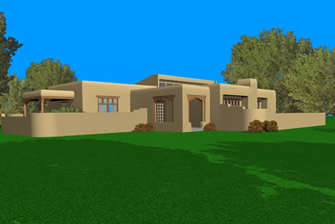 Our adobe house plans were designed by architects working in the Southwest, but they are popular in many other regions of the country. These adobe-style floor plans are unique and distinctive, and the thick walls allow for unusual design elements inside the home.
Common Characteristics of Adobe House Plans:
Most often seen in the Southwest
Typically has a flat roof, but it might have a slight slope
Often referred to as Santa Fe or Pueblo Style
The flat roof usually has a parapet around it
Thick outer walls, constructed with real adobe blocks or concrete blocks
Because of the thickness of the walls, the windows are often smaller and recessed
Ceilings often feature exposed beams
Styles
Types
Other
Helpful Links
Click a name or photo below for additional details.