Craftsman House Plans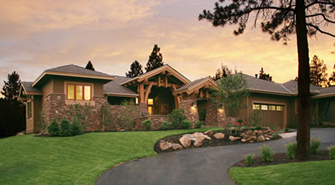 We have an incredible selection of Craftsman house plans to choose from. These homes – often but not always cottages and bungalows – represent a true American style, but truth be known, they're equally popular in Canada. Craftsman homes are easy to spot, with their unique rooflines and all the wood detailing under the gables.
Most homes constructed from Craftsman-style plans have one of four types of roofs – front-gabled, cross-gabled, side-gabled, and (occasionally) hipped. While originally designed more often than not as one story houses, today's Craftsman home designs are usually for two-story homes.
Our Craftsman floor plans have been used to construct beautiful homes all over the U.S. and Canada. Hopefully you'll find the perfect Arts & Crafts-style home in this section of our site.
Common Characteristics of Craftsman House Plans:
Generally have a rather rustic look and feel, with shingles on the exterior
Typically have wide, unenclosed eave overhangs
Have decorative braces or beams under the gables
Often have full or partial porches, with the roof supported by square or tapered columns
Windows tend to be grouped, and not particularly large
Typically have interiors with lots of wood detailing
Sometimes feature exposed roof rafters and beams
Styles
Types
Other
Helpful Links
Click a name or photo below for additional details.