Garage Apartment Plans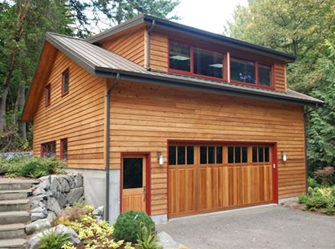 Like a carriage house, our garage apartment plans usually include fully designed living space on the upper level. Sometimes, however, the space is intentionally open and undeveloped, allowing you to organize it the way you wish, as either work or living space.
Garage apartment floor plans resemble those for a typical studio or one-bedroom apartment, with space for bathing, cooking, sleeping, eating, and relaxing. The stairs from the garage level can be either internal or external.
Common Characteristics of a Garage With an Apartment:
Typically have space for 2 cars, and occasionally 3
The upper level designs range from undeveloped space to a full and functional apartment
Sometimes the living space is designed for office space, or a studio
In almost all cases, the upper level space can be rearranged to suit your specific needs
Click a name or photo below for additional details.