Green House Plans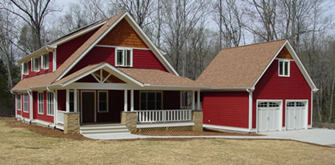 All of our green house plans were drawn by architects and designers who identify themselves as "green", and many of their clients hired them for this very reason. Because we work with so many architects who identify themselves and their practices as "green" – 21 of them so far, and their ranks are growing! – we have quite a selection of green house plans in our portfolio.
The U.S. Green Building Council defines a green home as one that "…uses less energy, water and natural resources, creates less waste, and is healthier for the people living inside compared to a standard home."
Most of these homes are energy efficient; many are passive solar; and all call for the use of green materials and finishes both inside and out. Sometimes the exterior walls are alternatives to standard "stud" construction, including (but not limited to) straw bale, ICFs (insulated concrete forms), SIPs (structural insulated panels), and Rastra.
Styles
Types
Other
Helpful Links
Click a name or photo below for additional details.