Small House Plans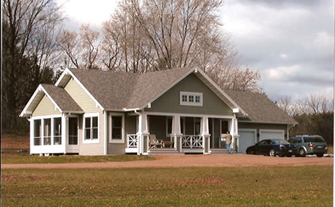 Our small house plans are for folks wishing to build a home with less than 1800 square feet of living space above ground. Our plans for smaller homes are just as complete and detailed as the ones we offer for much larger ones.
Not everyone wants or needs to build a large house. Small home plans are quite popular, particularly amongst folks looking to downsize. Many of the architects and designers we work with specialize in creating floor plans for small homes and cabins.
Good design always incorporates space efficiency, so building a house using small house floor plans created by a top-notch architect will often provide as much functional living space as a larger home that's not as efficiently designed. For a more complete understanding of the importance of space efficient design and its impact on your overall cost to build, please go to FAQ
Common Characteristics of Small House Plans:
Independent of architectural style
Frequently cottage or bungalow style
Often defined as below 1800 square feet
Square footage excludes basement
Space efficient layout
Typically with open floor plan
Less expensive to build
Fits on small or narrow lots
Styles
Types
Other
Helpful Links
Click a name or photo below for additional details.