Farmhouse Plans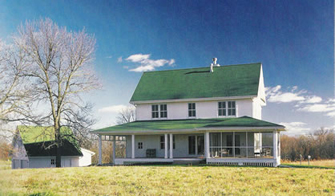 Our farmhouse plans have been used by our customers to build homes in many different rural settings, not just on farms. Farmhouse house plans (or farm house plans, as many people prefer to spell it) are popular all over the U.S., and can be built to be suitable in just about any climate.
Farmhouse floor plans have changed over the years to adjust to more contemporary and open uses of space, particularly in the common areas of the house. Most of our farmhouse-style plans were designed by architects who either grew up in rural areas, or moved there to enjoy a quieter and more peaceful life.
Common Characteristics of Farmhouse Plans:
Often have clapboard siding on the exterior
Usually features a wide porch at the front of the house
Simple roof structure, often with gables
Typically rectangular in shape
Composed of basic shapes to allow for expansion
Gable ends, soffits and porch columns can be simple or highly detailed
Typically built on larger pieces of property
Right-angled outer walls and 45-degree roof pitches make them easy to frame
Often accompanied by out buildings, including barns and garages
Styles
Types
Other
Helpful Links
Click a name or photo below for additional details.
What follows are excerpts from "The Farmhouse", written by Jean Rehkamp Larson, and published by Taunton Press in 2004. Taunton Press
Introduction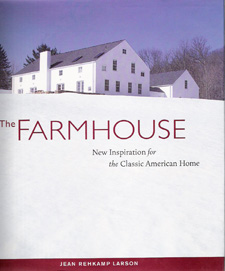 In practical terms, the simple, hearty form of the style is highly adaptable. A farmhouse can easily be expanded because the basic shapes make it easy to add porches, sheds, and wings. These houses can also be dressed up or dressed down, depending on what you expect from a home; the gable ends, soffits, and porch columns can be left austere or filled with texture, trim, and detail.
An American Icon
I'm happy to say that the farmhouse, after years of decline, is making a comeback. Even though fewer people now farm to make a living, the style endures because we have come to see it as a classic symbol of home – an unforgettable feature of the American landscape. Many of us continue to carry around the image of a bucolic white house glimpsed on a hill from a favorite country road. And the familiar elements of the style – a …. More