Narrow Lot House Plans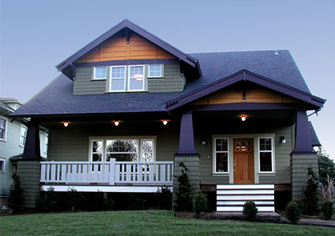 Our narrow lot house plans are for homes that are less than 50 feet wide, with most of them being no more than 40' across. With rising land costs, fewer large lots available in or near urban areas, and more and more empty nesters among the Baby Boomers, narrow lot plans have become increasingly popular.
The architect's challenge is to design a home for a narrow lot that has enough space to satisfy the needs of their client. Thus the architects who designed the homes in this section needed to create plans with great space efficiency, using both their experience and their creativity. And as you'll see, sometimes restrictions like these produce amazingly attractive homes!
Narrow lot plans are also ideal for high-density zoning areas that typically have houses built closer together.
Common Characteristics of Narrow Lot House Plans:
Usually 40' or less across, but may be up to 50'
Most often two story, because of the narrow footprint
Tend to be deeper than other homes
Often in an Arts & Crafts style, but can be any style or type
Typically built in and around urban areas
Sometimes built on narrow parcels around lakes
Often described as cottages or bungalows
Click a name or photo below for additional details.