Cape Cod House Plans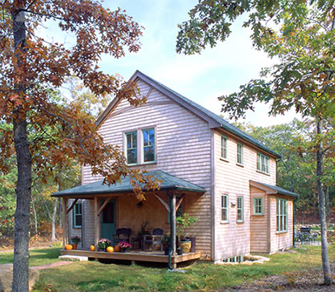 Our Cape Cod house plans have been purchased by people from all over the country, not just in the Northeast. These are people who search for Cape Cod floor plans because they love the look and feel. Construction of these homes boomed after World War II, partly because of the simplicity of the design and the ease to build. Our Cape Cod-inspired house plans, while not exact duplicates of the original style, are nonetheless inspired by the original designs.
Common Characteristics of Cape Cod House Plans:
Often feature clapboard or shingle siding
Typically one-and-a-half story homes
Usually have a steep pitched roof with end gables
Often simple, with little ornamentation
The front is usually symmetrical
Designed to blend in with the environment, with natural colors and materials
Often has the master bedroom on the main level and the kids bedrooms upstairs
Rarely have front porches, but often have screened in porches on one side
The front door is often painted in a distinct color, can be intricately carved, and bear an ornament or wreath
Styles
Types
Other
Helpful Links
Click a name or photo below for additional details.