French Country House Plans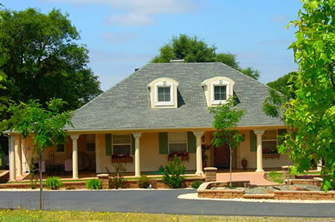 Homes built from French Country house plans usually have an asymmetrical facade, and steeply pitched roofs facing front and rear. Hipped roofs are common as well. Many of our French Country-style homes feature doors and windows beneath arched or rounded openings, and eaves that flare at the junction of the roof and the outer walls.
Many homes built from French Country house plans have brick, stone or stucco on the exterior walls, and sometimes a combination of all three. Multiple roof elements provide a beautiful and unique outline when viewed from any direction. Undulating rooflines can give the house a medieval look
Often inspired by manor homes in the French countryside, these plans (sometimes referred to as Acadian house plans) are used to construct homes that are elegant but easy to live in. French country home designs often feature exposed wood beams, stone floors, and plaster walls inside.
Styles
Types
Other
Helpful Links
Click a name or photo below for additional details.