Lakeview Court Hillside House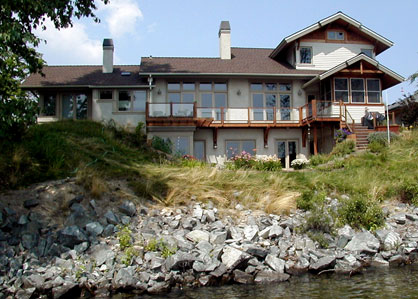 Specifications
Square Footage
Total Above-ground living area
2716
Main Level
2058
Upper Level
658
Lower level living area
1446
Footprint

The dimensions shown are for the house only (indicating the smallest area needed to build). They do not include the garage, porches, or decks, unless they are an integral part of the design.

76.083 W x 32.083 D
Rooms
| | |
| --- | --- |
| Above-ground bedrooms | 2 |
| Above-ground bathrooms | 2.5 |
| Master suite | Main |
| Lower-level bedrooms | 2 |
| Lower-level bathrooms | 1 |
Attributes
Stories
2
Parking
garage
Number of stalls
3
House height

Traditionally, the overall height of a house is determined by measuring from the top of the finished floor on the main level, to the highest peak of the roof.

23.5
Ceiling heights

Raising or lowering the height of the ceilings on one or more floors of a house is often a simple change that can be made by your builder. However, if you want to raise the ceiling of the main floor of a two-story home, there has to be room to add steps to the existing staircase.

Main level
8.667
Upper level
8
Vaulted ceilings

We consider a room to be vaulted if the ceiling - whether flat, angled, or curved - is above 10 feet at its highest point. If you prefer that one or more rooms not be vaulted in your new home, this is a very simple change that your builder can make for you.

KEY TO SYMBOLS:

LR = Living Room/Great Room
DR = Dining Room
FAM = Family Room
FOY = Foyer
STU = Study/Library/Den
KIT = Kitchen
SUN = Sunroom
MBR = Master Bedroom
MB = Master Bath
LOF = Loft
OFF = Office/Guest Room
REC = Recreation/Game Room
ALL = Entire Level

LR, DR, FOY, MBR
Printer Friendly Version
Main Level Floor Plans For Lakeview Court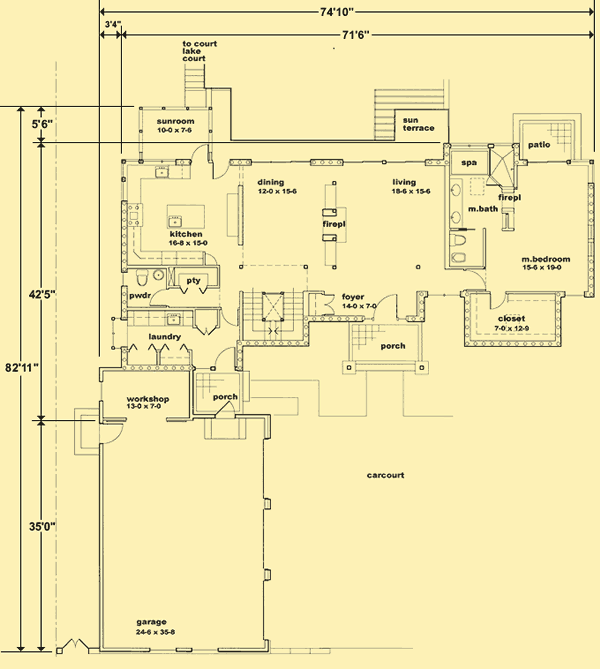 Upper Level Floor Plans For Lakeview Court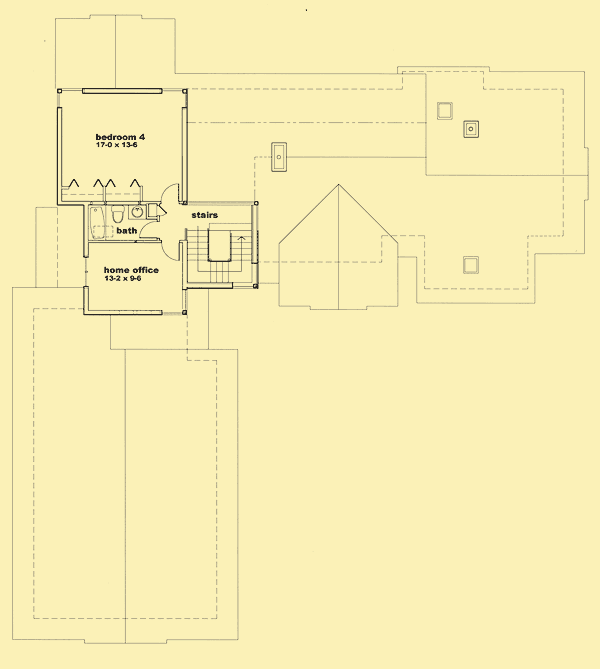 Floor Plans 1 For Lakeview Court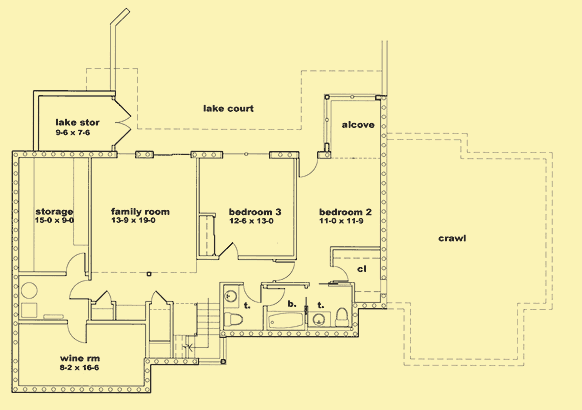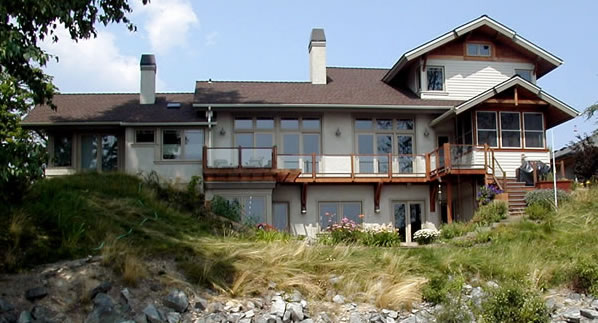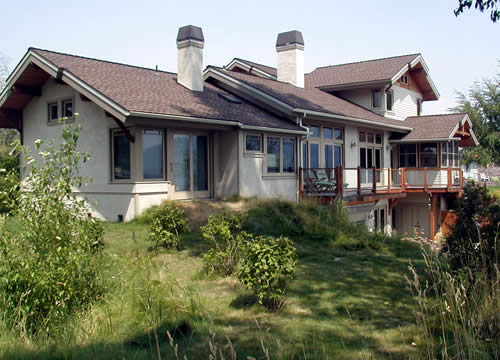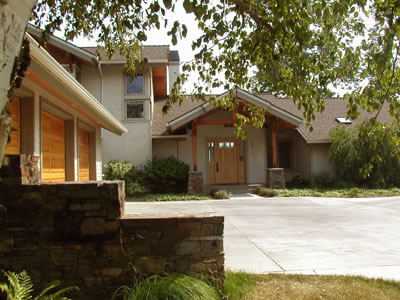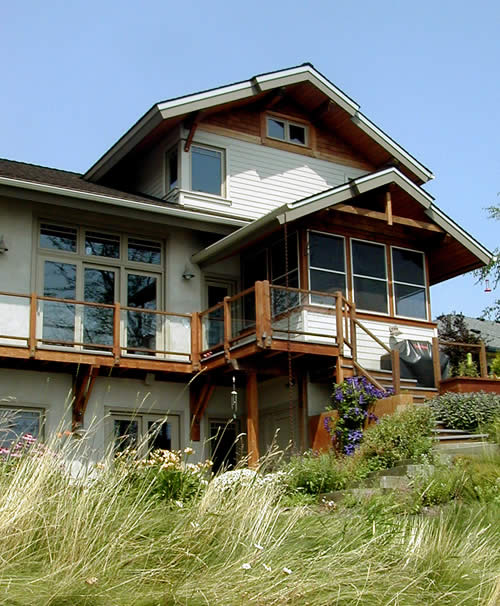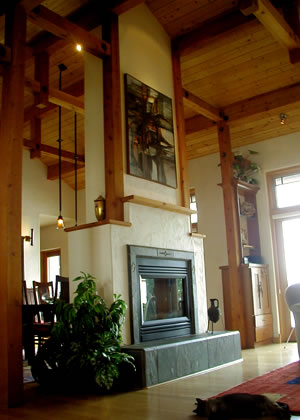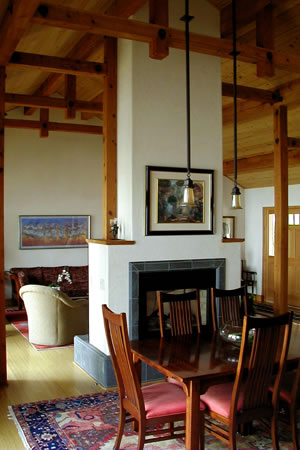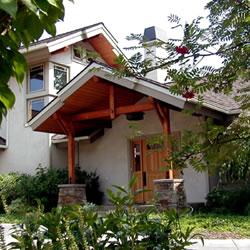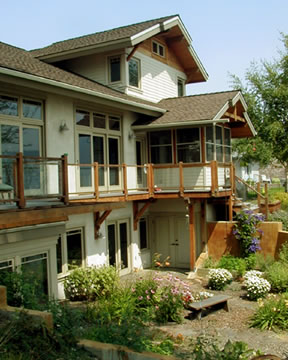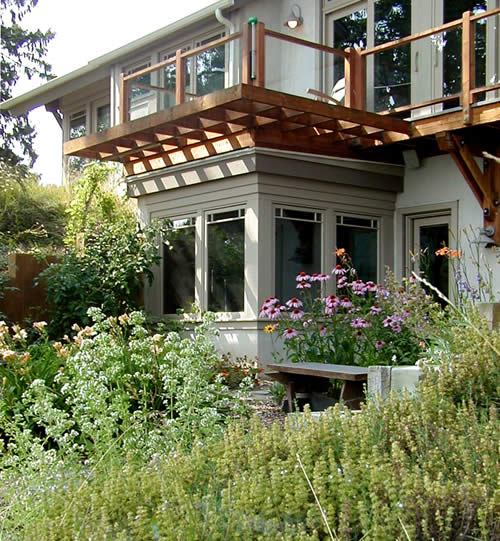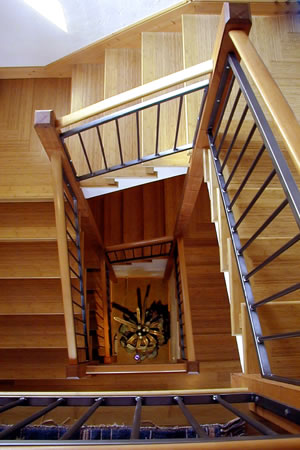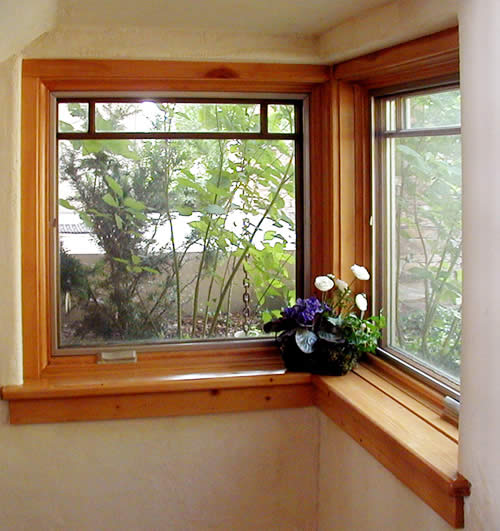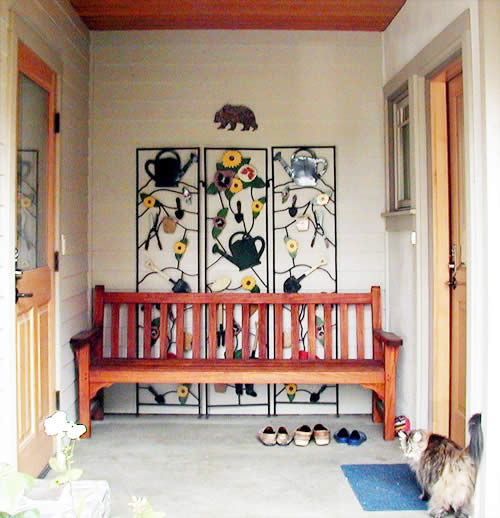 Lakeview Court was originally built as a passive solar lakeside home, and was naturally framed by spacious views of the surrounding lake and mountain. It was designed to be situated on a common sized 100–foot urban lot with 5 foot setbacks. The post–and–beam north side entry is recessed from the street with a landscaped car court, creating a spacious and private entry. All the rooms of this home open onto or provide direct views of a private southern court and terrace, and also overlook the rearward view.
Comprising a total of more than 4,100 square feet (if the lower level is built), this design creates separate living spaces within the home, separates the garage and the living space, and provides private exterior living spaces.
The plan consists of three levels: The lower family level includes a media room opening to the court, two bedrooms, and abundant storage. The main level encloses the living spaces and the master suite. And the versatile upper level is designed for two home offices, one bedroom and one office, or two bedrooms.
A small covered porch leads to the foyer that vaults from 8′ at the door to 12′ as you enter the living areas. The ceiling in the living and dining areas vaults to a dramatic 15′, and they are lined with glazed sliding doors facing the view at the rear of the house. An optional two–sided fireplace faces both areas. A large open kitchen is located next to the dining area. It features an island with a sink, a tremendous amount of counter space, and great views. A door leads to a cozy sunroom at the rear of the house. Off the kitchen there's a large pantry, a powder room, and a full size laundry room. A small porch leads to the 3–car garage that has a workshop space built in.
The master suite is located on the other side of the house. The ceiling in the master bedroom vaults to 14′, and in the bath area to 11′ (with a venting skylight). The bedroom accesses a private patio at the rear, another optional two–sided fireplace between it and the bath, and a very large walk–in closet. The bathroom has a spa tub with a view, a large step–in shower, two sinks, and a private toilet and bidet.
Stairs next to the foyer lead up to a bedroom with a full bath and a home office, and down to the walkout lower level. This area includes two bedrooms that share an unusually designed bathroom with separate toilet and sink areas and a shared bath. Bedroom 2 also features a large walk–in closet and an alcove framed by windows. Also located on this level is a good sized family room, a wine room, a mechanical room, and both indoor and outdoor storage. All the living areas face and walk out to a courtyard.
Since this was designed for the original homeowner as a "green" home, the house interior is finished with tinted gypsum plaster, recycled timbers, forged steel railings, wood ceilings and trim, and natural, durable, healthy finishes. The construction is extremely durable, low maintenance, energy efficient and sustainable, including materials such as Rastra recycled–foam concrete walls, structural insulated roof panels, reused wood timbers, and cement stucco and cement siding exterior. However, more conventional materials and wall systems could of course be employed.
High windows in gabled ceiling rooms and a three–level open stairway provide for natural summer ventilation throughout the house as well as effecting a visual connection to all levels. Corner windows are used to increase the view cone in all directions. All told, this carefully designed, naturally finished and spacious home is ideal for an urban or lakeside landscape.
Although this home was designed with ICF and SIPs construction, it can be easily changed to standard stud construction by your builder or design professional. Be sure to confirm this with your builder prior to purchasing the plans.
Printer Friendly Version
Front Elevation For Lakeview Court

Rear Elevation For Lakeview Court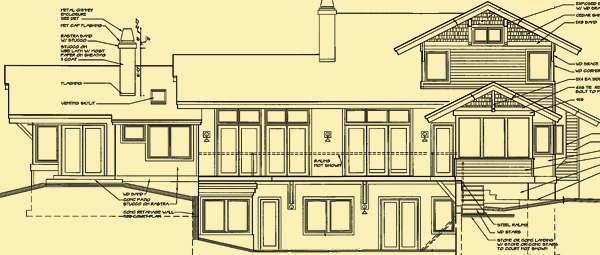 Side 1 Elevation For Lakeview Court

Side 2 Elevation For Lakeview Court

Brief Description
This two–bedroom home expands to four bedrooms if you build the lower level. The original home was built next to a lake, with a sloping lot that allowed for a walk out basement. The living and dining areas are separated by an (optional) two–sided fireplace, and the ceiling above these two rooms vaults to 15'. This house provides tremendous views to the rear.