Simple Orchard View House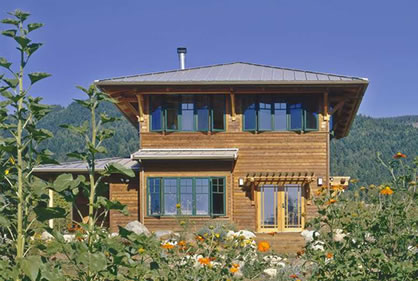 Specifications
Square Footage
Total Above-ground living area
1597
Main Level
1021
Upper Level
576
Lower level living area
Footprint

The dimensions shown are for the house only (indicating the smallest area needed to build). They do not include the garage, porches, or decks, unless they are an integral part of the design.

36 W x 36 D
Rooms
| | |
| --- | --- |
| Above-ground bedrooms | 3 |
| Above-ground bathrooms | 2 |
| Master suite | Main |
| Lower-level bedrooms | 0 |
| Lower-level bathrooms | 0 |
Attributes
Stories
2
Parking
garage
Number of stalls
1
House height

Traditionally, the overall height of a house is determined by measuring from the top of the finished floor on the main level, to the highest peak of the roof.

25.25
Ceiling heights

Raising or lowering the height of the ceilings on one or more floors of a house is often a simple change that can be made by your builder. However, if you want to raise the ceiling of the main floor of a two-story home, there has to be room to add steps to the existing staircase.

Main level
9
Upper level
9
Vaulted ceilings

We consider a room to be vaulted if the ceiling - whether flat, angled, or curved - is above 10 feet at its highest point. If you prefer that one or more rooms not be vaulted in your new home, this is a very simple change that your builder can make for you.

KEY TO SYMBOLS:

LR = Living Room/Great Room
DR = Dining Room
FAM = Family Room
FOY = Foyer
STU = Study/Library/Den
KIT = Kitchen
SUN = Sunroom
MBR = Master Bedroom
MB = Master Bath
LOF = Loft
OFF = Office/Guest Room
REC = Recreation/Game Room
ALL = Entire Level

BR2. BR3
Printer Friendly Version
Main Level Floor Plans For Orchard House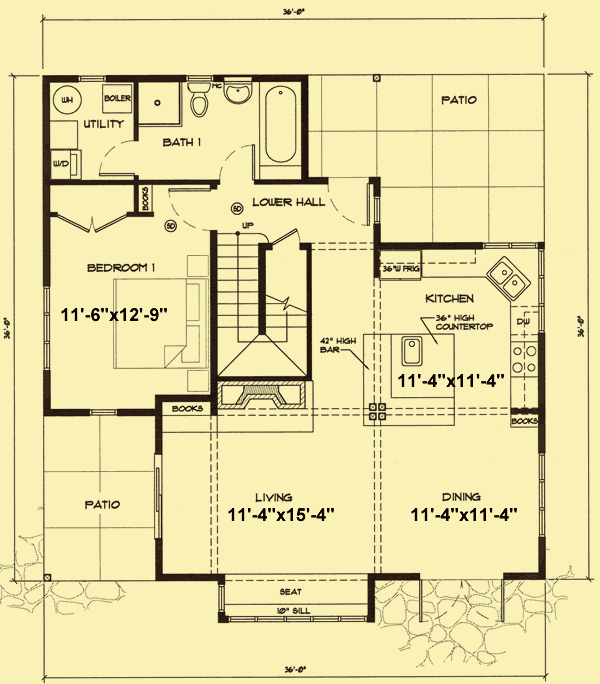 Upper Level Floor Plans For Orchard House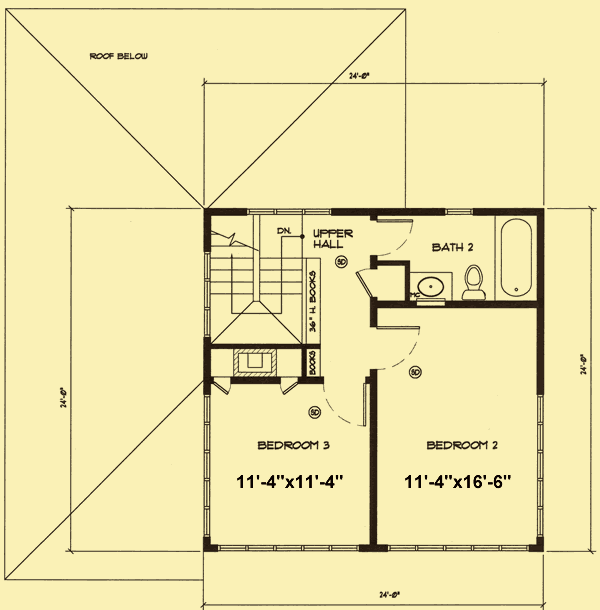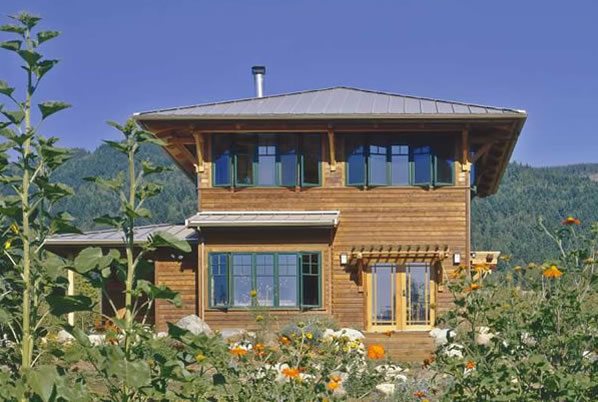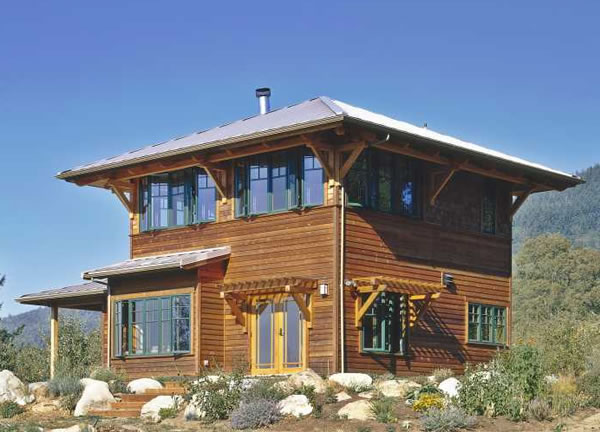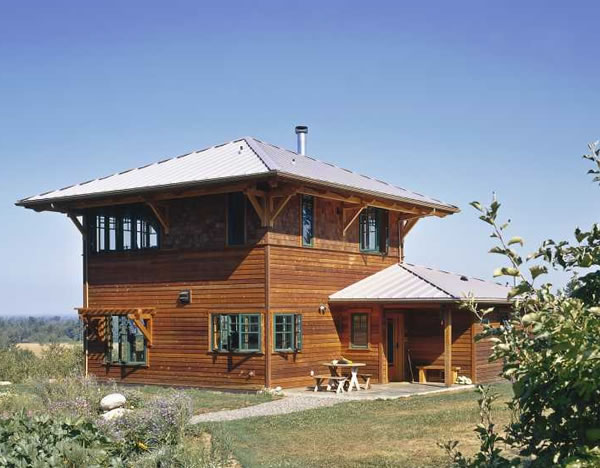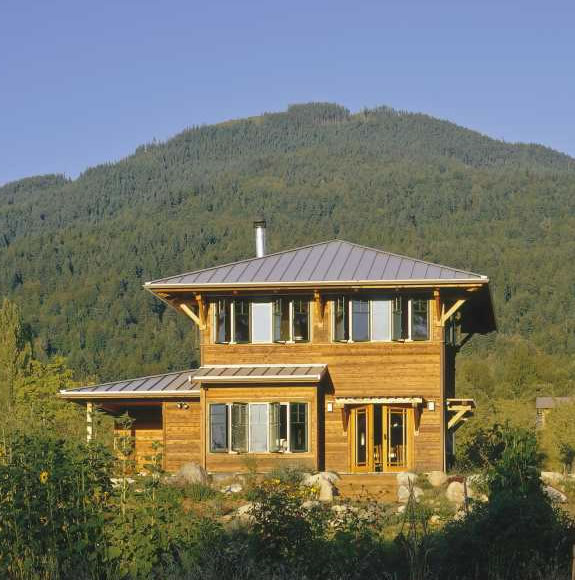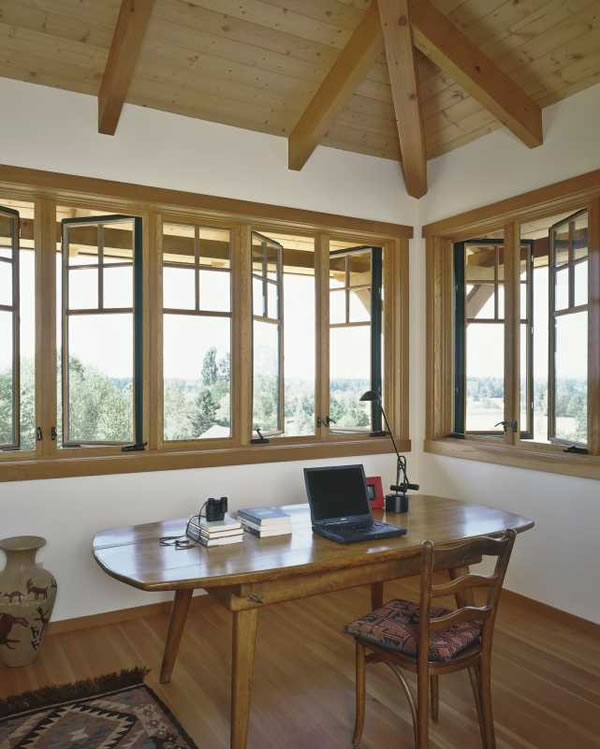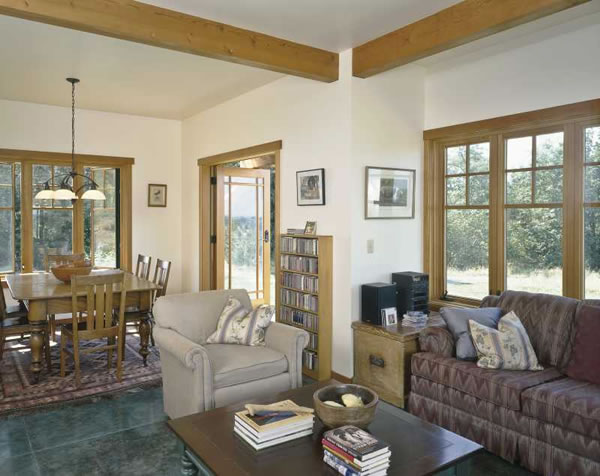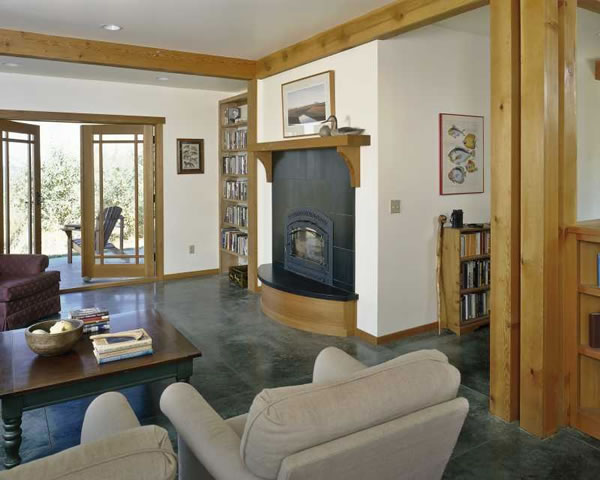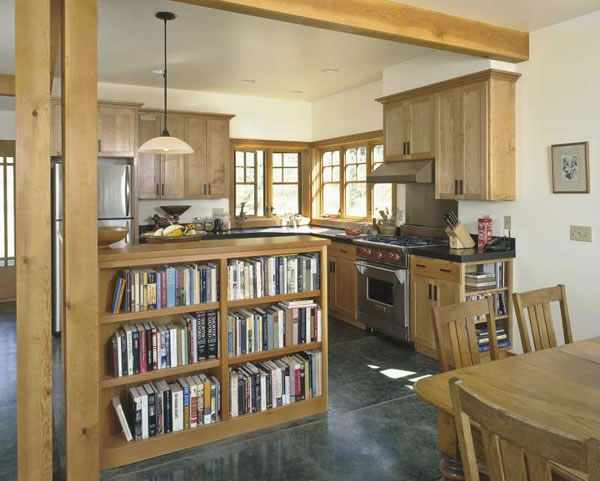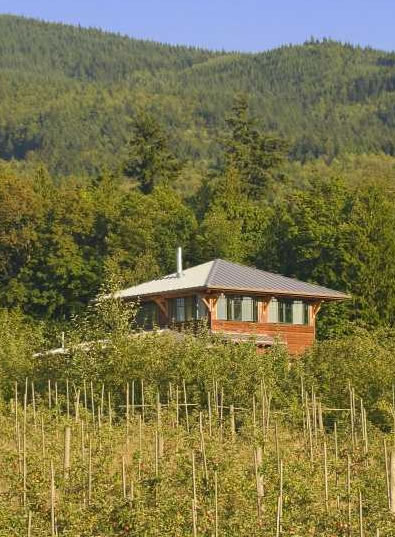 This home is a testament to the belief that size and budget are not limiting factors for good design, and that a home can be both satisfying and beautiful as long as it responds to its site, and to the owner's lifestyle and budget. Small can be beautiful, as this house clearly demonstrates.
The owners of this home approached the architect to build a small house on a gorgeous site in the midst of an old yet still productive apple orchard. They requested a simple, elegant, light–filled house with an open floor plan that accommodated three bedrooms, two of which would be used primarily as home offices. The original site was located on a west–facing slope in an existing clearing of the orchard, and provided views of the Canadian Cascades and the farmlands of the Nooksack river valley in Washington.
In order to meet the budget while constructing a house of high quality, the overriding goal was to minimize square footage. A simple 36'x 36′ square footprint broken into a 4 x 4 foot grid was used to control the overall size and provide a tool for guiding the proportions of the house. But even with its compact footprint, the house feels spacious because it generously opens to the outdoors from every room.
There are three different door openings on the main floor, so the main entrance can vary, depending on your preference and how you orient the house on your site. On the ground floor the architect carved out the original southeast and northwest corners of the property to provide both morning and afternoon patios for outdoor dining and enjoying the landscape. The living areas are open to each other, with exposed wood posts and beams that help differentiate the spaces. The abundance of windows and glazed doors in the open living areas – including a bay window in the living room – provide multiple views, and create a light–filled environment. Built–in storage was incorporated throughout the house – in the stairs, fireplace wall, kitchen island, and window seats. At less than 1600 square feet you can see no space has been wasted! A lower hall leads to a full bath that accesses a utility room, and a bedroom.
The upper hall landing has room for additional bookcases next to the stairwell. There is a full bath that is shared by the two upper bedrooms that have ceilings that vault from about 9'6″ at the window wall to a height of 13′. Both bedrooms have windows along two walls to bring in lots of natural light and views.
This plan set also includes a drawing for a detached single–car garage that has a covered carport/workshop area. The garage is filled with natural light, with windows on two walls, and glazing in the door itself.
Construction Info
Although this home was designed with a S.I.P. (Structurally Insulated Panel) roof system, it can be changed to standard frame construction by your builder or design professional.
Printer Friendly Version
Front Elevation For Orchard House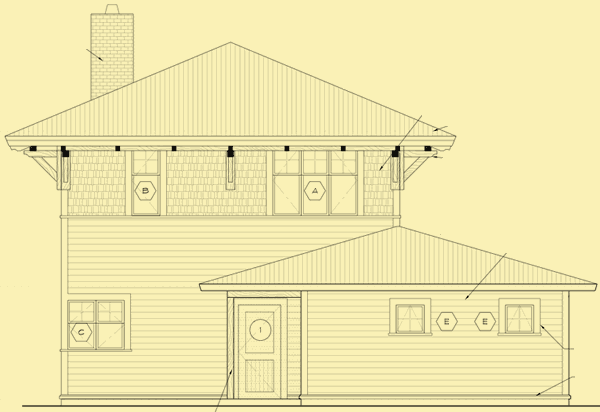 Rear Elevation For Orchard House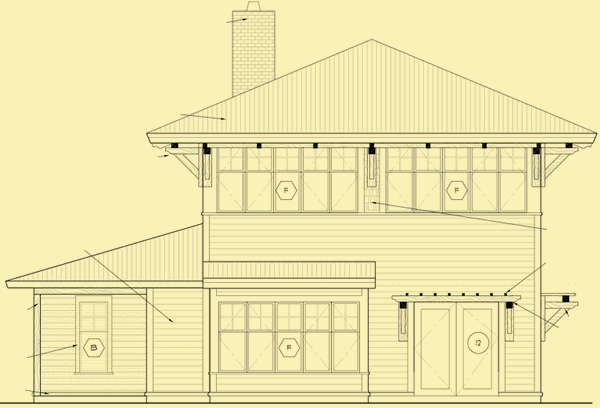 Side 1 Elevation For Orchard House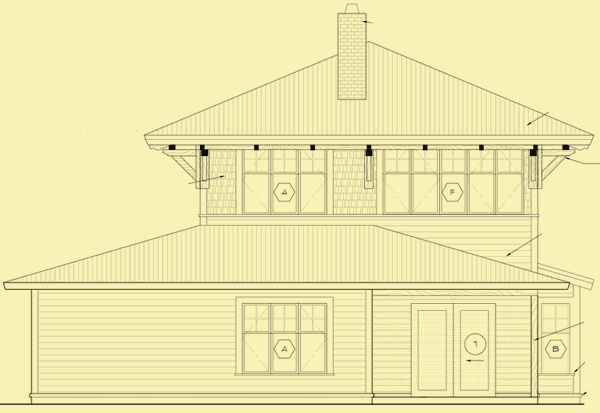 Side 2 Elevation For Orchard House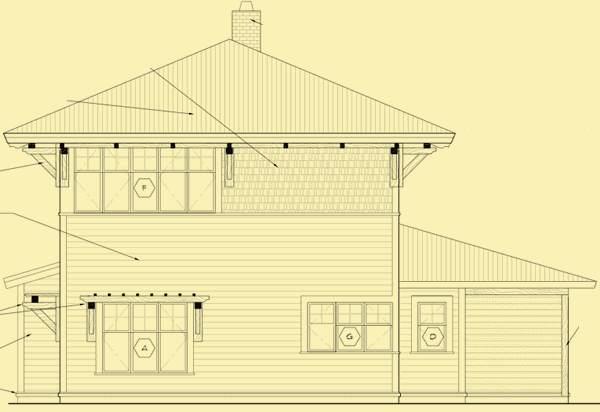 Brief Description
This unique 3–bedroom home is not only eye–catching – it is also rather inexpensive to build. It's based on a square outline that's 36' on each side; has a very simple hipped roof; and is just under 1,600 square feet. The upper level is wrapped in windows that not only provide great light and views to the two bedrooms (each of which has a vaulted ceiling), but also allow light to fill the stairway. Kitchen, dining and living spaces are wide open to each other. The living room has a long window seat facing a large fireplace, and sliding glass doors that open to a covered patio.