Natural Habitat Straw Bale 4 Bedroom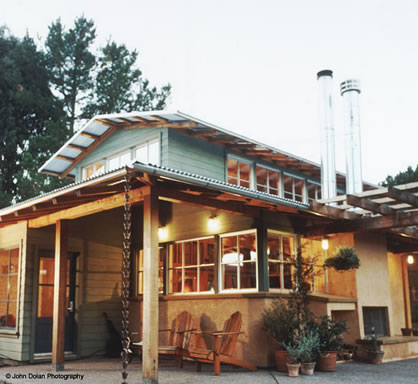 Specifications
Square Footage
Total Above-ground living area
1860
Main Level
1860
Lower level living area
Footprint

The dimensions shown are for the house only (indicating the smallest area needed to build). They do not include the garage, porches, or decks, unless they are an integral part of the design.

35 W x 66 D
Rooms
| | |
| --- | --- |
| Above-ground bedrooms | 3 - 4 |
| Above-ground bathrooms | 2 |
| Master suite | Main |
| Lower-level bedrooms | 0 |
| Lower-level bathrooms | 0 |
Attributes
Stories
1
Parking
Number of stalls
House height

Traditionally, the overall height of a house is determined by measuring from the top of the finished floor on the main level, to the highest peak of the roof.

17
Ceiling heights

Raising or lowering the height of the ceilings on one or more floors of a house is often a simple change that can be made by your builder. However, if you want to raise the ceiling of the main floor of a two-story home, there has to be room to add steps to the existing staircase.

Main level
14.5
Vaulted ceilings

We consider a room to be vaulted if the ceiling - whether flat, angled, or curved - is above 10 feet at its highest point. If you prefer that one or more rooms not be vaulted in your new home, this is a very simple change that your builder can make for you.

KEY TO SYMBOLS:

LR = Living Room/Great Room
DR = Dining Room
FAM = Family Room
FOY = Foyer
STU = Study/Library/Den
KIT = Kitchen
SUN = Sunroom
MBR = Master Bedroom
MB = Master Bath
LOF = Loft
OFF = Office/Guest Room
REC = Recreation/Game Room
ALL = Entire Level

ALL
Printer Friendly Version
Main Level Floor Plans For Natural Habitat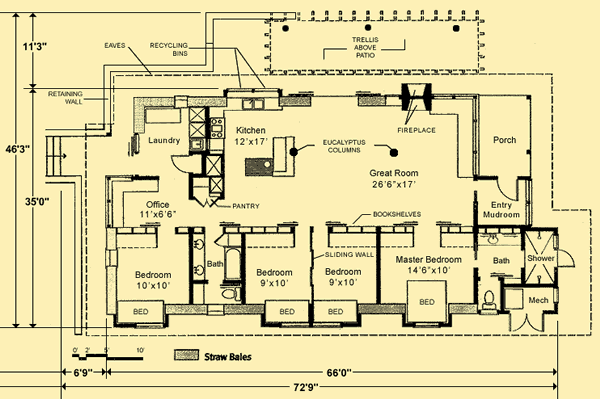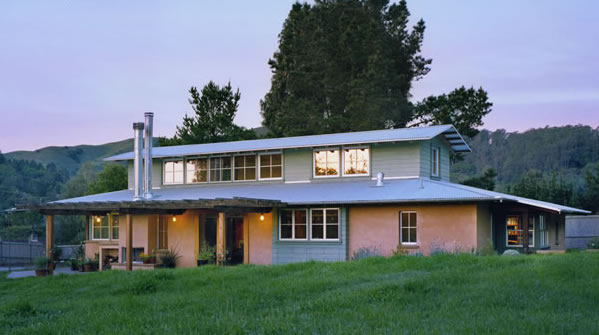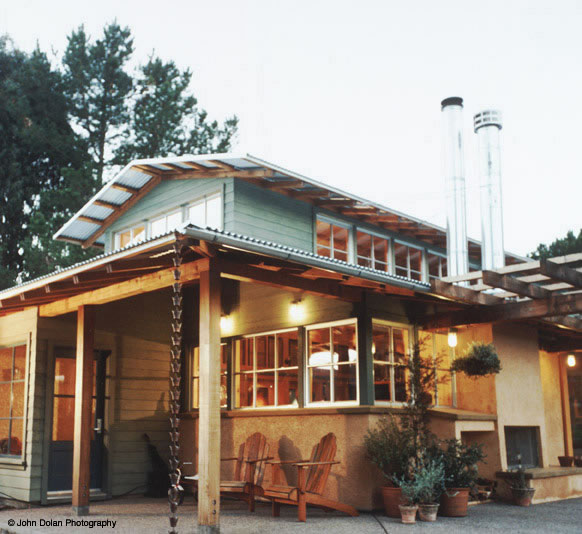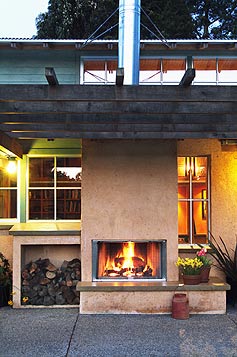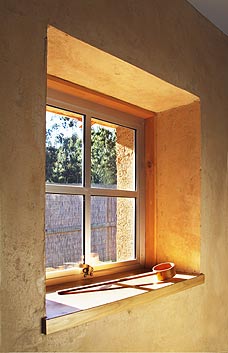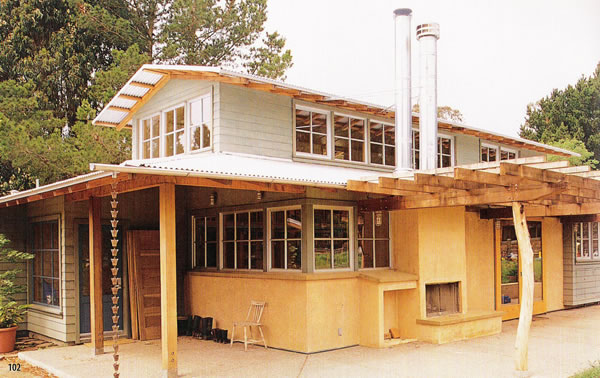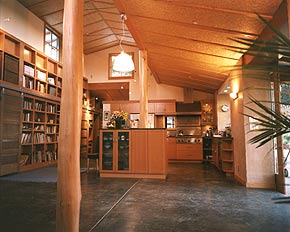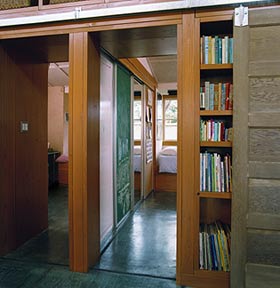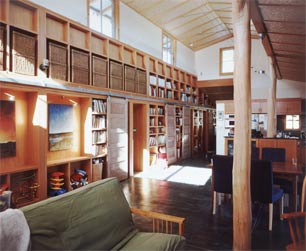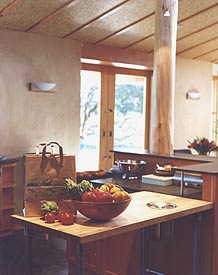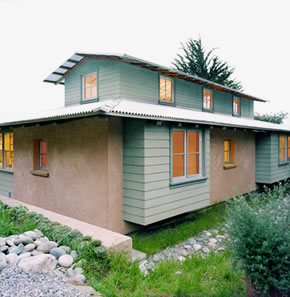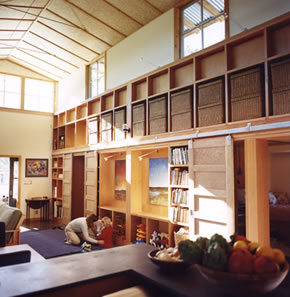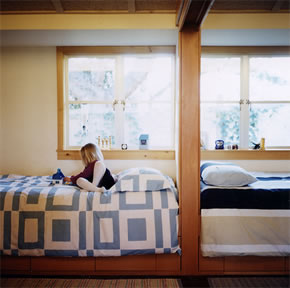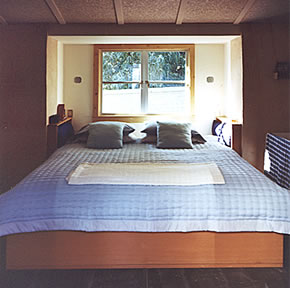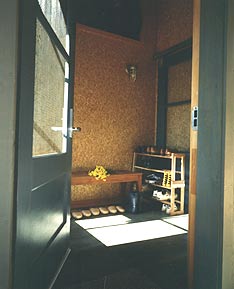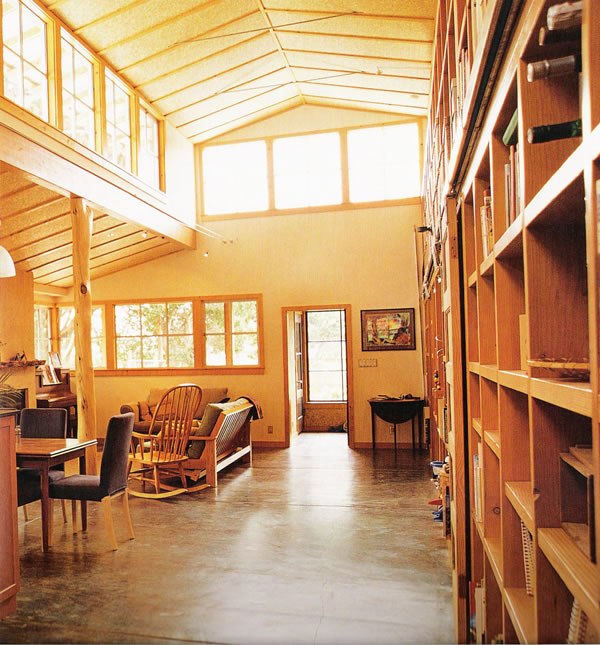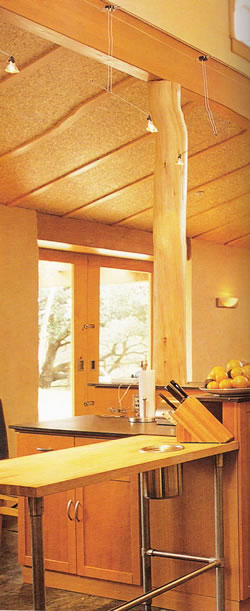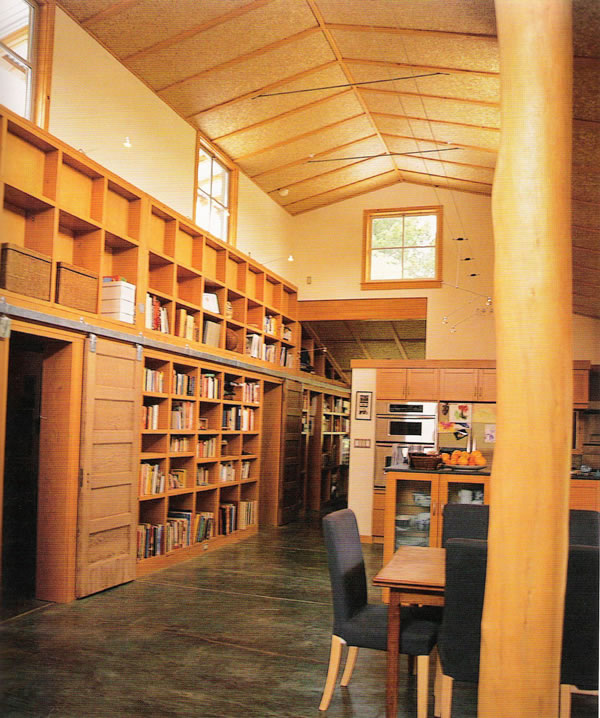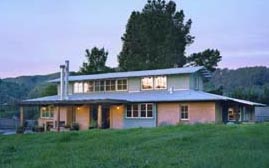 Natural Habitat received the Western Home Award from "Sunset" magazine, and has been featured in numerous books and magazines, including "The New Strawbale Home" by Catherine Wanek, the May/June 2004 issue of "Natural Home" magazine, and "Real Simple" magazine. The architects were able to create a 4–bedroom home with just 1,860 sq. ft. – a testament both to the efficiency of their design and to their commitment to "green" issues.
A door off the covered front porch brings you first to a sunny mudroom that opens to the main living spaces of the house. A clerestory runs down the middle of the house, with a ceiling that reaches nearly 16′ in the middle and a series of windows that fill the house with light during the day, while on either side the ceilings slope gently down from 9'6″ at the edge of the clerestory to 8′ at the outer walls. Great room, kitchen and dining are one open space, with beautiful built–in wooden bookcases along the entire wall on the left. On the right, a two–sided fireplace can be enjoyed from inside the great room as well as from an outdoor patio that is accessed via sliding glazed doors. Windows to the right of the fireplace wrap around to the front, providing abundant natural light as well as views.
The kitchen has a large L–shaped island with a raised outer countertop for casual dining or serving, a pair of large windows over the sinks, and a pantry around a corner. Sliding doors in the long bookcase open to the four bedrooms, each of which feature a bump–out window bay where the beds were to be located, and closets flanking the doorways. The master bath has a private toilet and a large shower that can be accessed directly from outside, while the other three bedrooms share a full bath with two sinks. A unique sliding wall separates the two middle bedrooms. An opening off the kitchen leads to a small office with a built–in desk beneath a trio of windows, and to the laundry room.
Printer Friendly Version
Front Elevation For Natural Habitat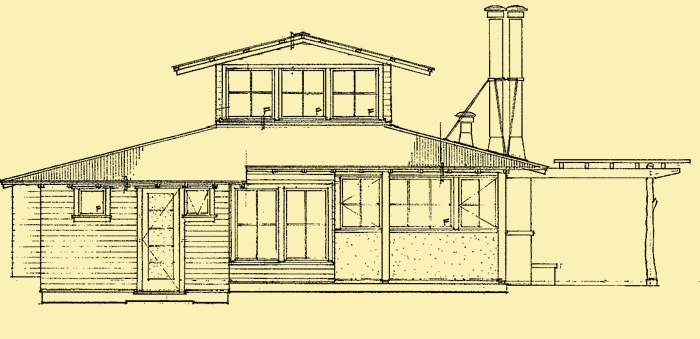 Rear Elevation For Natural Habitat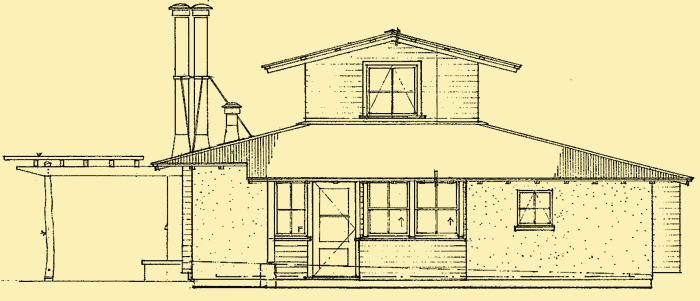 Side 1 Elevation For Natural Habitat

Side 2 Elevation For Natural Habitat

Brief Description
This unique straw bale home manages to provide four bedrooms in 1,860 sf of living space. Featured in books and magazines, and the recipient of a prestigious award, this is a truly extraordinary house. Clerestory windows allow natural light to flood the interior, and tall bookshelves line the walls separating the living spaces from the bedrooms. An optional two–sided fireplace can be enjoyed from both the living room and an outdoor patio.