Unique House With Radius Roof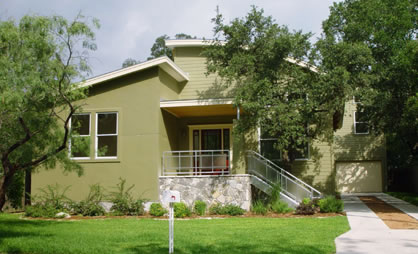 Specifications
Square Footage
Total Above-ground living area
1852
Main Level
1852
Optional Study
440
Lower level living area
Footprint

The dimensions shown are for the house only (indicating the smallest area needed to build). They do not include the garage, porches, or decks, unless they are an integral part of the design.

38 W x 56 D
Rooms
| | |
| --- | --- |
| Above-ground bedrooms | 3 |
| Above-ground bathrooms | 2 |
| Master suite | Main |
| Lower-level bedrooms | 0 |
| Lower-level bathrooms | 0 |
Attributes
Stories
1
Parking
garage
Number of stalls
1
House height

Traditionally, the overall height of a house is determined by measuring from the top of the finished floor on the main level, to the highest peak of the roof.

19
Ceiling heights

Raising or lowering the height of the ceilings on one or more floors of a house is often a simple change that can be made by your builder. However, if you want to raise the ceiling of the main floor of a two-story home, there has to be room to add steps to the existing staircase.

Main level
9
Vaulted ceilings

We consider a room to be vaulted if the ceiling - whether flat, angled, or curved - is above 10 feet at its highest point. If you prefer that one or more rooms not be vaulted in your new home, this is a very simple change that your builder can make for you.

KEY TO SYMBOLS:

LR = Living Room/Great Room
DR = Dining Room
FAM = Family Room
FOY = Foyer
STU = Study/Library/Den
KIT = Kitchen
SUN = Sunroom
MBR = Master Bedroom
MB = Master Bath
LOF = Loft
OFF = Office/Guest Room
REC = Recreation/Game Room
ALL = Entire Level

LR, DR, MBR, BR1, BR2
Printer Friendly Version
Main Level Floor Plans For Radius Roof House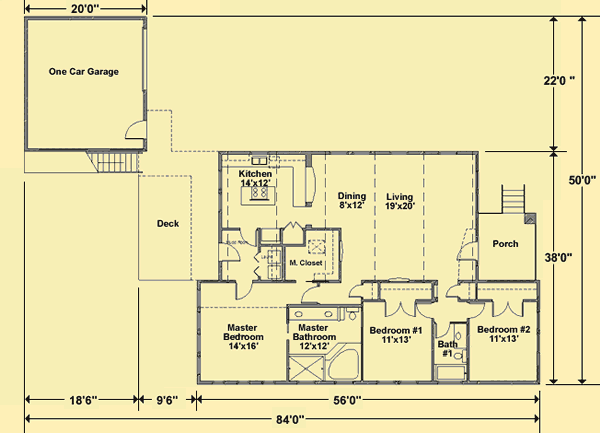 Floor Plans 1 For Radius Roof House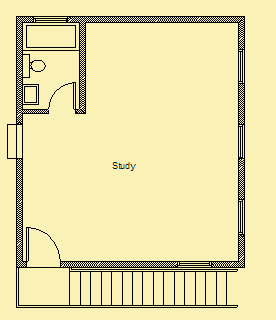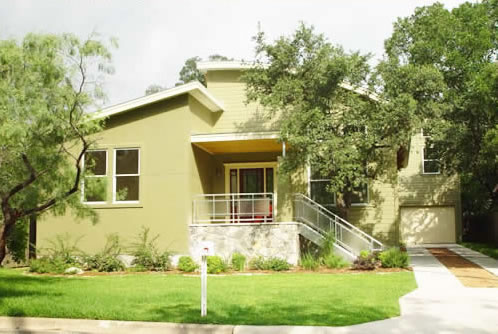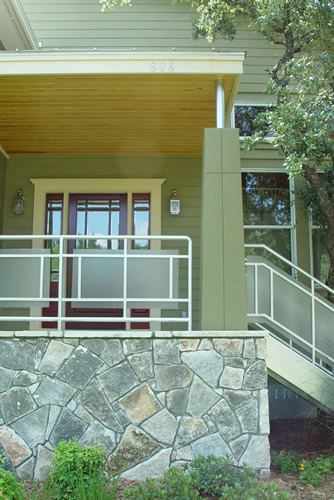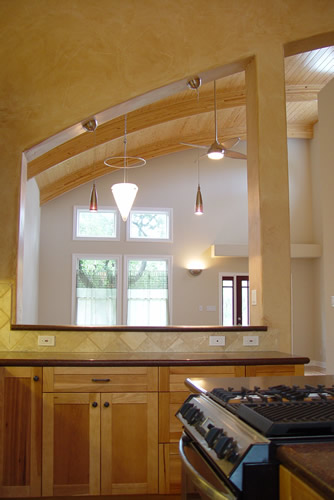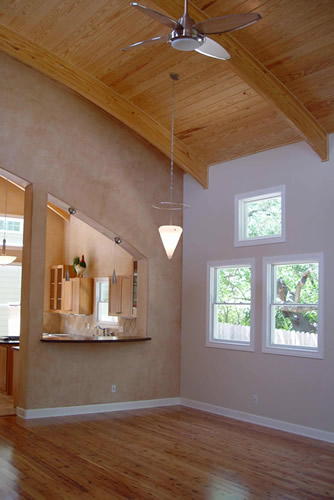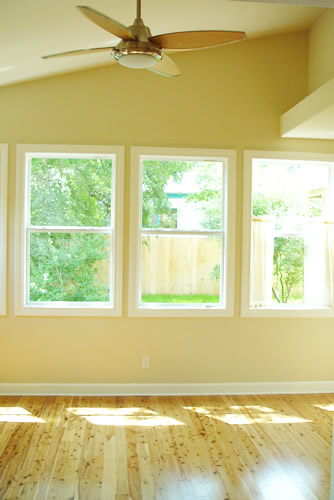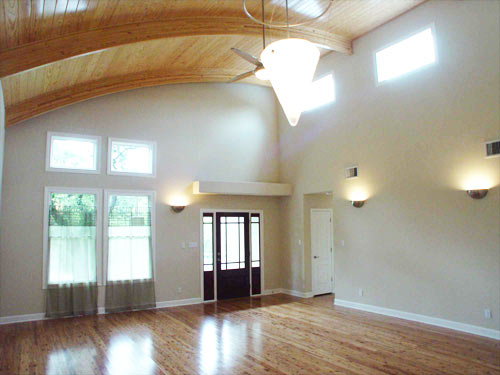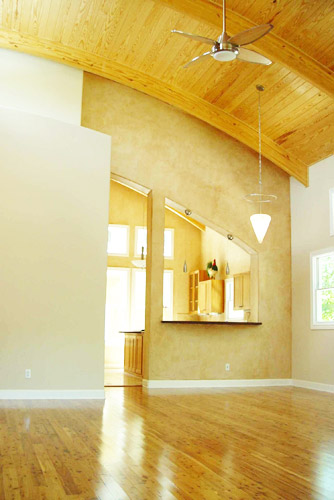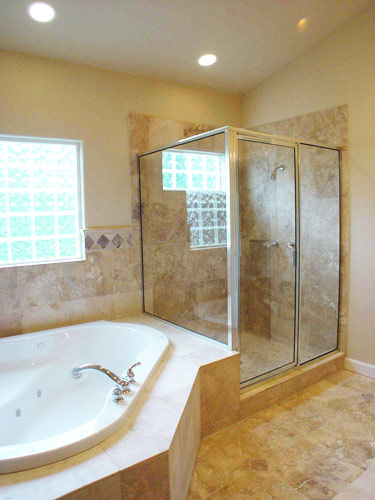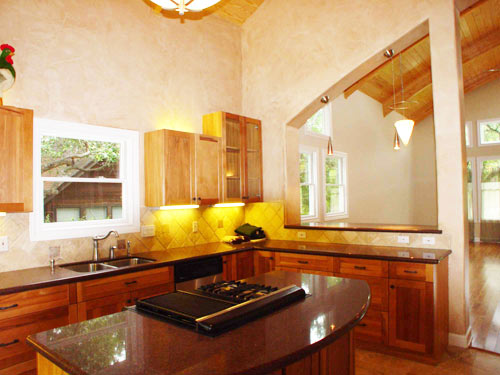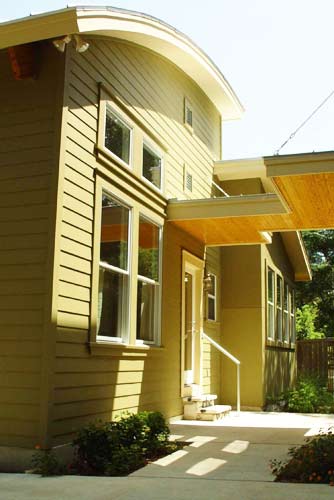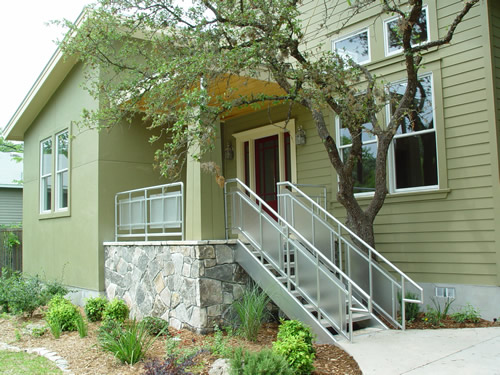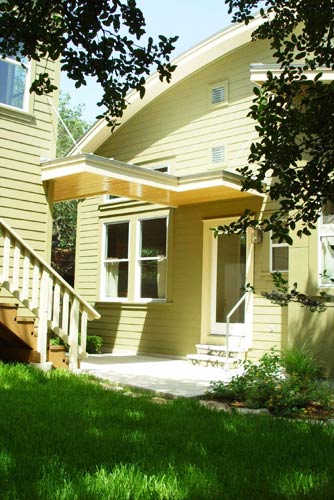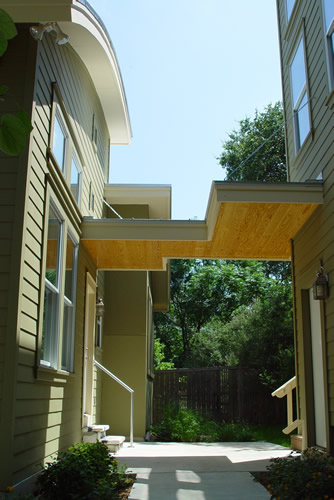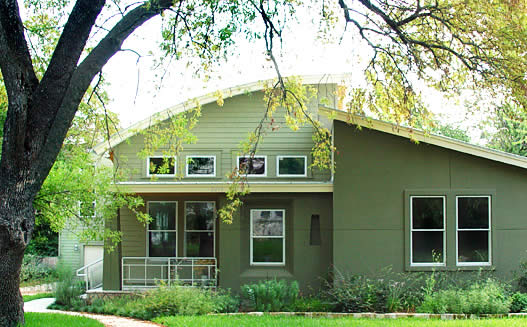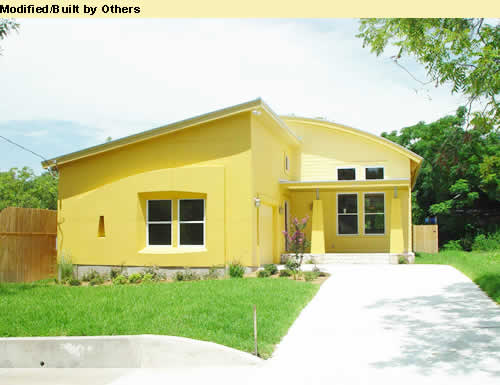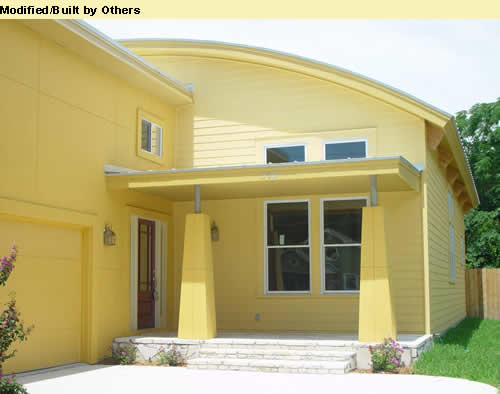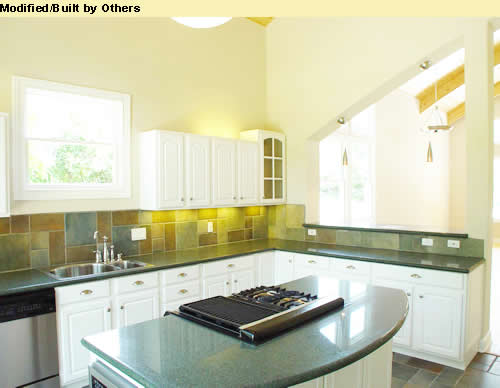 The Radius Roof House is really two plans in one. The main home plan features a 440 square foot detached garage with a full sized study and full bath above. Standard with the plan, however, is all the information necessary to build the home with an attached single car garage next to Bedroom 2. In this version, a small foyer has been added in part of the porch area, which doubles as a protected walkway to the garage.
This 1,850 square foot, three bedroom, two bath home was developed to fit on smaller inner city lots, with a scale and proportion consistent with turn of the century American neighborhoods, but a styling that is thoroughly modern in both its interior planning and its exterior flair. The small footprint dimensions and detached garage also make this a good choice for challenging building sites in more rural locations.
A vaulted curved ceiling above the open floor plan of the living room, dining room and kitchen gives the home a surprisingly open feel. The radius curve of ceiling and roof is accomplished by using a series of beautiful exposed wood laminate beams. Wood ceilings and floors give this unique design a warm and inviting feeling. The Master bedroom boasts a large Master Bath and a walk-in closet.
By carefully selecting building materials, the original Radius Roof House earned a rating as a Three-Star Green Home by the Austin Energy Green Building Program. The following is a list of some of its features:
A thermal chimney effect is provided by the operable clerestory windows in the main living space, allowing for excellent passive air flow within the home, and less reliance on heating and cooling appliances.
The versatile design makes for easy orientation, and adaptability to solar heating, solar electric panels, and various climactic regions.
An easily constructed building form allows for local tradesmen to be employed, and it does not require the use of expensive non-regional products or materials.
Efficient use of space, multi-use spaces, and minimization of hallways make for a home that is smaller, less expensive to build, and less impacting on the environment.
Access to ample day lighting and cross ventilation in every room minimizes the use of energy, and helps with indoor air quality and mold issues.
Air conditioning equipment is placed within the thermal envelope, minimizing energy loss through duct leakage.
The easily guttered metal roof is very durable, helps keep rot and mold producing moisture away from the building envelope, and allows for the possibility of a rainwater collection system.
The ample porch provides outdoor protected living space, and provides visual access to yards and the local community.
Please Note
Due to licensing agreements, this home may not be built in the state of Texas without the prior permission of the architect. If you'd like to build this house in Texas, please just let us know where you intend to build. As long as it's not close to a previously built Radius Roof House, permission to build will be granted.
Printer Friendly Version
Front Elevation For Radius Roof House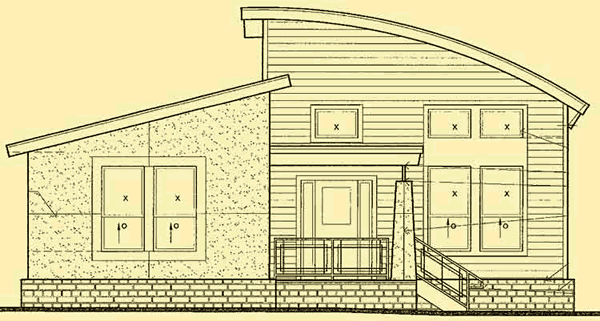 Rear Elevation For Radius Roof House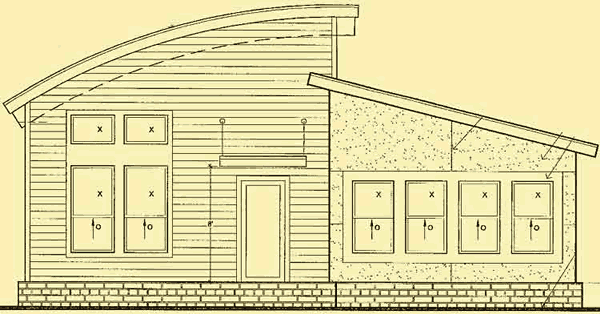 Side 1 Elevation For Radius Roof House

Side 2 Elevation For Radius Roof House

Brief Description
This 1,850 square foot, 3 bedroom, 2 bath home was originally developed to fit on smaller inner city lots. The scale and proportion are similar to turn of century homes, but the styling is thoroughly modern.