Hilltop Lake View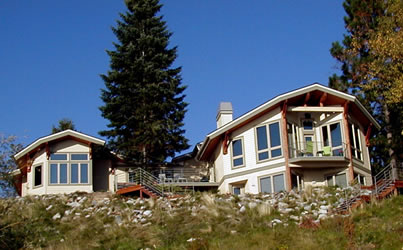 Specifications
Square Footage
Total Above-ground living area
2776
Main Level
1917
Lower level living area
859
Footprint

The dimensions shown are for the house only (indicating the smallest area needed to build). They do not include the garage, porches, or decks, unless they are an integral part of the design.

76.5 W x 60 D
Rooms
| | |
| --- | --- |
| Above-ground bedrooms | 3 |
| Above-ground bathrooms | 2.5 |
| Master suite | Main |
| Lower-level bedrooms | 2 |
| Lower-level bathrooms | 1 |
Attributes
Stories
1
Parking
garage
Number of stalls
2
House height

Traditionally, the overall height of a house is determined by measuring from the top of the finished floor on the main level, to the highest peak of the roof.

16.25
Ceiling heights

Raising or lowering the height of the ceilings on one or more floors of a house is often a simple change that can be made by your builder. However, if you want to raise the ceiling of the main floor of a two-story home, there has to be room to add steps to the existing staircase.

Main level
8
Vaulted ceilings

We consider a room to be vaulted if the ceiling - whether flat, angled, or curved - is above 10 feet at its highest point. If you prefer that one or more rooms not be vaulted in your new home, this is a very simple change that your builder can make for you.

KEY TO SYMBOLS:

LR = Living Room/Great Room
DR = Dining Room
FAM = Family Room
FOY = Foyer
STU = Study/Library/Den
KIT = Kitchen
SUN = Sunroom
MBR = Master Bedroom
MB = Master Bath
LOF = Loft
OFF = Office/Guest Room
REC = Recreation/Game Room
ALL = Entire Level

LR, FAM, FOY, KIT, MBR
Printer Friendly Version
Main Level Floor Plans For Hilltop View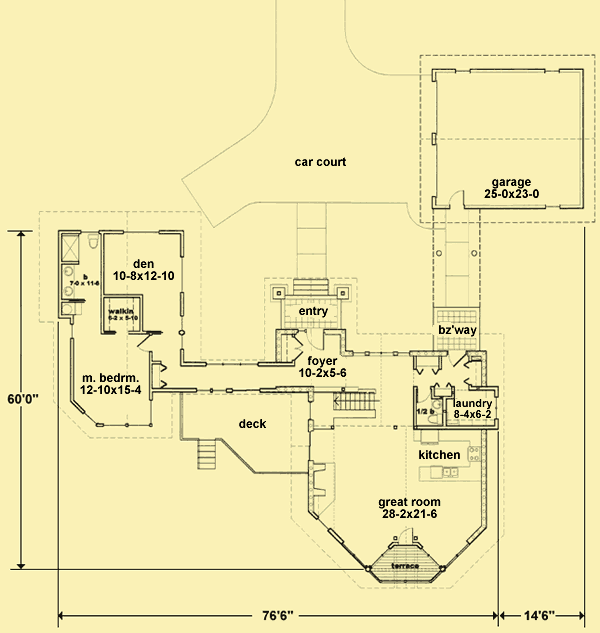 Floor Plans 1 For Hilltop View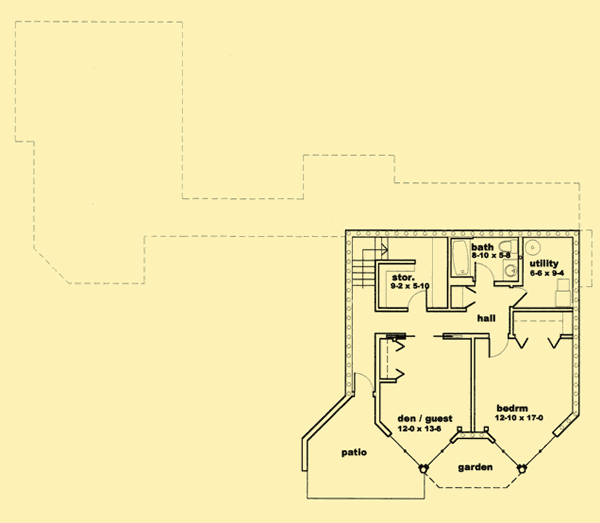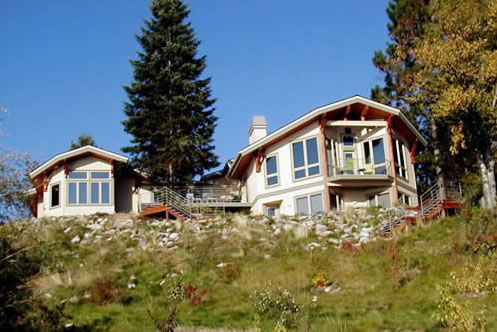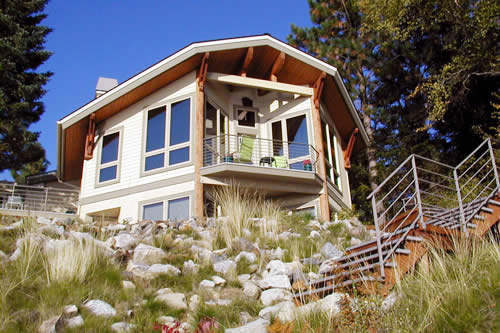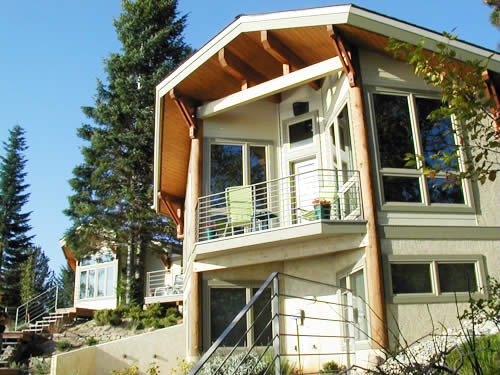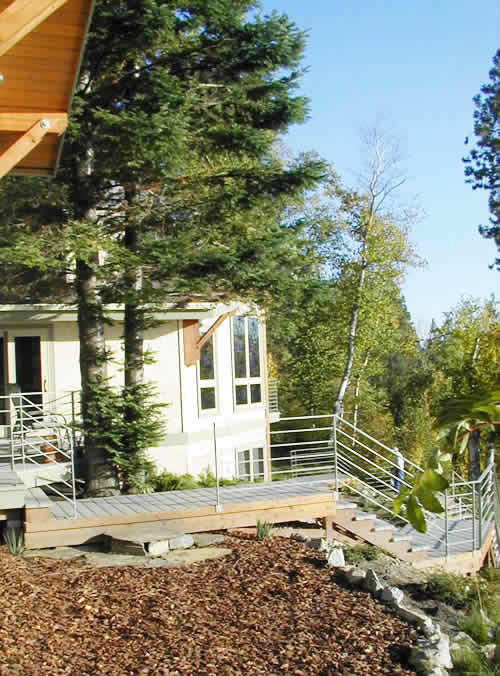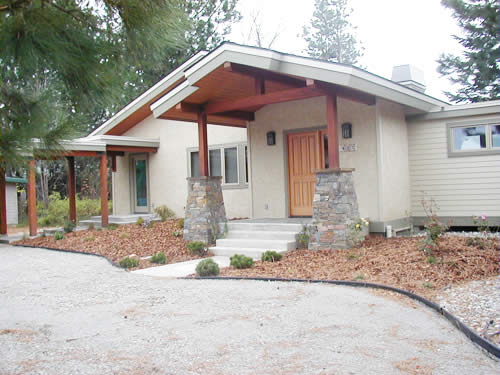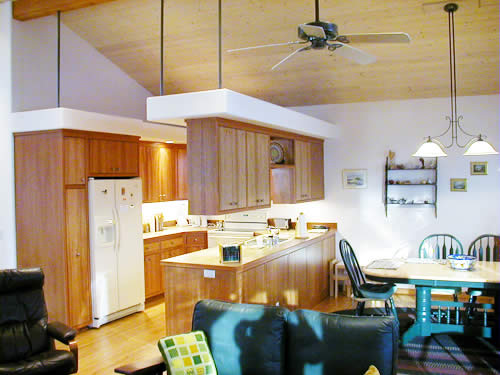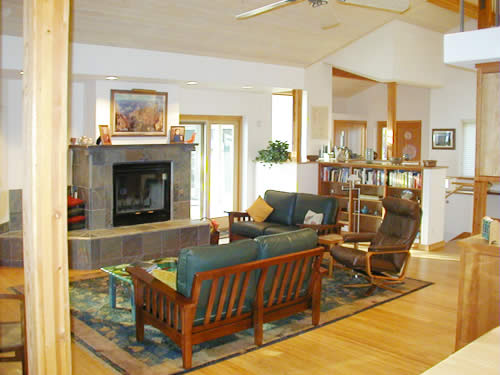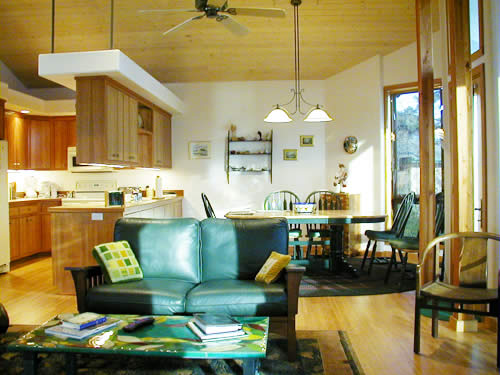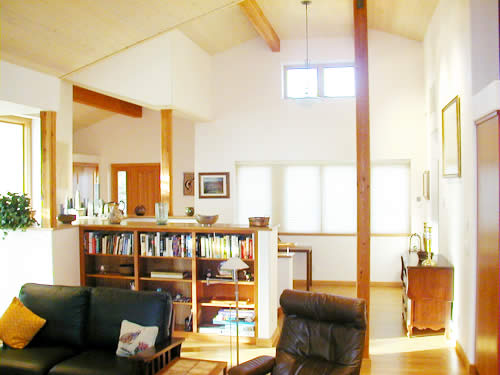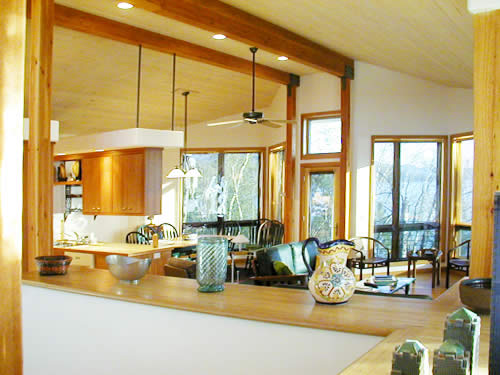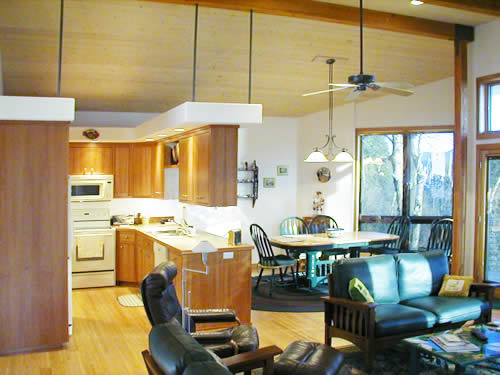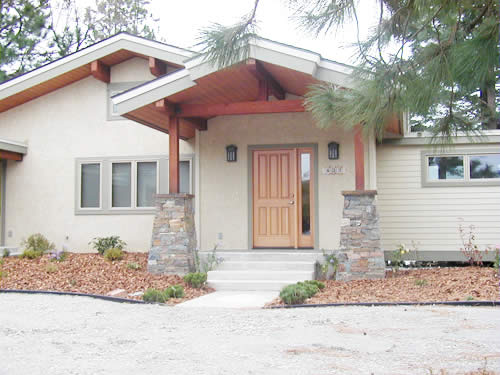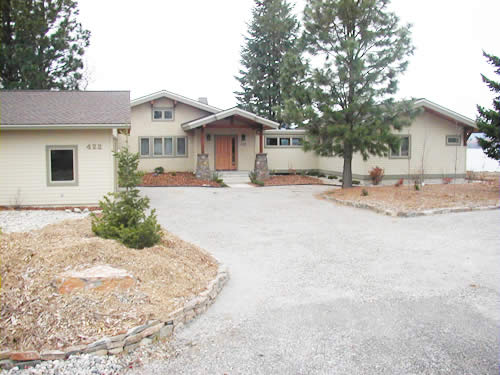 Originally built on a hilltop near a lake, this unique home was designed to have spectacular views to the rear. The modest front of the house gives no indication of what a dramatic and interesting home this is. However, from the lake, this house looks like no other we've seen.
Upon entering the foyer from the covered entryway, you have a choice of turning either left or right. Moving to your left you pass a door leading to the powder room, the laundry room, and the breezeway connecting the house to the garage. The living, dining, and kitchen areas are located in one open space. The ceiling here vaults to a dramatic 13′ down the center of the room. Windows are cleverly angled to create maximum views, as well as more intimate spaces for eating and lounging. There is a centrally located fireplace in this area of the house, and a door at the rear leads to a small terrace.
Moving to your right from the foyer, a hallway leads you past sliding glazed doors leading to a large deck on your way to the master bedroom and a den. Angled ceilings in both rooms rise to 11'6″.
The lower level includes another bedroom and a guest room that share a full bath. Both look out to a small garden and the lake, while the guest room also looks out to a patio.
Construction Info
This home was originally constructed from Rastra recycled foam insulated concrete forms (ICFs), and was finished with bamboo flooring and healthy interior finishes, making it not only energy efficient, but healthy as well.
Although this home was designed with ICF wall construction, it can be changed to standard stud construction by your builder or design professional. Be sure to confirm this with your builder prior to purchasing the plans.
Printer Friendly Version
Front Elevation For Hilltop View

Rear Elevation For Hilltop View

Side 1 Elevation For Hilltop View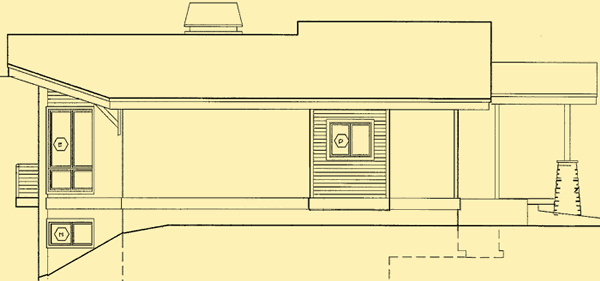 Side 2 Elevation For Hilltop View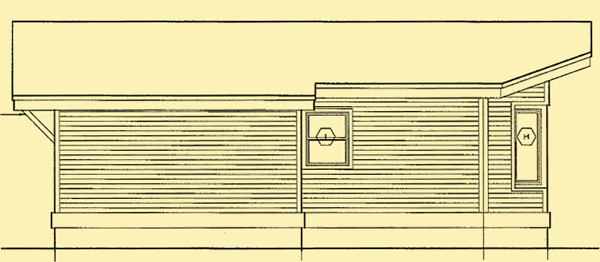 Brief Description
The front of this unique home has beautiful wood detailing, but it appears to be a fairly simple and modest home. But the interior, the rear of the house, and the views are another matter altogether! Built on a steep waterfront lot, your attention is immediately drawn to the rear view. The exposed wood from the entry is carried inside, but it looks and feels like a very contemporary home, with clean lines, modern kitchen appointments, and a ceiling that vaults to 13' in the middle. The master suite is located on the main level on one side of the house, while two more bedrooms are located on the lower level on the opposite side.