Forest Cottage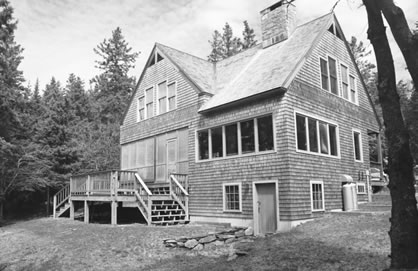 Specifications
Square Footage
Total Above-ground living area
1540
Main Level
844
Upper Level
696
Lower level living area
739
Footprint

The dimensions shown are for the house only (indicating the smallest area needed to build). They do not include the garage, porches, or decks, unless they are an integral part of the design.

38 W x 29 D
Rooms
| | |
| --- | --- |
| Above-ground bedrooms | 2 |
| Above-ground bathrooms | 2 |
| Master suite | Upper |
| Lower-level bedrooms | 0 |
| Lower-level bathrooms | 0 |
Attributes
Stories
2
Parking
Number of stalls
House height

Traditionally, the overall height of a house is determined by measuring from the top of the finished floor on the main level, to the highest peak of the roof.

23' 0"
Ceiling heights

Raising or lowering the height of the ceilings on one or more floors of a house is often a simple change that can be made by your builder. However, if you want to raise the ceiling of the main floor of a two-story home, there has to be room to add steps to the existing staircase.

Main level
8
Upper level
9.333
Vaulted ceilings

We consider a room to be vaulted if the ceiling - whether flat, angled, or curved - is above 10 feet at its highest point. If you prefer that one or more rooms not be vaulted in your new home, this is a very simple change that your builder can make for you.

KEY TO SYMBOLS:

LR = Living Room/Great Room
DR = Dining Room
FAM = Family Room
FOY = Foyer
STU = Study/Library/Den
KIT = Kitchen
SUN = Sunroom
MBR = Master Bedroom
MB = Master Bath
LOF = Loft
OFF = Office/Guest Room
REC = Recreation/Game Room
ALL = Entire Level

LR
Printer Friendly Version
Main Level Floor Plans For A Forest Cottage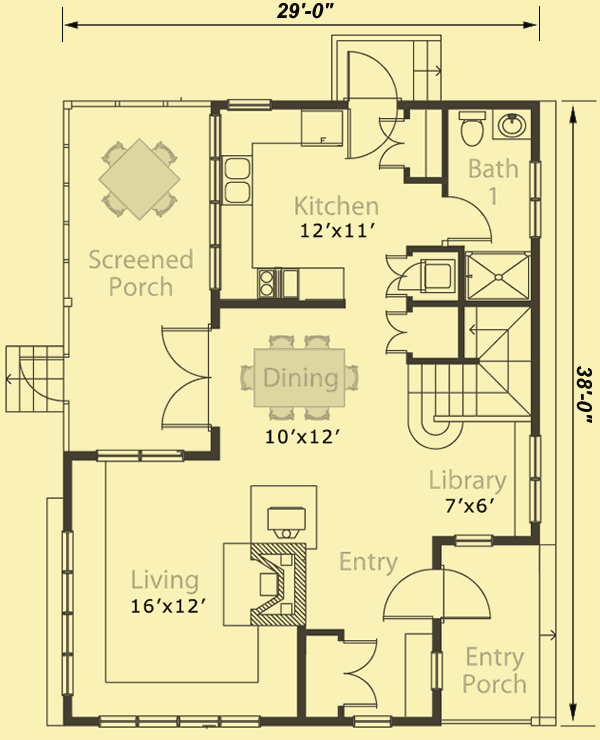 Upper Level Floor Plans For A Forest Cottage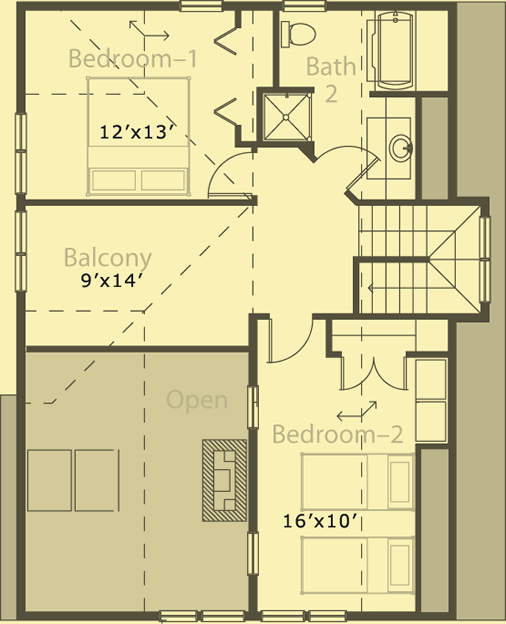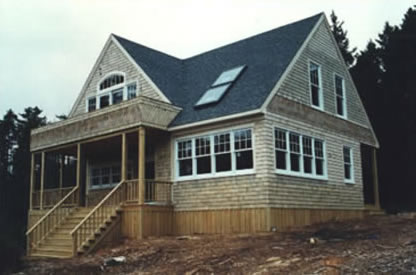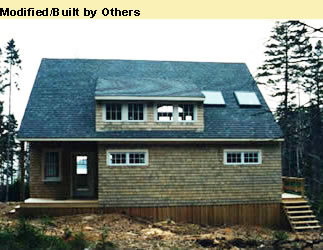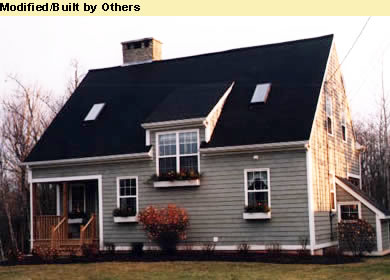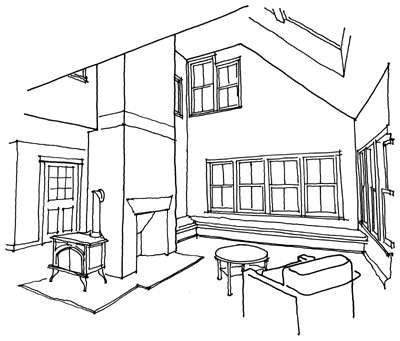 This cottage was built on a shore, but it was designed for a forested site with more of a vertical component. The clients had a heavily forested rocky site with an opening to the south, and great views to the west and northwest. A short way up the hill was a little glade with some old apple trees, a sure sign that a house had been there before. The architect thought that it felt right for a compact house like this one. It is a home that feels very solid and simple, with few surprises inside.
Approaching from the east you see a simple cape, with a dormer on the back side that is over the stairs. A little entry porch is cut out of the volume to draw you in (and keep you dry while you find your keys). You enter into a small foyer with the back wall of the fireplace in front of you and the woodstove close at hand. On the right is a little alcove, which may be used as a library/study, or a place to keep a small desk and computer. As you wander to the west– drawn by the windows and the sense of more space– you come into the two story space that lets you look up to the balcony upstairs, and realize that there is another gable on the west side of the house. Both can be seen from inside this surprisingly big space.
Just under the balcony is a dining area with access to a screened porch and a very efficient U–shaped kitchen beyond it. In order to get the kitchen to have a view to the north and west, and look south into the dining and living space, the architect put most of what would normally be overhead storage into a pantry across the hall. This is often a good strategy to open up a kitchen and to keep cabinet costs down.
Upstairs are two bedrooms and a bath. All the rooms are under the eaves of the 45 degree roofs, but they all have part of the gable ends to look out of as well. Bedroom 2 has a flat ceiling height of 9'4" and slopes down to 4' at the end wall. There is a generous balcony that looks over the living room that can be used as an overflow sleeping space, alternate living room, or kids' play area. Or you could enclose it and get a much bigger primary bedroom, or a third closed off room, paying the price of the house feeling much less spacious. Of course, if space is tight the entire two story space can be floored in at a later date.
Although this house was designed with a forest surround in mind, it would do well in an open site because of its strong cohesive form.
Please Note
Due to licensing agreements, this home may not be built in Hancock County, Maine.
Printer Friendly Version
Front Elevation For A Forest Cottage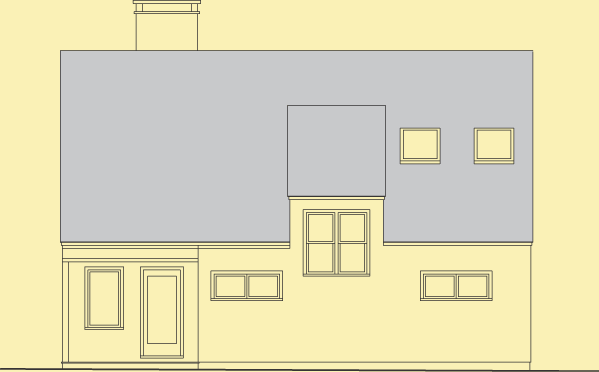 Rear Elevation For A Forest Cottage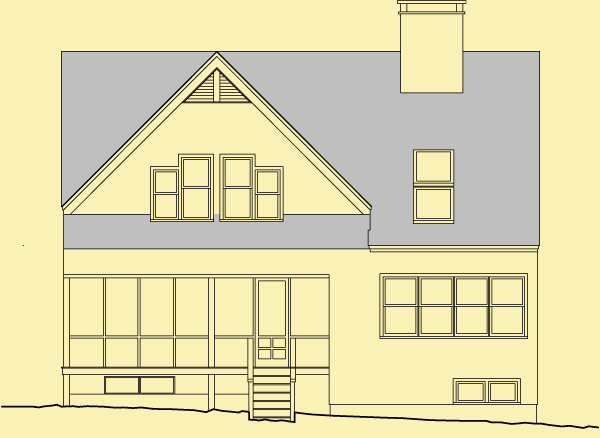 Side 1 Elevation For A Forest Cottage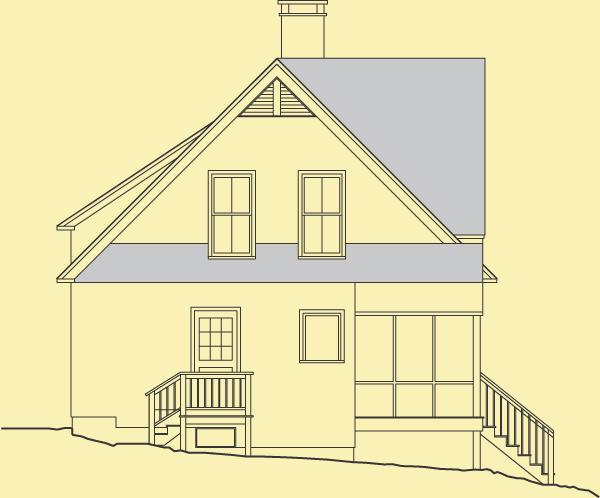 Side 2 Elevation For A Forest Cottage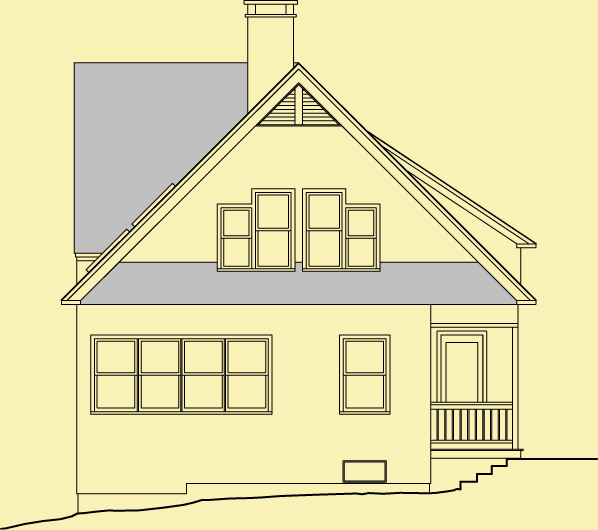 Brief Description
This small vacation cottage features a living room with a two–story ceiling, a fireplace, and a 180–degree view to the rear and sides. There's a large screened (or simply covered) porch next to it that is accessed from the dining room, in case you decide to eat outdoors. Upstairs there are two bedrooms that share a full bath, and an open loft space.