European Luxury Living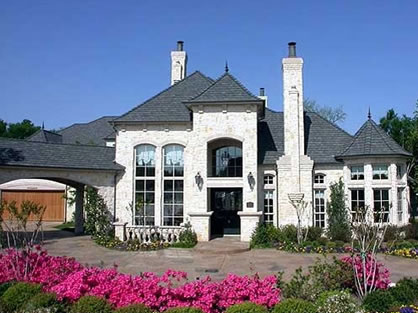 Specifications
Square Footage
Total Above-ground living area
6184
Main Level
4384
Upper Level
1800
Lower level living area
Footprint

The dimensions shown are for the house only (indicating the smallest area needed to build). They do not include the garage, porches, or decks, unless they are an integral part of the design.

101.167 W x 75.833 D
Rooms
| | |
| --- | --- |
| Above-ground bedrooms | 5 |
| Above-ground bathrooms | 5.5 |
| Master suite | Main |
| Lower-level bedrooms | 0 |
| Lower-level bathrooms | 0 |
Attributes
Stories
2
Parking
garage
Number of stalls
4
House height

Traditionally, the overall height of a house is determined by measuring from the top of the finished floor on the main level, to the highest peak of the roof.

34
Ceiling heights

Raising or lowering the height of the ceilings on one or more floors of a house is often a simple change that can be made by your builder. However, if you want to raise the ceiling of the main floor of a two-story home, there has to be room to add steps to the existing staircase.

Main level
10
Upper level
9
Vaulted ceilings

We consider a room to be vaulted if the ceiling - whether flat, angled, or curved - is above 10 feet at its highest point. If you prefer that one or more rooms not be vaulted in your new home, this is a very simple change that your builder can make for you.

KEY TO SYMBOLS:

LR = Living Room/Great Room
DR = Dining Room
FAM = Family Room
FOY = Foyer
STU = Study/Library/Den
KIT = Kitchen
SUN = Sunroom
MBR = Master Bedroom
MB = Master Bath
LOF = Loft
OFF = Office/Guest Room
REC = Recreation/Game Room
ALL = Entire Level

LR, DR, FAM, FOY, STU, MBR, MB
Printer Friendly Version
Main Level Floor Plans For European Luxury Living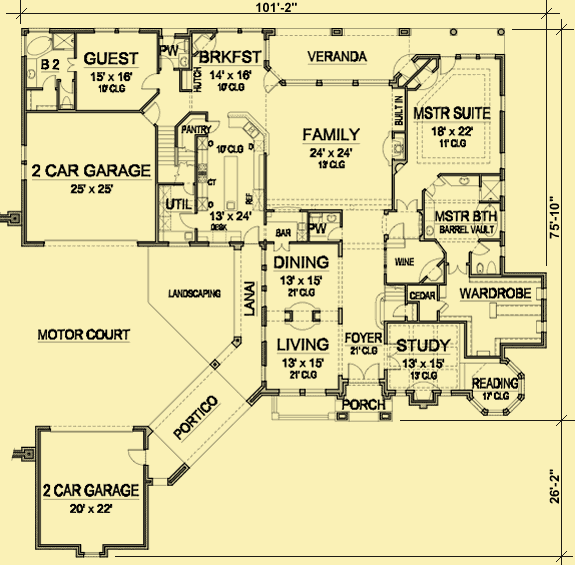 Upper Level Floor Plans For European Luxury Living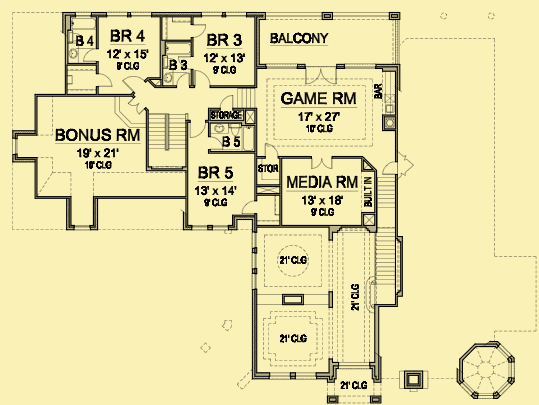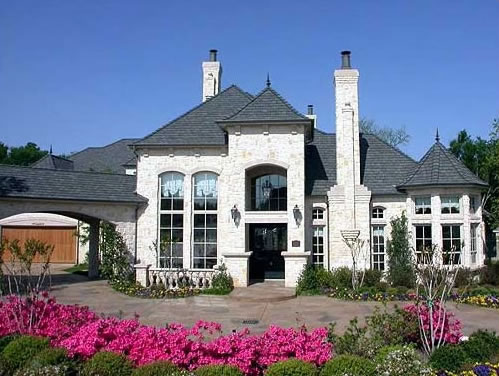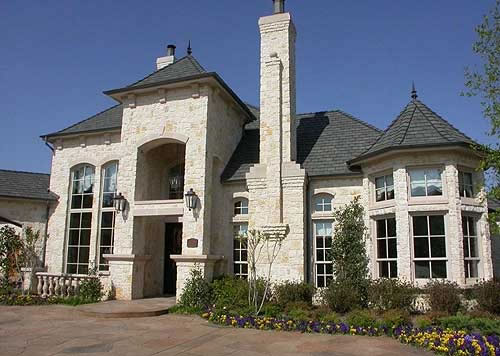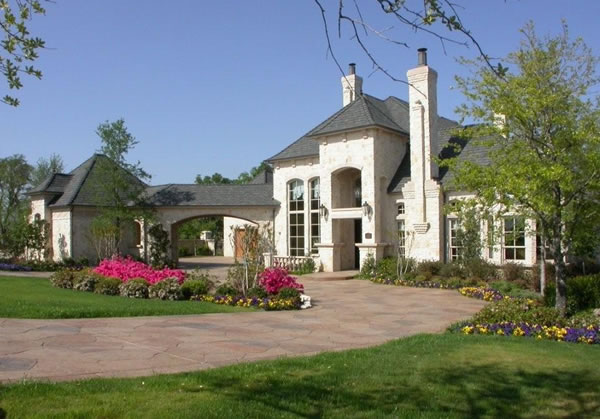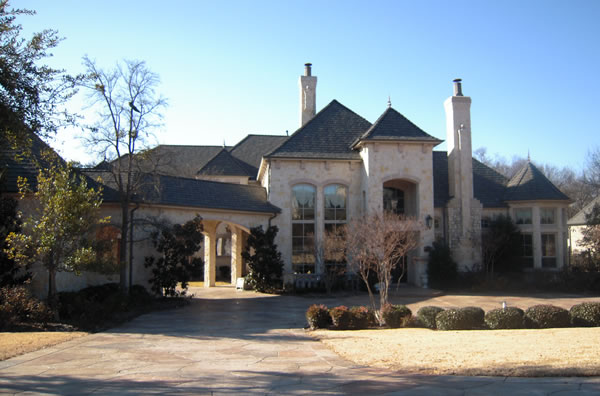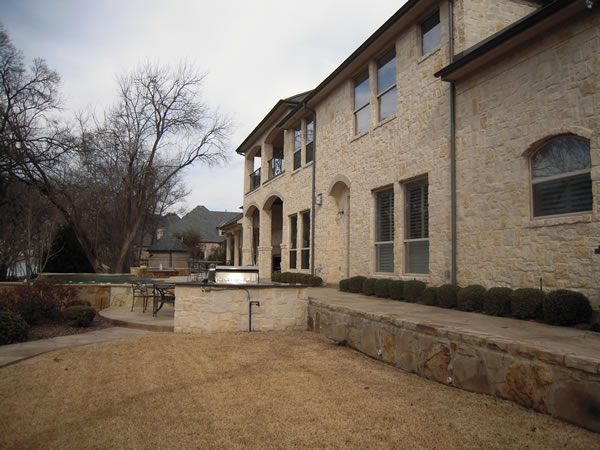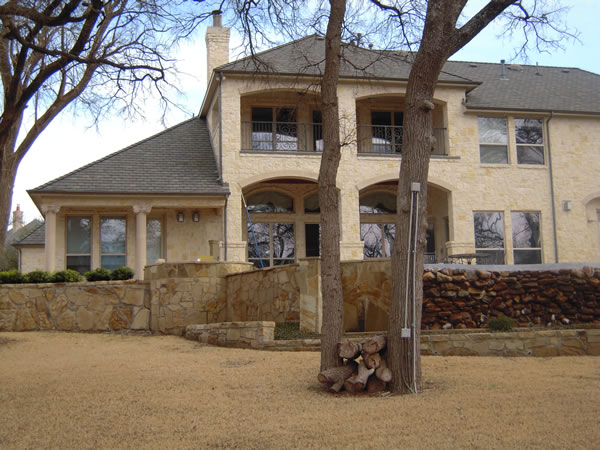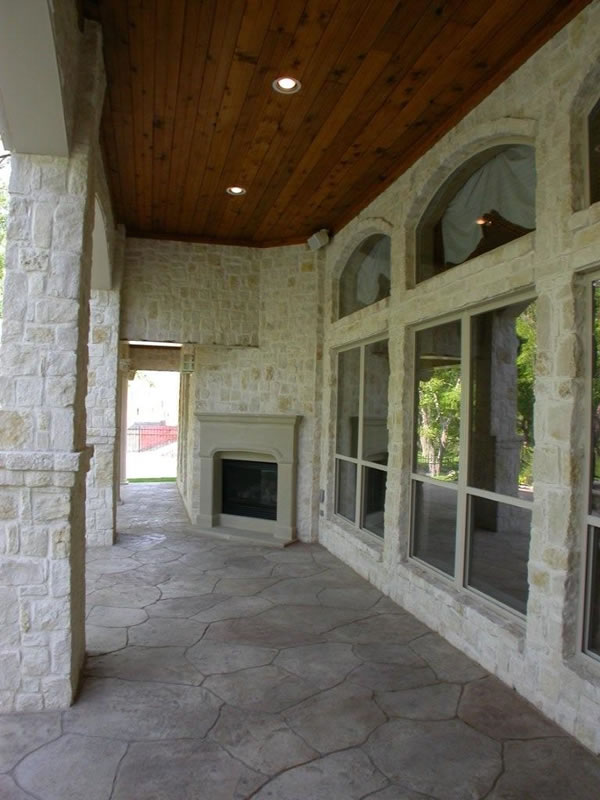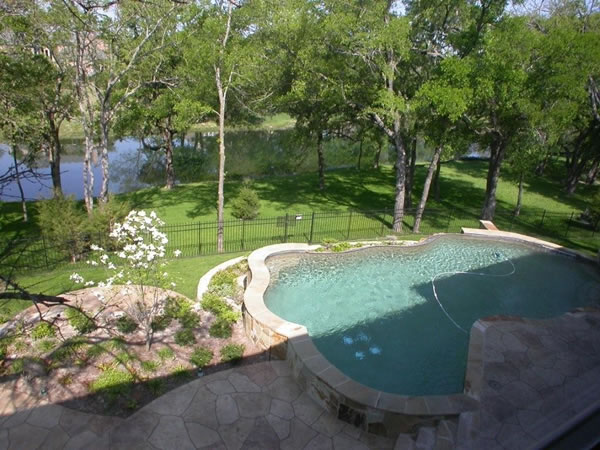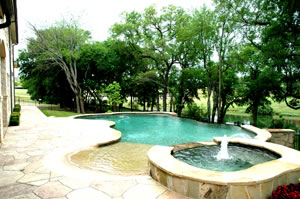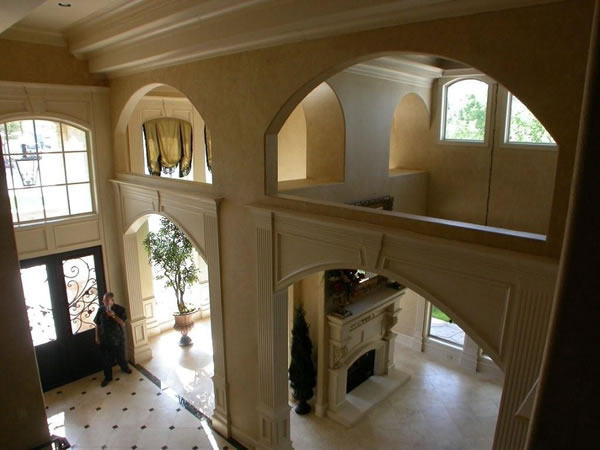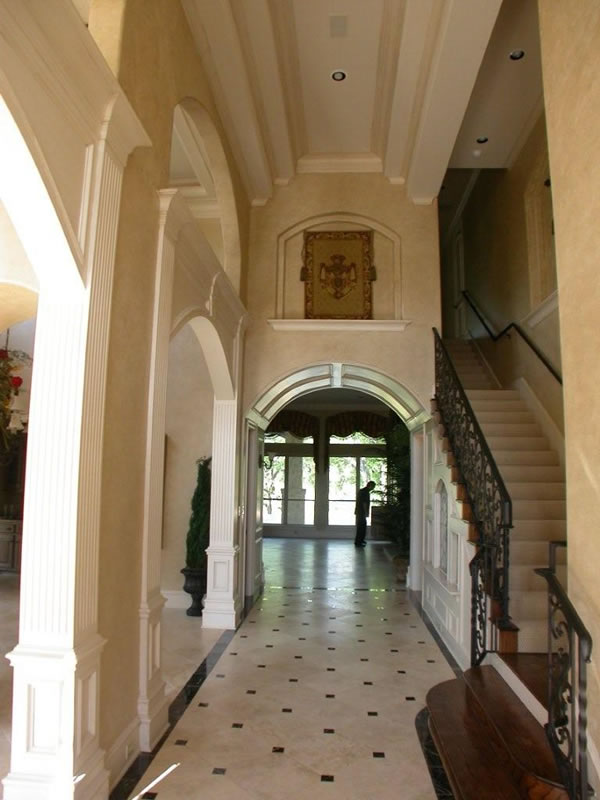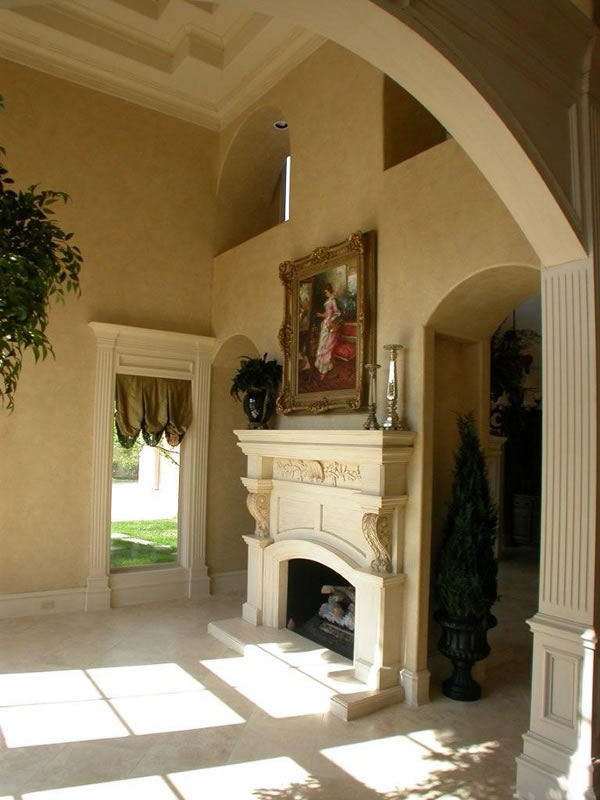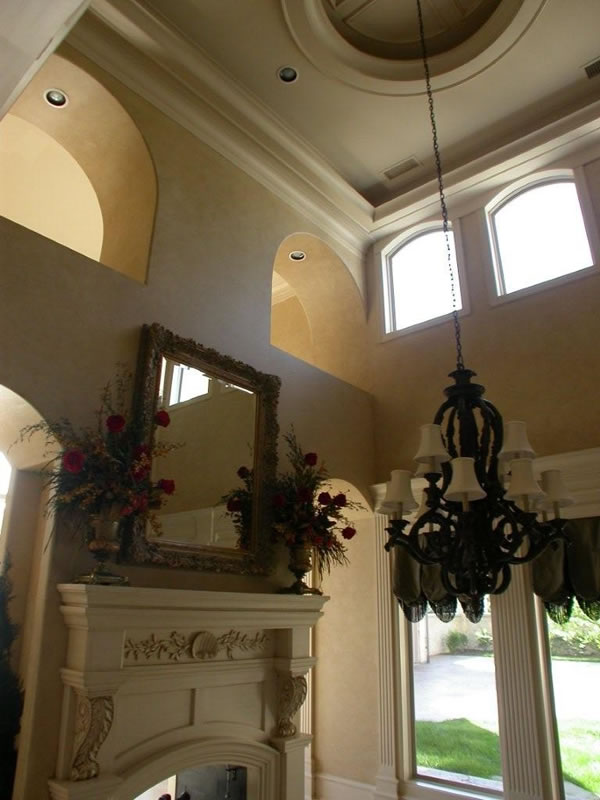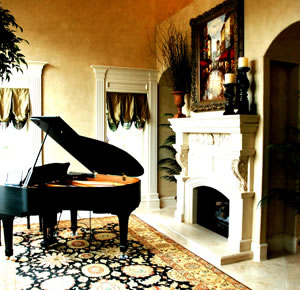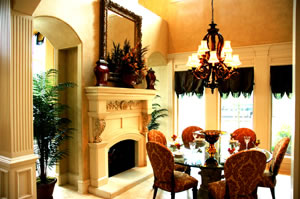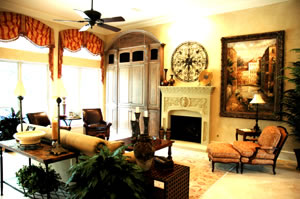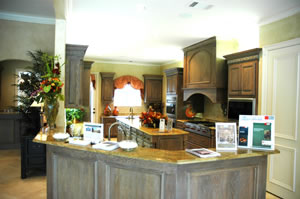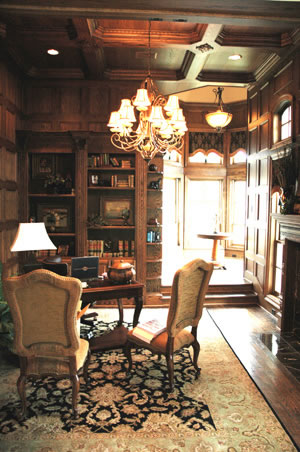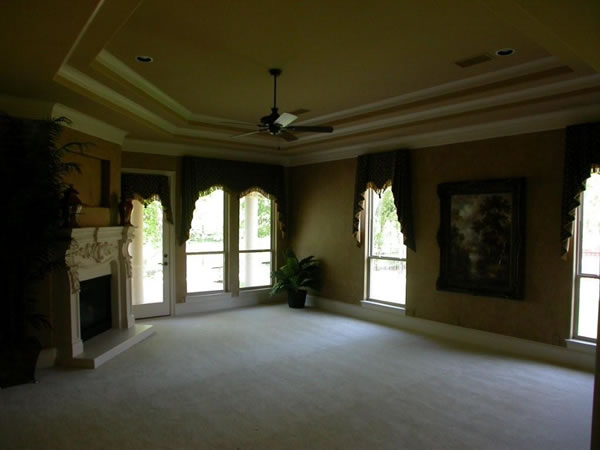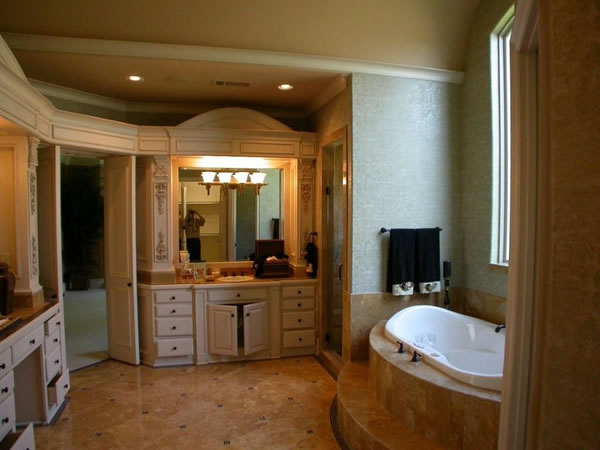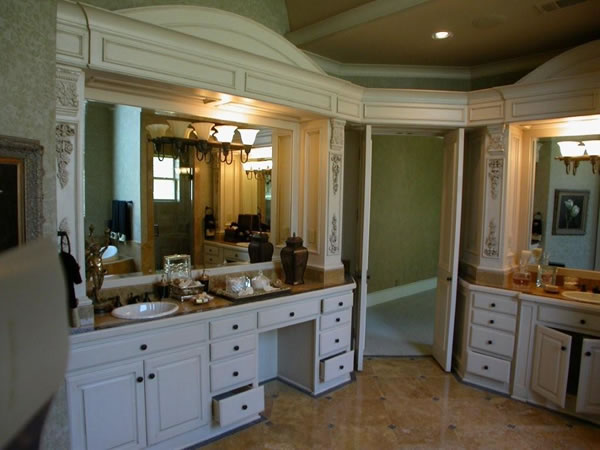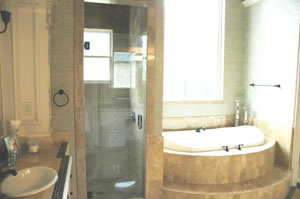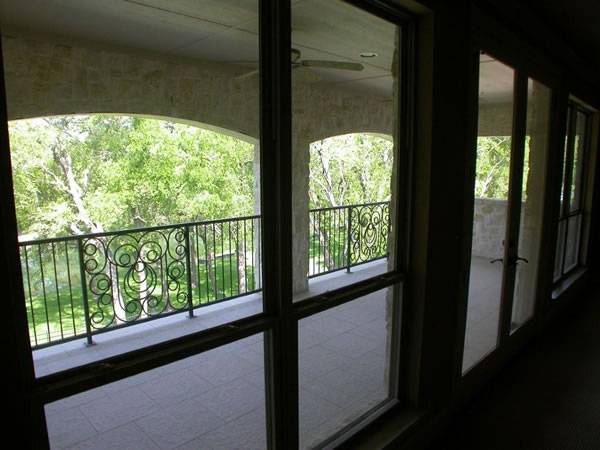 The covered entryway rises two stories to a gentle arch, framing glazed doors and a multi–paned window above them. The moment you enter the two–story high entry foyer, you become aware of the level of detail that's incorporated in the design of the home. The ceiling steps up to a height of over 20′ in the center, and the large upper window above the entry door floods the entry gallery with light. To the left there are two 10'–wide arched openings framed with decorative wood trim that open to a formal living room and the dining room. A central two–sided fireplace divides and warms the two–story high rooms, while upper windows bring in additional sunlight and views. Upper arched openings are also located above the entry foyer openings, so that all three areas feel light and spacious. The dining room has an opening to a butlery/bar that connects to the kitchen. To the right of the entry doors there's a study with a fireplace, a beautiful 13'–high wood coffered ceiling, and an octagon–shaped reading room in one corner. The light–filled reading area has a ceiling that rises to 17'6″ and five lower and upper windows that look out to the front and side.
As you walk down the entry gallery, you pass an open stairwell with an ornate iron railing on the right. Before entering the open family room straight ahead, you go under a barrel vault ceiling that vaults from 8'6″ to 11′. To the left there's a powder room, and to the right there's a vestibule that leads to the master suite and a wine room. The wine room is partially located under the stairs, and accommodates a corner fireplace to make the room toasty and warm. The large master bedroom has a tray ceiling that is 11'3″ in the center, a fireplace in one corner with an optional TV niche located above it, and a glazed door that walks out to the veranda in the rear. Large windows facing the rear and side provide natural light and views. A pair of doors open into a luxurious master bath with a barrel vault ceiling, two separate vanities with sinks, a private toilet room with room for a bidet, a tub that sits under a window, and a separate shower. Doors from the bath open into a huge walk–in closet that can be separated into two sections, and features a "hidden" door to a secure closet space.
If you walk straight down the entry gallery, you enter an open family room that has a 13′ ceiling and large picture windows with transoms above that look out to the rear veranda. A fireplace and a niche for an entertainment center are located on one wall, and an arched opening at counter height accesses the bar/butlery. The family room is open to a raised counter at the kitchen sink area and to a sunny breakfast area. A glazed door near the breakfast area opens to the covered rear veranda, which has stone columns that frame the outdoor views, and a corner fireplace to warm the area. The breakfast area has a niche for a built–in hutch, and its corner fireplace will make it an attractive spot to gather during cooler seasons. The gourmet kitchen has abundant counter and cabinet space, room for a large desk, and a center island with a prep sink that's over 10′ long. It has a door that walks out to an outdoor lanai, which connects to the portico and a detached two–car garage. The kitchen also has a door to a laundry/utility room and another door to a walk–in pantry.
A small hallway off of the breakfast area leads to a powder room, a secondary staircase to the upper level, another two–car garage, and a guest suite with a walk–in closet and its own full bath that features a private toilet room, a tub, and a separate shower.
The upper level has essentially two wings with a change in floor height. If you go up the stairwell by the entry foyer, you find yourself in an open game room with a bar, a storage room, and a pair of doors that walk out to a private covered balcony. A pair of doors from the game room opens into a separate media room. Stairs from the game room walk down to another wing with three bedrooms. Each bedroom has its own full bath, while the bath in bedroom 3 has a secondary door for public use. The secondary stairwell makes it convenient to access the bedrooms directly from the kitchen area. A large recreation room is located over the garage for additional work or play space.
Printer Friendly Version
Front Elevation For European Luxury Living

Rear Elevation For European Luxury Living

Side 1 Elevation For European Luxury Living

Side 2 Elevation For European Luxury Living

Brief Description
European Luxury Living exudes the beauty and elegance of old world design through its use of stone veneer and detailing on the exterior, numerous arched openings found throughout, interior trim details, and the exterior portico that connects the house to the second garage. This stately home features two–story high rooms, a study with an octagon–shaped reading area, both a game room and a media room on the upper level, multiple fireplaces, and two(!) two–car garages.