Farmhouse Plans
What follows are excerpts from "The Farmhouse", written by Jean Rehkamp Larson, and published by Taunton Press in 2004. Taunton Press
Introduction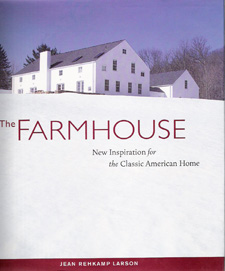 In practical terms, the simple, hearty form of the style is highly adaptable. A farmhouse can easily be expanded because the basic shapes make it easy to add porches, sheds, and wings. These houses can also be dressed up or dressed down, depending on what you expect from a home; the gable ends, soffits, and porch columns can be left austere or filled with texture, trim, and detail.
An American Icon
I'm happy to say that the farmhouse, after years of decline, is making a comeback. Even though fewer people now farm to make a living, the style endures because we have come to see it as a classic symbol of home – an unforgettable feature of the American landscape. Many of us continue to carry around the image of a bucolic white house glimpsed on a hill from a favorite country road. And the familiar elements of the style – a gable roof, crisp lines, and just enough detailing – are finding their way into new homes.
Synonymous With Shelter
The farmhouse style goes beyond nostalgia. A farmhouse offers the promise of reconnecting with natural rhythms – with the four seasons and the cycles of life. Whether it is in a soybean field or a subdivision, a farmhouse can be an antidote to a commercialized, information-glutted world. For many homeowners, it represents a chance to get back to the basics – finding a reasonable pace in a time when mainstream culture seems to be accelerating.
A Home-Grown Style
In early photos, farming families often posed in front of their houses because shelter was so crucial to their survival. Those four walls held them safe within a broad, unknown continent. Although there no longer are unexplored frontiers, many of us still think of the farm as a refuge – a safe environment that is grounded in purity, honesty, and simple virtues. Perhaps for this reason, our children are introduced to the farmyard in storybooks, movies, and cartoons.
As adults, we are drawn to the democratic spirit of a style that isn't associated with an elite class or a particular region. No matter their size or how proper and pressed they may appear, farmhouses are unlikely to be pretentious or showy.
The farmhouse is uniquely American, despite the fact that the style has been influenced over the centuries by European traditions. English Colonial homes contributed symmetry, the gable roof, and the double-hung window. The Greek Revival style gave us classical details and lots of white paint. Stone farmhouses are found in the German-settled areas of eastern Pennsylvania. In the Deep South, the French influence can be seen in farmhouses with glass-paned doors, paired windows, and hipped roofs with a steep pitch.
There are regional differences, too, because designs were often modified on the spot to suit the family's particular needs and the nature of the site. In New England, outbuildings were often grafted right onto the farmhouse so that the family wouldn't have to step out into the brutal winter weather when tending animals. Farmhouses of the West responded to the open landscape and strong light with generous porches and deep overhangs. And in the South, you are apt to see farmhouses elevated on piers to let cooling breezes blow through.
Each house takes on the imprint of the people who lived there, resulting in a truly vernacular style – one that adapts to local needs and preferences. That's why you are unlikely to find two identical farmhouses. Like snowflakes, they may seem the same at first glance but then reveal countless variations when given a closer look. This quirky individuality is one of the most endearing characteristics of farmhouses.
One With The Land
Farmhouses are placed with care upon the landscape, unlike the rigid way in which suburban houses are plunked around their cul-de-sacs. The traditional wisdom was to choose a site that protected the home from midday sun and harsh weather. Each part of the country has arrived at its own version of this strategy.
Honest Materials
Because farmers were necessarily frugal, they didn't overlook building materials close at hand. Their houses quite literally sprang up from the soil. The by-products of clearing the fields included fieldstones, used for foundations and walls, as well as trees, which were locally hewn and milled into beams, clapboard, shingles, and flooring.
Today, we have a renewed appreciation for regional building materials. There is an environmental advantage to using them and an aesthetic benefit, too. Traditional materials help intimately tie a new home to its unique place in the world. That might mean cedar shakes in New England, slate roofs in Vermont, brick in Indiana, clapboard in Missouri, and adobe in New Mexico. There's no need to follow tradition slavishly as if it were a building code, of course, but it's hard to go far wrong with components that have been with us for hundreds of years.
Simple Forms
The phrase "form follows function" wasn't coined by an American farmer – but it might have been. It is an idea that clearly had a hand in shaping our rural architecture. Both the proportions and the scale of the farmhouse were arrived at long ago for practical reasons. The right- angled walls and 45-degree roof pitches are easily framed, without complex calculation or sophisticated tools. And the pieces from which these homes were built – studs, rafters, stones – are small enough for one or two people to haul around and set into place. This direct, logical approach continues to produce beautifully proportioned houses today. As with design in general, limitations can have an aesthetic benefit, guarding against excess and frills.
The Rural Palette
As anyone would know from taking a drive through the countryside, rural paint schemes were kept as simple as the forms they adorn – white for the house and red for the barn, with accents for doors and shutters.
This paired-down approach saved time, and the pigments in white and red paint were cheap. There may be a historical reason behind the white farmhouse, as well. Even though farmers were relatively isolated from architectural fads, their white homes may be in part the legacy of the all-white Greek Revival style, which spread from the cities to the countryside back in the mid 1800s.
There is more to these color choices than economy and fashion. The monochromatic paint scheme of a farmhouse draws attention to its elegantly straightforward form. Upon closer inspection you can appreciate the intriguing textures and patinas of the siding, trim, and detailing. Also, white is often seen as the color of hope and optimism. It has a way of making an unadorned house look poised and self-confident. And white walls offer a refreshingly clean, civilized break from the mud and manure of rural life.
When there is no barn on the site, some farmhouse owners choose the signature deep red of the barn for their homes. And barn-red paint, hardwearing and made from a humble ore, has its own aura of unselfconscious practicality.