Rustic Guesthouse Garage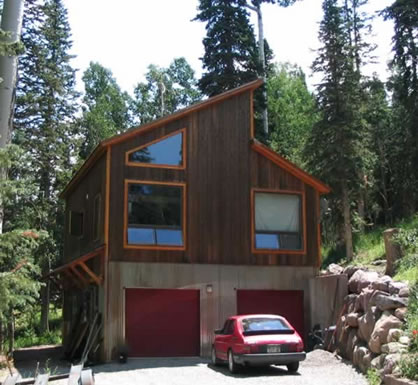 Specifications
Square Footage
Total Above-ground living area
744
Garage Level
744
Upper Level
744
Lower level living area
Footprint

The dimensions shown are for the house only (indicating the smallest area needed to build). They do not include the garage, porches, or decks, unless they are an integral part of the design.

24 W x 31 D
Rooms
| | |
| --- | --- |
| Above-ground bedrooms | 1 |
| Above-ground bathrooms | 1.5 |
| Master suite | Upper |
| Lower-level bedrooms | 0 |
| Lower-level bathrooms | 0 |
Attributes
Stories
2
Parking
garage
Number of stalls
2
House height

Traditionally, the overall height of a house is determined by measuring from the top of the finished floor on the main level, to the highest peak of the roof.

29.583
Ceiling heights

Raising or lowering the height of the ceilings on one or more floors of a house is often a simple change that can be made by your builder. However, if you want to raise the ceiling of the main floor of a two-story home, there has to be room to add steps to the existing staircase.

Main level
8
Upper level
8
Vaulted ceilings

We consider a room to be vaulted if the ceiling - whether flat, angled, or curved - is above 10 feet at its highest point. If you prefer that one or more rooms not be vaulted in your new home, this is a very simple change that your builder can make for you.

KEY TO SYMBOLS:

LR = Living Room/Great Room
DR = Dining Room
FAM = Family Room
FOY = Foyer
STU = Study/Library/Den
KIT = Kitchen
SUN = Sunroom
MBR = Master Bedroom
MB = Master Bath
LOF = Loft
OFF = Office/Guest Room
REC = Recreation/Game Room
ALL = Entire Level

MBR
Printer Friendly Version
Floor Plans 1 For Rustic Guest House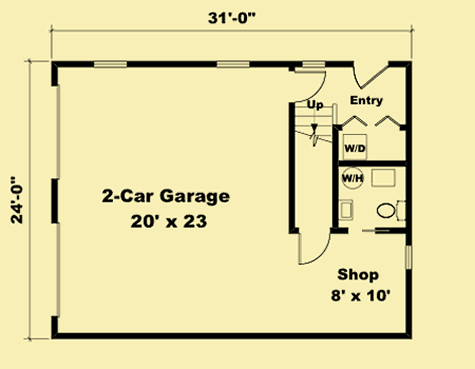 Upper Level Floor Plans For Rustic Guest House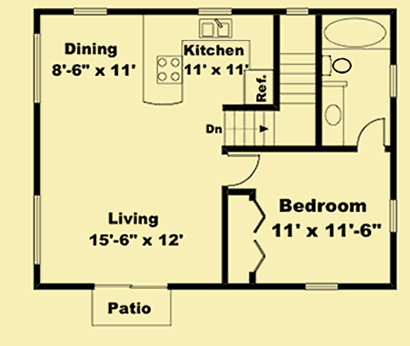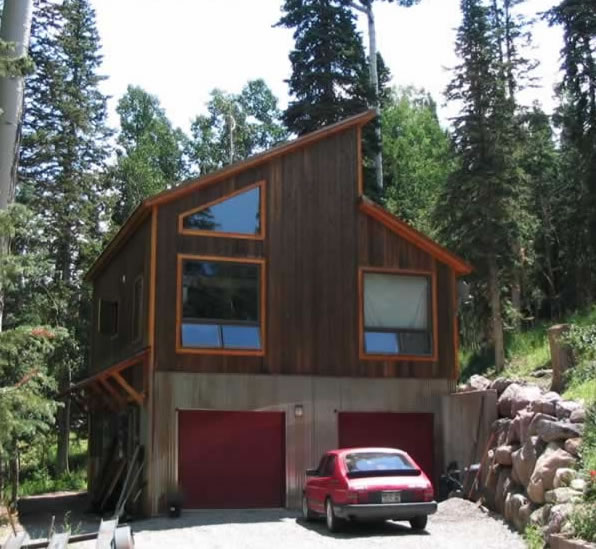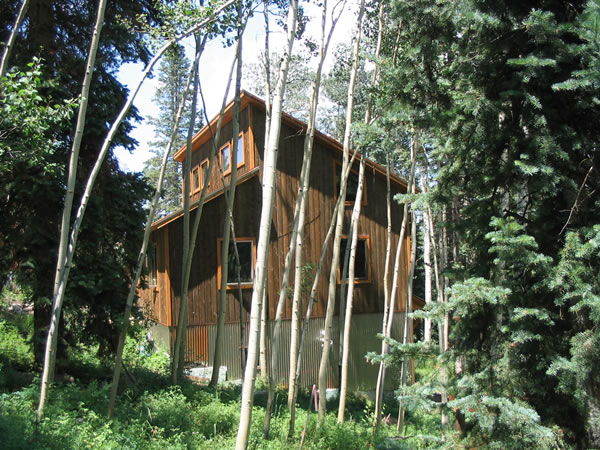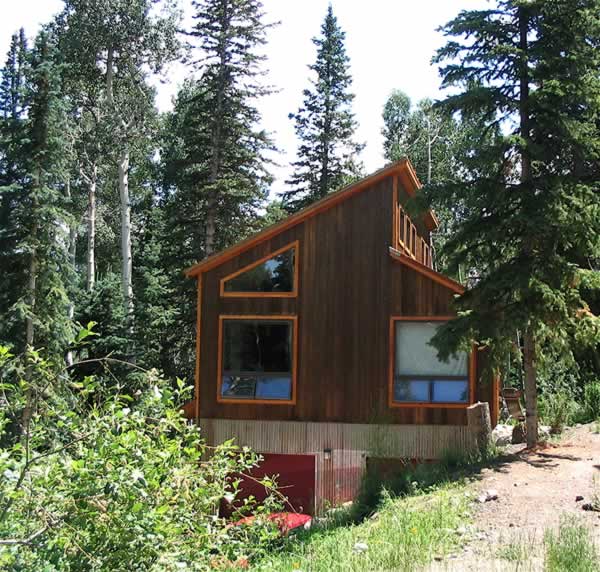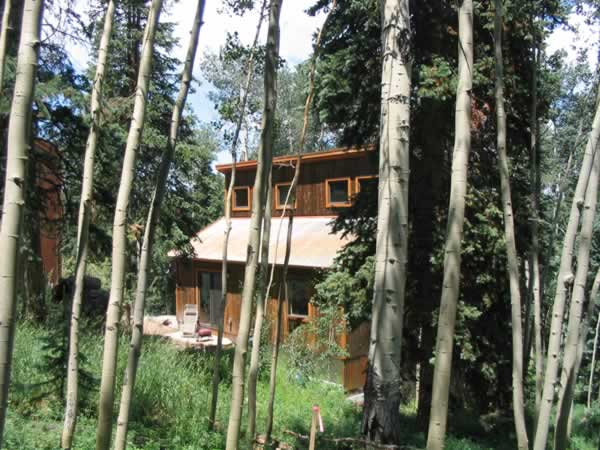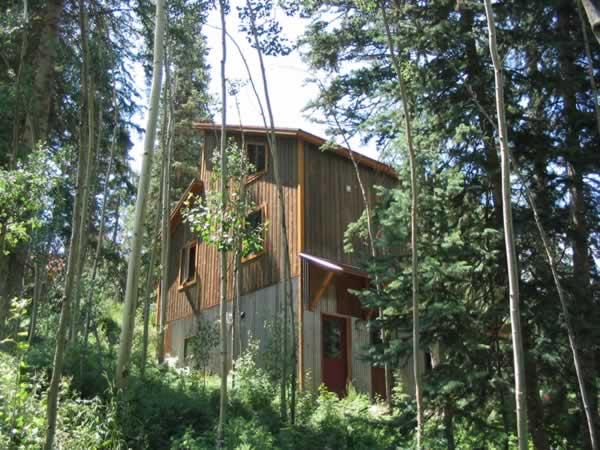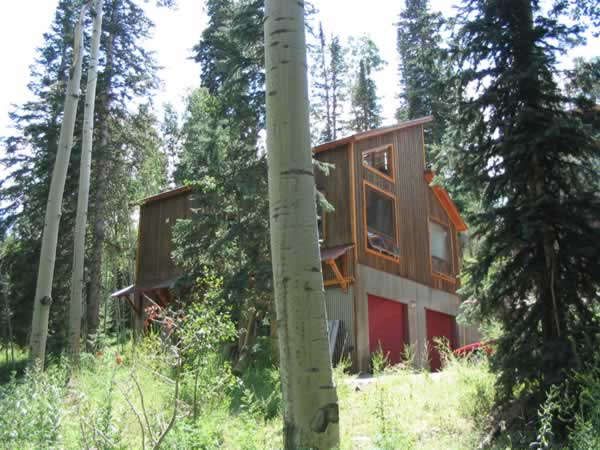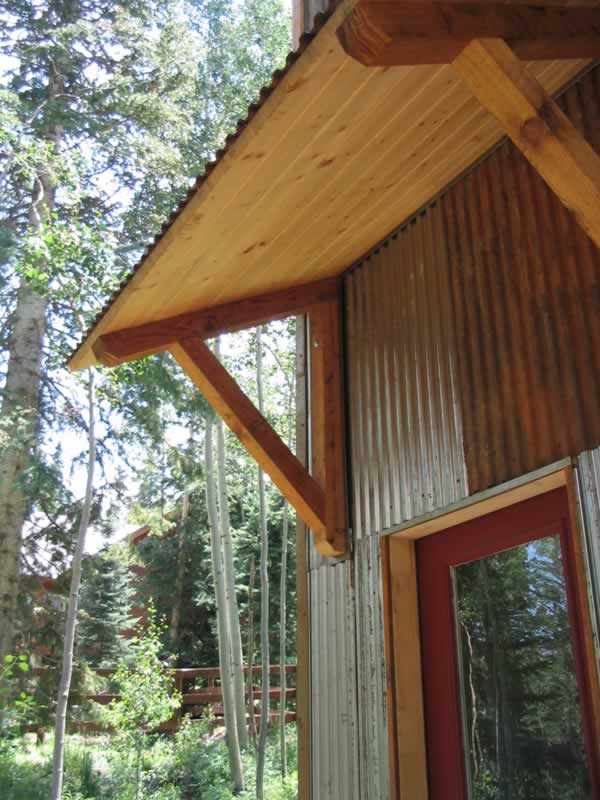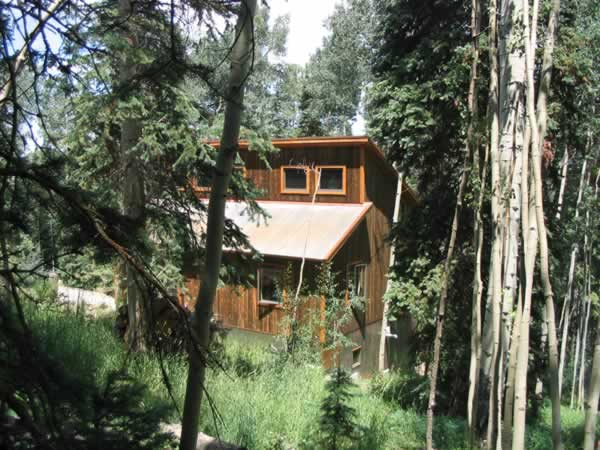 The apartment on the upper level of the two–car garage is flooded with natural light that enters through clerestory windows. The entry to the upper level is private, making it ideal for use as a rental unit, but it would of course work just as well as a guesthouse, a starter home, or a place to live while your new house is being constructed.
The garage has plenty of room for two vehicles. The shop area has a swinging door off of it that opens to a long storage space under the stairs, and a pocket door that opens to a small bathroom. A door at the side of the garage opens to a small foyer space with a laundry, stairs to the upper level, and a door that opens to the garage space.
At the top of the stairs you enter the living spaces of the apartment. The kitchen has a wrap around counter with a peninsula at one end, and a window over the sinks. It's next to the dining area, and open to both it and the living room. The ceiling in the kitchen and dining area soars from an already lofty 11'6" behind the sinks to a magnificent 19' at the top of the clerestory windows, and these windows allow natural light to fill the entire space. At the transition to the living room, the wall holding the clerestory windows drops to a 12' height, and slopes to 8' at the far wall.
The two wide windows in the dining and living rooms are large picture windows with a pair of smaller windows below them (in the dining space there's also an angled window set high on the wall), providing great views and even more light. At the far end of the living room the original owners had a pair of sliding glass doors that opened to what was ground level on their property, but it could easily be replaced with another picture window.
A door off the living space opens to the bedroom and a full bath. Where you enter there's a flat ceiling that extends to the door to the bath, but at the edge of the closet, the ceiling matches the one in the living room, beginning at 12' and dropping to 8' at the outer wall. Clerestory windows let in light above the flat ceiling area that flows into the stairwell and the kitchen.
Printer Friendly Version
Front Elevation For Rustic Guest House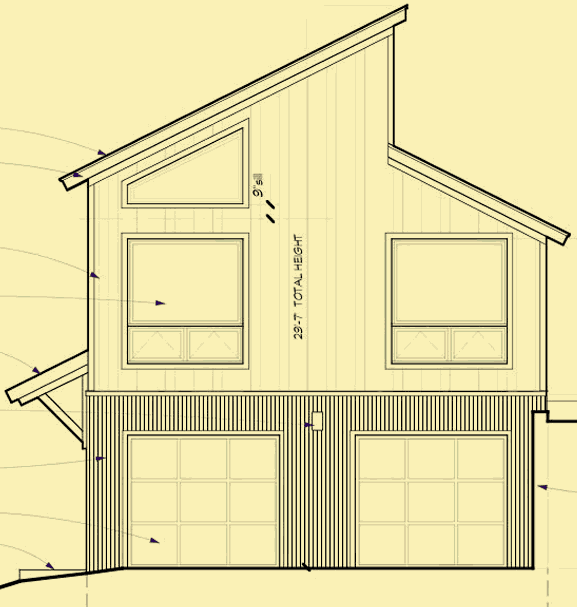 Rear Elevation For Rustic Guest House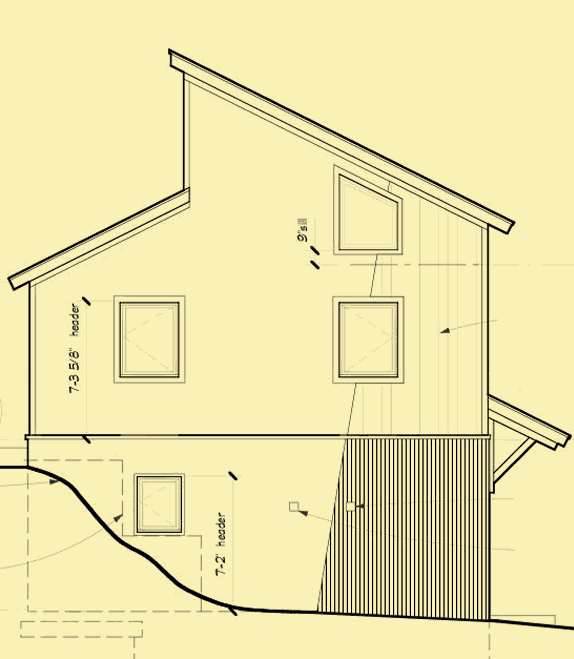 Side 1 Elevation For Rustic Guest House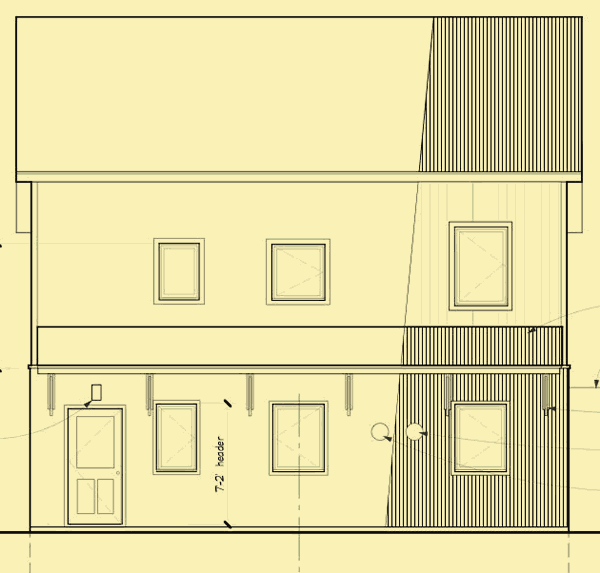 Side 2 Elevation For Rustic Guest House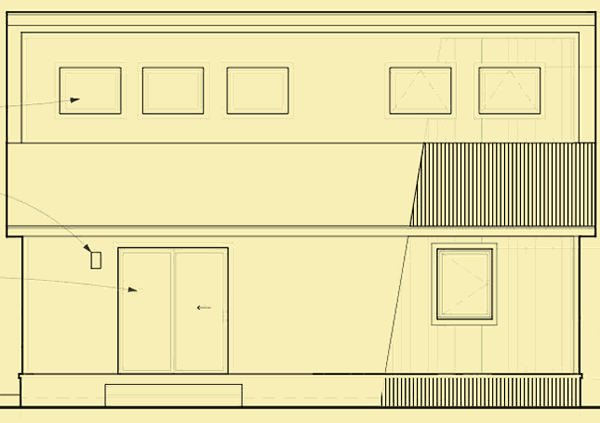 Brief Description
Unique lines and fine yet rustic materials really make this two–car garage with an apartment upstairs stand out. The garage has room for a workshop, a half bath, and a small laundry, while on the upper level there's a full apartment, including living and dining rooms, a kitchen, and a bedroom with a full bath.