Farmhouse Plans
Styles
Types
Other
Helpful Links
Click a name or photo below for additional details.
What follows are excerpts from "The Farmhouse", written by Jean Rehkamp Larson, and published by Taunton Press in 2004. Taunton Press
Introduction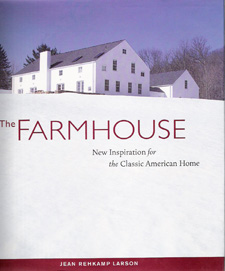 In practical terms, the simple, hearty form of the style is highly adaptable. A farmhouse can easily be expanded because the basic shapes make it easy to add porches, sheds, and wings. These houses can also be dressed up or dressed down, depending on what you expect from a home; the gable ends, soffits, and porch columns can be left austere or filled with texture, trim, and detail.
An American Icon
I'm happy to say that the farmhouse, after years of decline, is making a comeback. Even though fewer people now farm to make a living, the style endures because we have come to see it as a classic symbol of home – an unforgettable feature of the American landscape. Many of us continue to carry around the image of a bucolic white house glimpsed on a hill from a favorite country road. And the familiar elements of the style – a …. More