ICF Earth Sheltered Home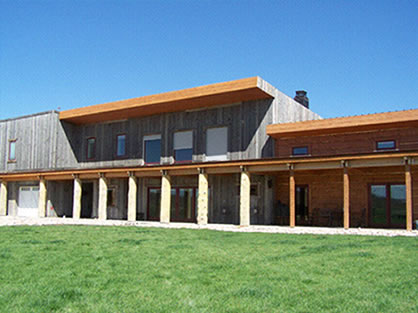 Specifications
Square Footage
Total Above-ground living area
5017
Main Level
3251
Upper Level
1766
Opt. Rec. Rm.
1560
Lower level living area
Footprint

The dimensions shown are for the house only (indicating the smallest area needed to build). They do not include the garage, porches, or decks, unless they are an integral part of the design.

125 W x 41 D
Rooms
| | |
| --- | --- |
| Above-ground bedrooms | 4 |
| Above-ground bathrooms | 3.5 |
| Master suite | Main |
| Lower-level bedrooms | 0 |
| Lower-level bathrooms | 0 |
Attributes
Stories
2
Parking
garage
Number of stalls
2
House height

Traditionally, the overall height of a house is determined by measuring from the top of the finished floor on the main level, to the highest peak of the roof.

24
Ceiling heights

Raising or lowering the height of the ceilings on one or more floors of a house is often a simple change that can be made by your builder. However, if you want to raise the ceiling of the main floor of a two-story home, there has to be room to add steps to the existing staircase.

Main level
9
Vaulted ceilings

We consider a room to be vaulted if the ceiling - whether flat, angled, or curved - is above 10 feet at its highest point. If you prefer that one or more rooms not be vaulted in your new home, this is a very simple change that your builder can make for you.

KEY TO SYMBOLS:

LR = Living Room/Great Room
DR = Dining Room
FAM = Family Room
FOY = Foyer
STU = Study/Library/Den
KIT = Kitchen
SUN = Sunroom
MBR = Master Bedroom
MB = Master Bath
LOF = Loft
OFF = Office/Guest Room
REC = Recreation/Game Room
ALL = Entire Level

LR, DR, MBR, MB, OFF, BR1, BR2
Printer Friendly Version
Main Level Floor Plans For ICF Earth Sheltered Home

Upper Level Floor Plans For ICF Earth Sheltered Home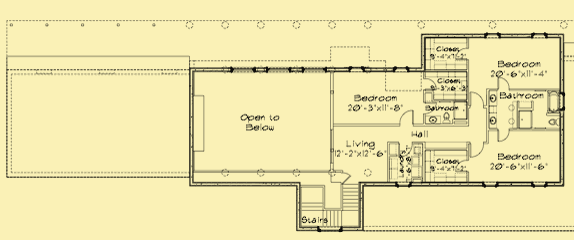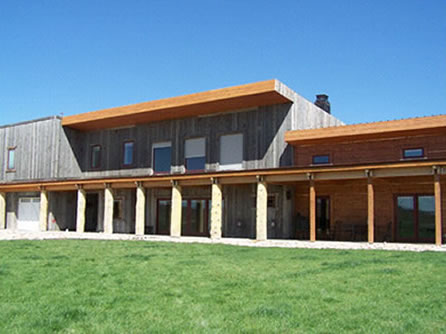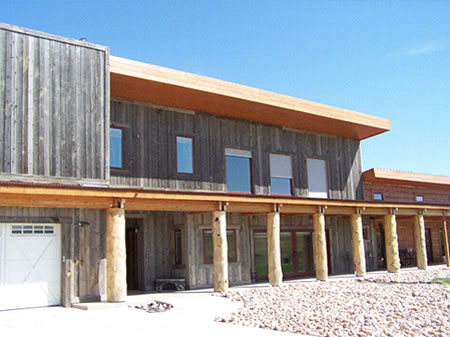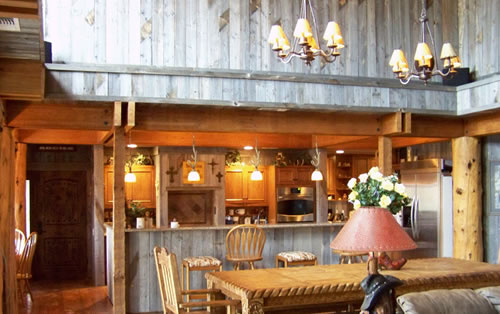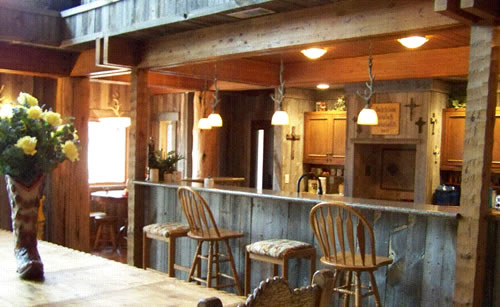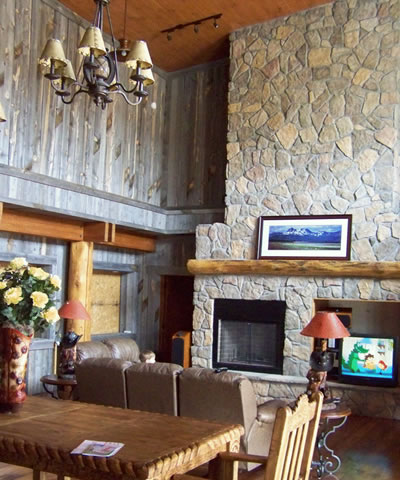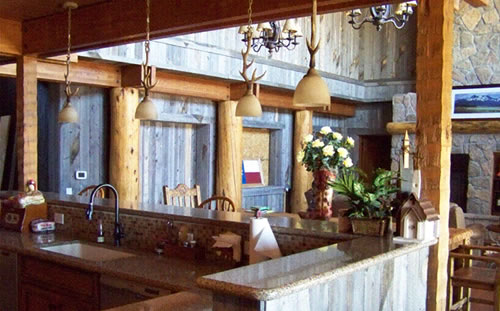 You can build this house facing in whatever direction suits your needs, but if you're interested in building it as a passive solar home, please read the section below titled Passive Solar Info for specific information on orientation.
A colonnade of wood posts and heavy timber grace the entire front length of the house, creating a covered porch that ranges from 3′ to 11′ deep for relaxing and enjoying the outdoors at any time of day. The entry door opens into an open living space with views to a great room straight ahead. A sunny breakfast nook with a bay window that faces the front brings in light to the entry and kitchen space, which has a 9′ ceiling with exposed wood beams. The open kitchen has a long breakfast bar that separates the kitchen from the great room, and the sink is located so that you can look out to the great room while doing the dishes.
As you enter the great room, you find yourself in a dramatic two–story space with a wood ceiling that gently slopes from 20′ to 22′. A great stone fireplace with a built–in for media greets you at the end of the room. The rustic theme continues in the barn wood covered walls, exposed log columns, and reclaimed wood floor. Sliding glass doors that total 15′ in width look and walk out to the front porch, while three upper picture windows bring in additional light and views. A row of timber log columns located at the rear of the house create intervals for display niches and built–ins, and openings that access a staircase, a powder room, a butler's area, and a walk–in pantry for the kitchen.
To the right of the fireplace hearth there's a door that opens into an office/craft room that has a vaulted ceiling that slopes up to over 14′, and a glazed door with a high transom window above it that walks out to the front porch. To the left of the fireplace, a door opens into a large master suite with a fireplace in one corner. The bedroom has a ceiling that vaults from 10'6″ to 14′, and has sliding glass doors that walk out to the front. A high transom window above the doors brings in additional sunlight and high views. The master bedroom features two separate walk–in closets, with one closet that accesses the master bath and a private laundry room. The master bath has two separate vanity sinks, a private toilet room, a tub that sits in one corner under a window, a separate shower, and a glazed door that opens out to the front porch. The ceiling in the bath slopes up to 14′ where it meets the exterior wall facing the front.
As you walk down the hall past the staircase and kitchen, you pass a mudroom/laundry room that has a coat closet, a utility sink, a door that opens out to the front, and a door that opens into an oversized two–car garage. The long hallway has three display niches to break the monotony, provides access to a large storage room and an exercise room, and leads to another optional wing of the house, which would add an additional 1,560 SF of living space (for a total of 6,577 SF for the house). This wing has a full bath, an office with a separate office storage room, a room for a full bar, a walk–in closet, and an open recreation/theater room with a fireplace in one corner and a sloped ceiling that vaults from 10′ to 14′. The recreation room features two large windows that look out to the front, a glazed door that walks out to the front porch, three additional upper transom windows, and a ladder that accesses an upper loft above the office. This whole wing would make an excellent in–law unit that wouldn't need any modifications if you added a kitchenette to the bar area.
The upper landing opens up to a play area/living space, and the hallway off of it is oversized to accommodate shelves for toys/books. There is a second laundry/utility room on this level for added convenience. The upper roof gently slopes from front to rear, so bedroom 1 has a ceiling that slopes from over 10′ to over 11′, bedroom 2 has a ceiling that slopes from about 10'6″ to 12′, and bedroom 3 has a ceiling that slopes from 9′ to about 10′. All three bedrooms have walk–in closets, and bedroom 1 has its own private full bath while bedrooms 2 and 3 share an oversized full bath with two separate vanity sinks, a tub and a separate shower.
The plans for this home call for insulated concrete form (ICF) exterior walls. However, they can easily be changed to 2×6 stud walls by your builder or a design professional. Be sure to confirm this with your builder prior to purchasing the plans.
Passive Solar Info
To maximize its passive solar design, the front of this house should face South. Oversized roof overhangs and covered porches were designed to manage natural day lighting throughout the year for the original site location.
Printer Friendly Version
Front Elevation For ICF Earth Sheltered Home

Rear Elevation For ICF Earth Sheltered Home

Side 1 Elevation For ICF Earth Sheltered Home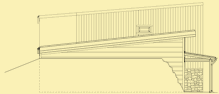 Side 2 Elevation For ICF Earth Sheltered Home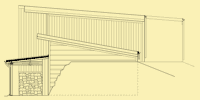 Brief Description
Designed to be green and energy–efficient, this unique earth–sheltered home was originally designed to back into a hillside with spectacular views to the front. The main level rear and sides were tucked away neatly into earth, with the public living spaces having direct views to the front exterior, while the more utilitarian spaces (like closets) face the rear. The original home was built with exposed wood posts, hand–hewn log veneer, log columns, and barn wood siding at the exterior and interior, to give the home a rustic feel both inside and out.