Small Vacation Cottage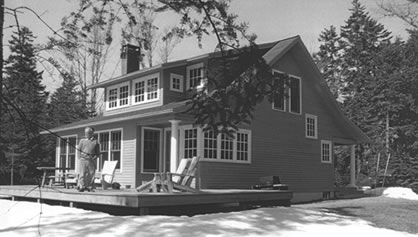 Specifications
Square Footage
Total Above-ground living area
1539
Main Level
924
Upper Level
615
Lower level living area
Footprint

The dimensions shown are for the house only (indicating the smallest area needed to build). They do not include the garage, porches, or decks, unless they are an integral part of the design.

28 W x 34 D
Rooms
| | |
| --- | --- |
| Above-ground bedrooms | 3 |
| Above-ground bathrooms | 2 |
| Master suite | Upper |
| Lower-level bedrooms | 0 |
| Lower-level bathrooms | 0 |
Attributes
Stories
2
Parking
Number of stalls
House height

Traditionally, the overall height of a house is determined by measuring from the top of the finished floor on the main level, to the highest peak of the roof.

23' 0"
Ceiling heights

Raising or lowering the height of the ceilings on one or more floors of a house is often a simple change that can be made by your builder. However, if you want to raise the ceiling of the main floor of a two-story home, there has to be room to add steps to the existing staircase.

Main level
8
Upper level
8
Vaulted ceilings

We consider a room to be vaulted if the ceiling - whether flat, angled, or curved - is above 10 feet at its highest point. If you prefer that one or more rooms not be vaulted in your new home, this is a very simple change that your builder can make for you.

KEY TO SYMBOLS:

LR = Living Room/Great Room
DR = Dining Room
FAM = Family Room
FOY = Foyer
STU = Study/Library/Den
KIT = Kitchen
SUN = Sunroom
MBR = Master Bedroom
MB = Master Bath
LOF = Loft
OFF = Office/Guest Room
REC = Recreation/Game Room
ALL = Entire Level

FOY
Printer Friendly Version
Main Level Floor Plans For The Cottage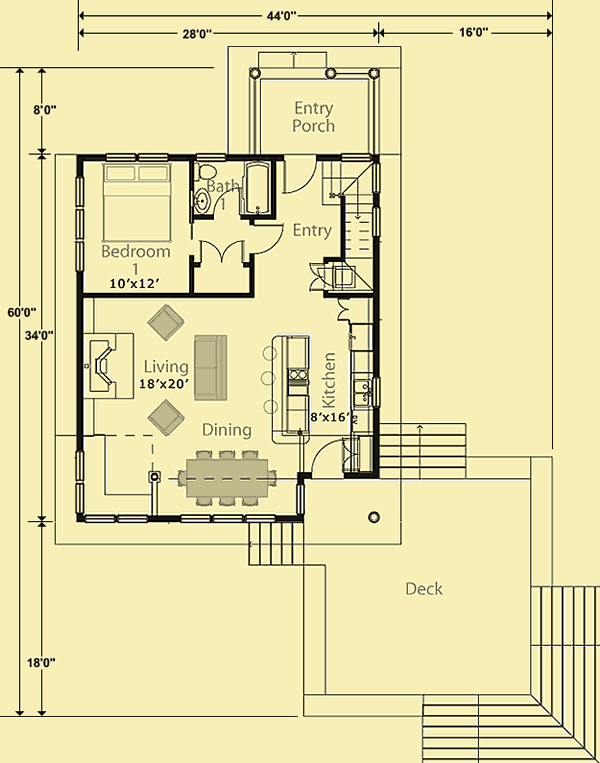 Upper Level Floor Plans For The Cottage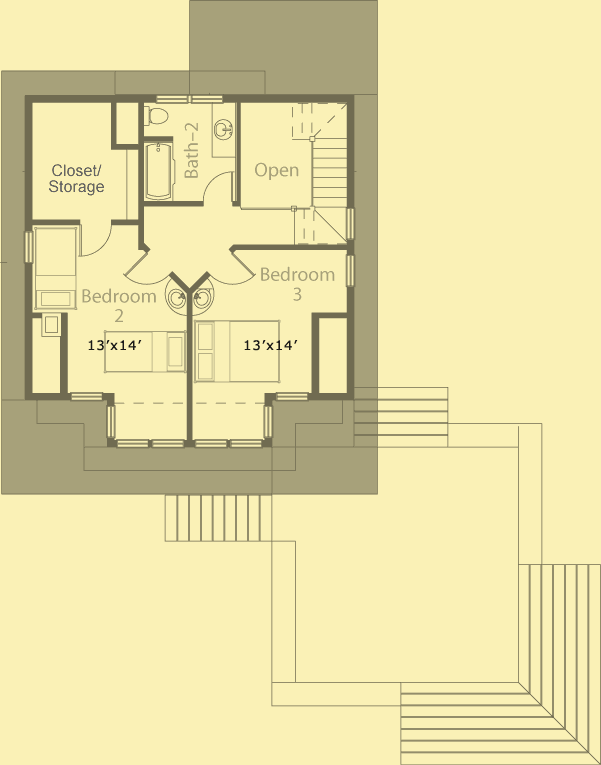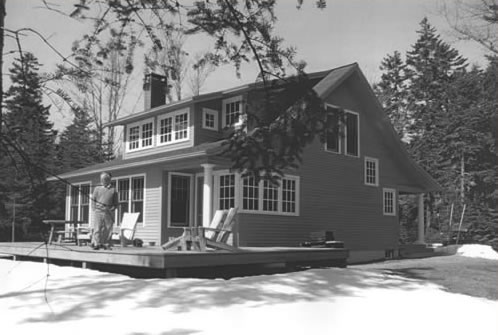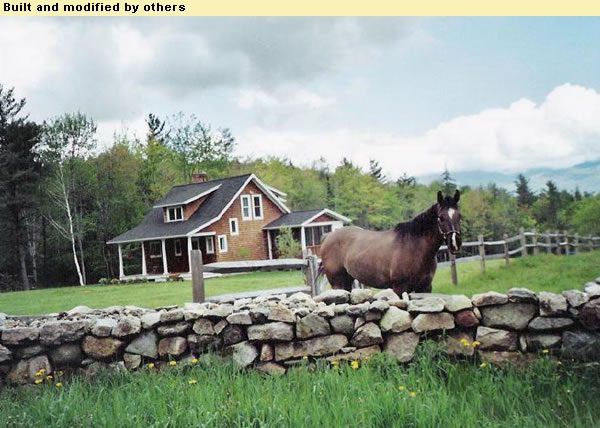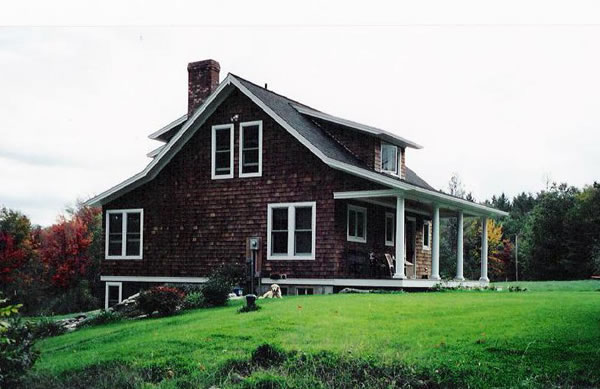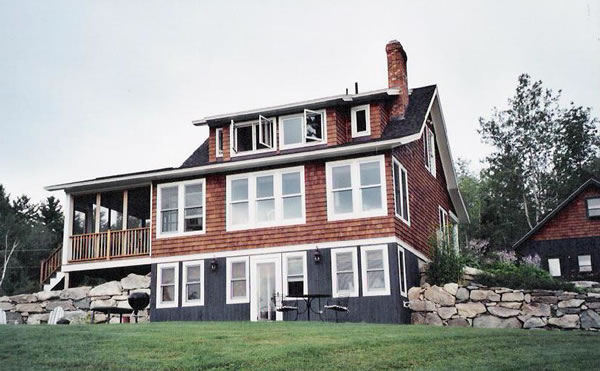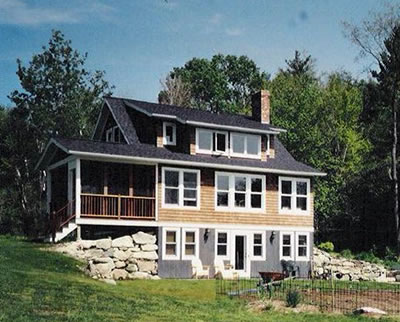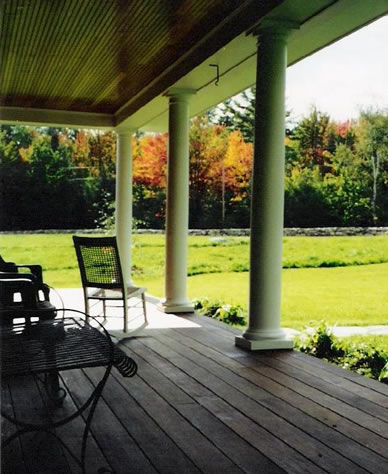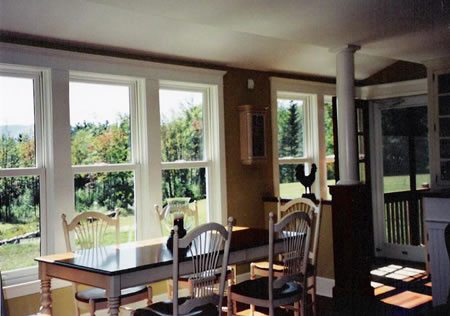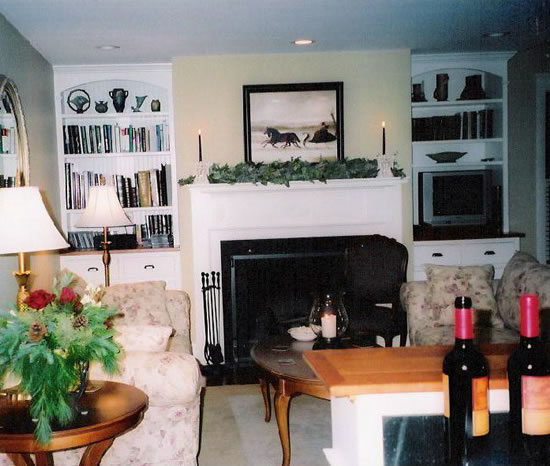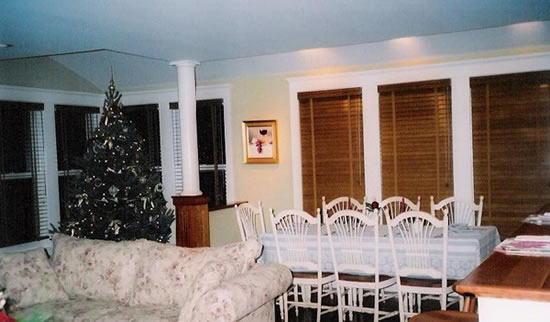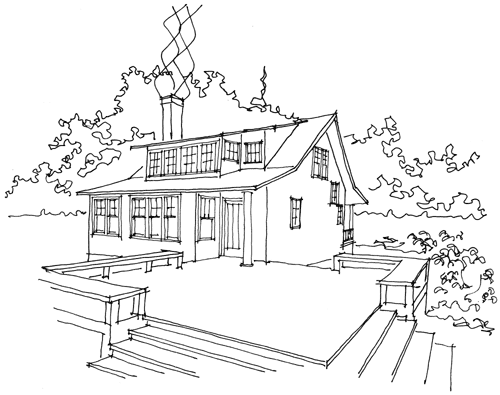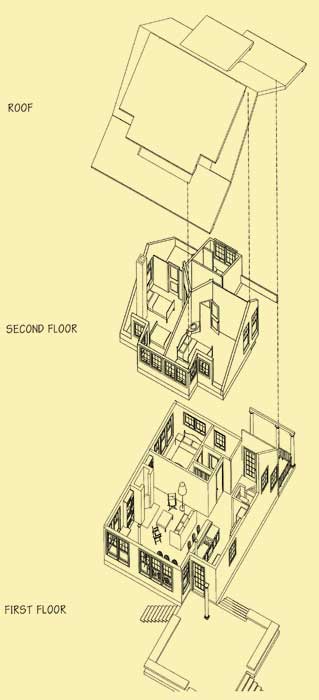 This house was designed for the shore of a beautiful harbor on the Maine coast, but it works well in many other types of locations. It has a very small footprint, a rectangular shape, and a simple roof, so it should be quite inexpensive to build.
Immediately inside the entry door is an entry hall with a high ceiling and the staircase. It gives one access to the downstairs bedroom and bath or the upper two bedrooms and their bath without traipsing all through the house. The main space of the house is a unified kitchen/dining/living space. The result is a sweep of space, yet there is also some separation with the dining area out in the front in what amounts to a bay. On the east side of the bay is a window, and on the west is a low wall that separates a small sitting area that could either be built-in seats or a small office. The 'living room' is a furniture grouping gathered around the fireplace and is focused on it. A lot of the action in most houses really happens around the dining room table, so why not put it in the view and let the living room look over it to get a view. The big deck that makes up the foreground of this plan is really dictated somewhat by the site. On this particular site it grounds this house to a rock ledge that slopes steeply down to the harbor, but your site might dictate something very different.
The upstairs of this house has two nice bedrooms under the eaves of the roof, each with a window seat for views and daydreaming. The east bedroom doesn't have a closet, but can accommodate an armoire. There is a hidden storage area under the eaves, a bit low but useful, that is accessed from the back of the west bedroom closet. Even if you don't use it, the children will love it. Both rooms have a sink in them, because the client remembers them in the cottage that he grew up in on this site. They were left in because it seems like a pretty civilized idea for what is a very civilized house.
Please Note
Due to licensing agreements, this home may not be built in Hancock County, Maine.
Printer Friendly Version
Front Elevation For The Cottage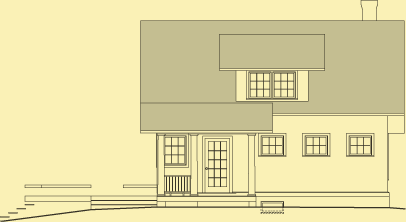 Rear Elevation For The Cottage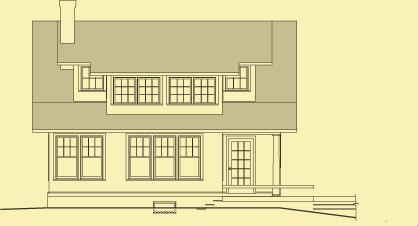 Side 1 Elevation For The Cottage

Side 2 Elevation For The Cottage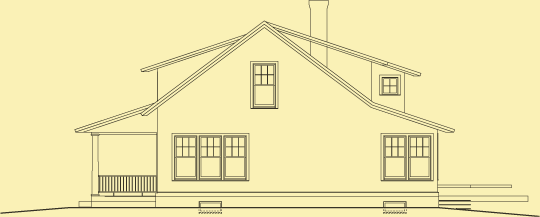 Brief Description
This compact cottage would work perfectly as a cabin or a vacation home. At just over 1,500 sf, it still has room for three bedrooms and two full baths. All three bedrooms enjoy excellent views. The kitchen, dining, and living room occupy one open space, so all can enjoy a large fireplace. An open deck spans the rear of the house.