Solar Scoop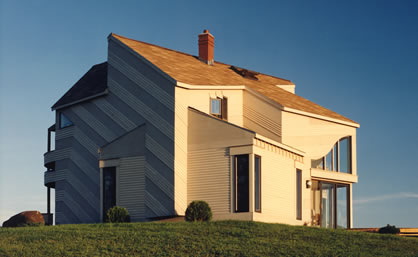 Specifications
Square Footage
Total Above-ground living area
1600
Main Level
984
Upper Level
616
Lower level living area
Footprint

The dimensions shown are for the house only (indicating the smallest area needed to build). They do not include the garage, porches, or decks, unless they are an integral part of the design.

47 W x 41 D
Rooms
| | |
| --- | --- |
| Above-ground bedrooms | 2 |
| Above-ground bathrooms | 2.5 |
| Master suite | Upper |
| Lower-level bedrooms | 0 |
| Lower-level bathrooms | 0 |
Attributes
Stories
2
Parking
garage
Number of stalls
1
House height

Traditionally, the overall height of a house is determined by measuring from the top of the finished floor on the main level, to the highest peak of the roof.

23
Ceiling heights

Raising or lowering the height of the ceilings on one or more floors of a house is often a simple change that can be made by your builder. However, if you want to raise the ceiling of the main floor of a two-story home, there has to be room to add steps to the existing staircase.

Main level
8.5
Upper level
7.5
Vaulted ceilings

We consider a room to be vaulted if the ceiling - whether flat, angled, or curved - is above 10 feet at its highest point. If you prefer that one or more rooms not be vaulted in your new home, this is a very simple change that your builder can make for you.

KEY TO SYMBOLS:

LR = Living Room/Great Room
DR = Dining Room
FAM = Family Room
FOY = Foyer
STU = Study/Library/Den
KIT = Kitchen
SUN = Sunroom
MBR = Master Bedroom
MB = Master Bath
LOF = Loft
OFF = Office/Guest Room
REC = Recreation/Game Room
ALL = Entire Level

DR, MBR
Printer Friendly Version
Main Level Floor Plans For Solar Scoop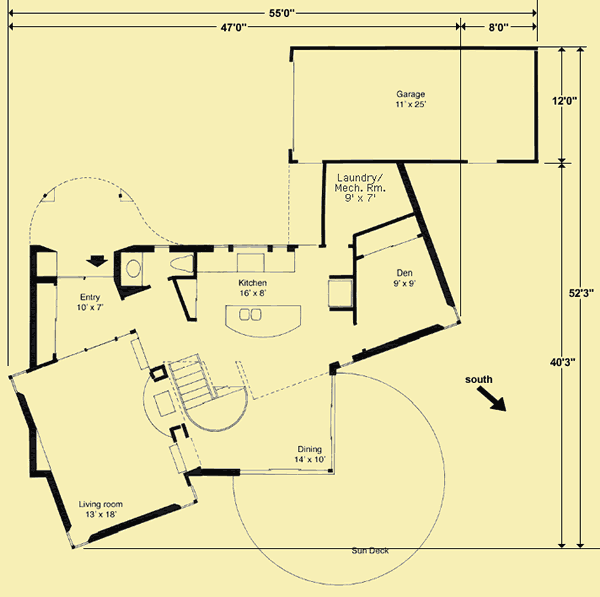 Upper Level Floor Plans For Solar Scoop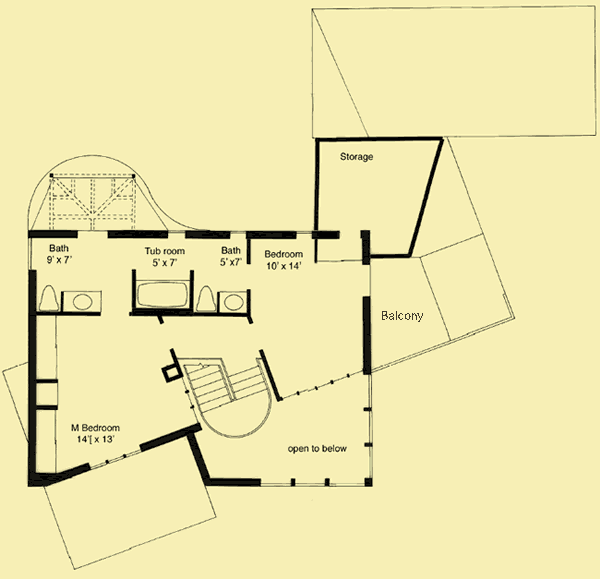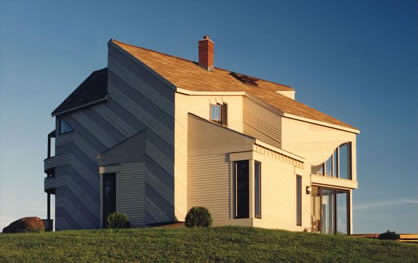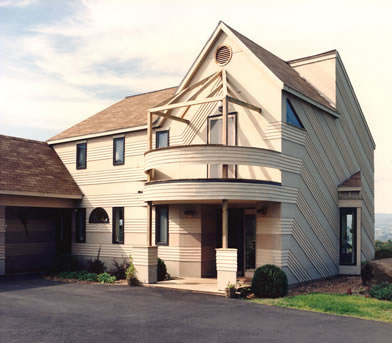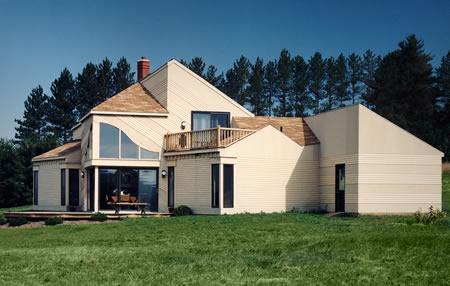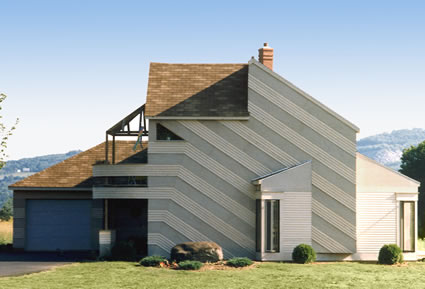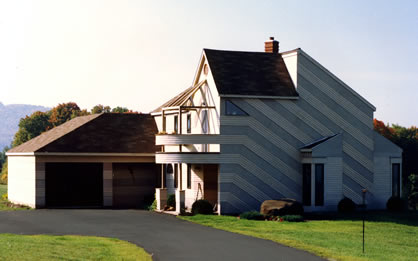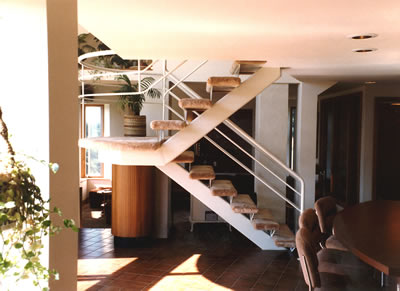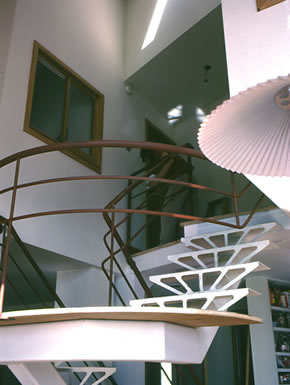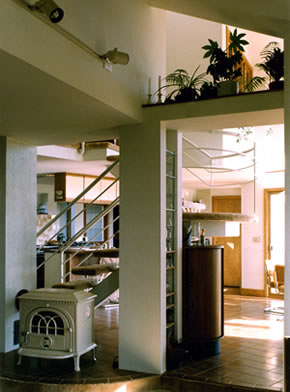 The exterior is a combination of wood clapboards and MDO plywood siding, but you can of course select any materials you'd like. The exterior angles and details change with every step if you were to walk around the house, and all of them – in our opinion – are as beautiful as they are unique.
The front entry is covered by a beautiful rounded balcony off the master bedroom. The airlock foyer has a large coat closet and a powder room to either side, and it looks into the living room through a glazed wall, and has a door (that isn't shown on the plan) that separates it from the rest of the house. A short hallway leads past two steps down to the sunken living room on your way to the stairs and the rest of the living areas. The living room has windows at each corner, and a centrally located fireplace.
The open kitchen area includes a large island with a pair of sinks, and a special spot for a desk. The dining area is surrounded by glazed windows and doors, and the cathedral ceiling rises all the way to the roofline, where "waves" of windows also bathe the upper level in natural light. Also located on this level are a den with a large closet, and a laundry/mechanical room.
The upper floor is just as unique as the lower level. Particularly in the master bath area, which is broken up into two bathroom areas – one for the master suite and another for a second bedroom – separated by a tub room. Pocket doors make each area private. It is from the bath area that the private balcony over the front door is accessed. The ceiling in the master bedroom rises to 12'6", one entire wall is devoted to closet space, and glazed doors lead out to a private deck. A second bedroom includes a closet that accesses a large storage area, and doors that lead out to another private deck.
Passive Solar & Construction Info
A solar scoop on the southeast/southwest corner gathers in the sun, providing enough annual solar gain in cold climates to require less than two cords of hardwood for auxiliary heating. The aperture is insulated at night with pull down shades, or it can be glazed with high performance, Low E, triple glass. The walls are double framed with two layers of 2x4s, providing a full 10" space for insulation. The floor is foam insulated exposed slab on grade, and is finished with heat absorbent tile. Additional heating comes from the radiant hydronic floor and backup wood stove. The plans also include an electric baseboard heat option (which may not be appropriate for all regions due to high electric costs).
Printer Friendly Version
Front Elevation For Solar Scoop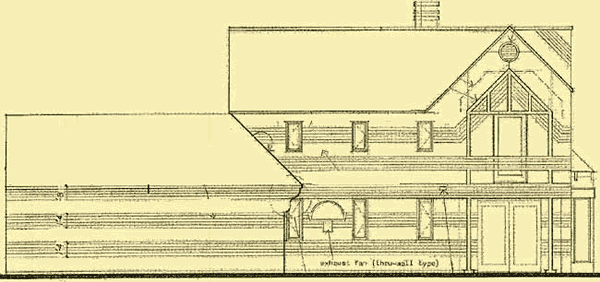 Rear Elevation For Solar Scoop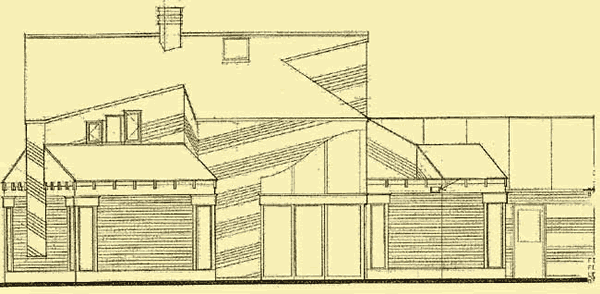 Side 1 Elevation For Solar Scoop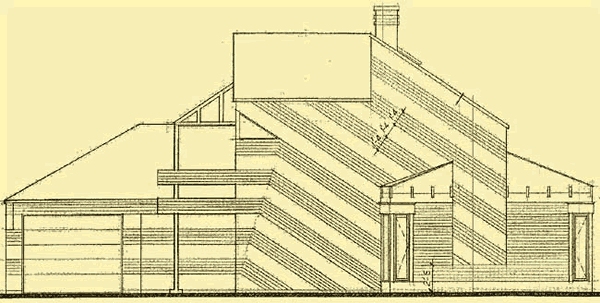 Side 2 Elevation For Solar Scoop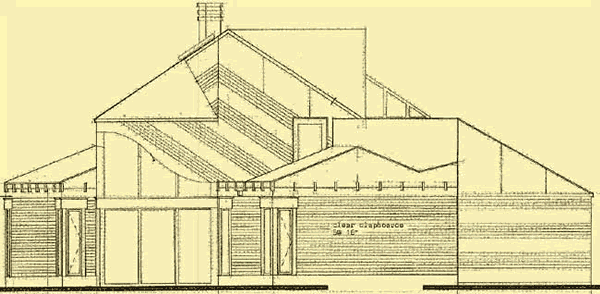 Brief Description
This truly unique contemporary house is modest in size, super–insulated, and designed as a passive solar home. Architecturally, this visually stunning design uses a massing concept of two recognizable styles: a classic Greek Revival style with clapboarding; and a banded graphic wrap–around package that includes a pop–out round master bedroom deck. The two formats are placed as rectangles 20 degrees to one another.