Florida Coastline Mediterranean Home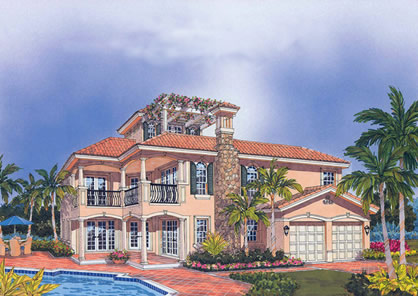 Specifications
Square Footage
Total Above-ground living area
3212
First Level
1434
Second Level
1675
Third Level
103
Lower level living area
Footprint

The dimensions shown are for the house only (indicating the smallest area needed to build). They do not include the garage, porches, or decks, unless they are an integral part of the design.

62.5 W x 40 D
Rooms
| | |
| --- | --- |
| Above-ground bedrooms | 3 - 4 |
| Above-ground bathrooms | 4 |
| Master suite | Upper |
| Lower-level bedrooms | 0 |
| Lower-level bathrooms | 0 |
Attributes
Stories
2
Parking
garage
Number of stalls
2
House height

Traditionally, the overall height of a house is determined by measuring from the top of the finished floor on the main level, to the highest peak of the roof.

35.5
Ceiling heights

Raising or lowering the height of the ceilings on one or more floors of a house is often a simple change that can be made by your builder. However, if you want to raise the ceiling of the main floor of a two-story home, there has to be room to add steps to the existing staircase.

Main level
9.333
Upper level
9.333
Vaulted ceilings

We consider a room to be vaulted if the ceiling - whether flat, angled, or curved - is above 10 feet at its highest point. If you prefer that one or more rooms not be vaulted in your new home, this is a very simple change that your builder can make for you.

KEY TO SYMBOLS:

LR = Living Room/Great Room
DR = Dining Room
FAM = Family Room
FOY = Foyer
STU = Study/Library/Den
KIT = Kitchen
SUN = Sunroom
MBR = Master Bedroom
MB = Master Bath
LOF = Loft
OFF = Office/Guest Room
REC = Recreation/Game Room
ALL = Entire Level
Printer Friendly Version
Floor Plans 1 For Florida Coastline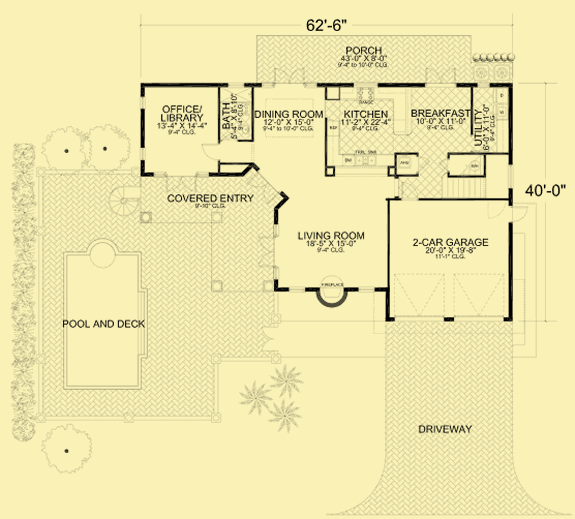 Floor Plans 2 For Florida Coastline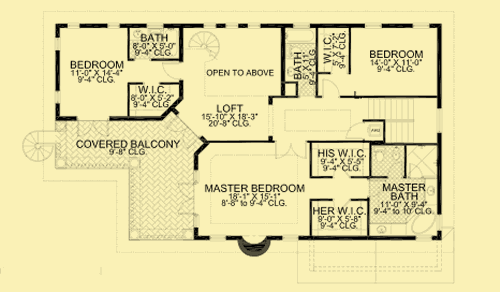 Floor Plans 3 For Florida Coastline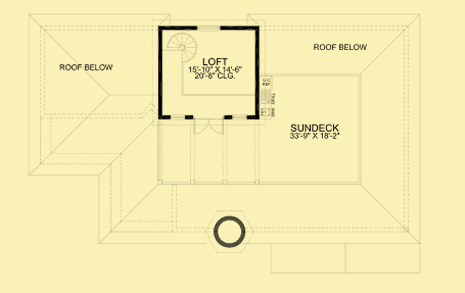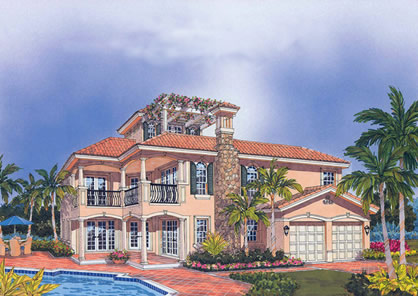 The covered entry porch is framed by round tapered columns, and has three pairs of French doors with direct access to the entry foyer, the office, and the living room. Upon entering the house through the center pair of doors, you find yourself in a foyer that is open to the living area. To the right is a spacious living room with a central fireplace that has a curved stone chimney. To the left is a dining room with a pair of doors that leads to a rear porch for outdoor eating and relaxing. From the dining room, you enter the kitchen, which leads to a breakfast room that also has access to the rear porch. From the breakfast room, you can find a laundry/utility room, a stairwell, and a two–car garage. To the left of the foyer are a full bath and a private office/library. The office also has French doors leading to the covered entry, which fills the room with sunlight, and provides a private entry.
After reaching the second floor, the master bedroom suite is immediately to the left. It has a tray ceiling, two walk–in closets, and a pair of French doors that opens onto an L–shaped covered balcony. The master bath has a private toilet room, two separate vanity sinks, a shower, and a tub. Across from the master bedroom are a full bath, and a bedroom with a walk–in closet. An opening from the hall leads to a large open loft space, which has a pair of doors to the covered balcony and a spiral stairwell. The stairwell leads to a third level balcony, which opens onto a large sundeck. The sundeck features a grill and a sink, creating additional space to enjoy the outdoors and entertain. From the second floor loft space, a door leads to a third bedroom suite, which has a private bath, a walk–in closet, and a pair of French doors to the covered balcony.
Please Note
The plans for this home call for reinforced concrete block exterior walls. If you plan to construct this house with any other exterior wall system, we highly recommend that you purchase the plans in electronic format.
Printer Friendly Version
Front Elevation For Florida Coastline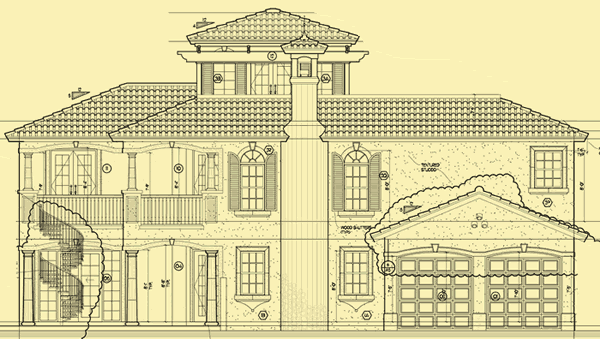 Rear Elevation For Florida Coastline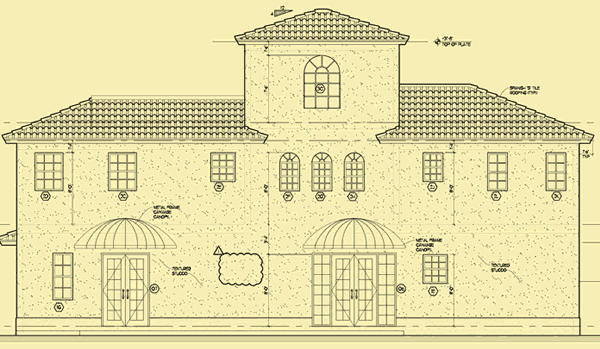 Side 1 Elevation For Florida Coastline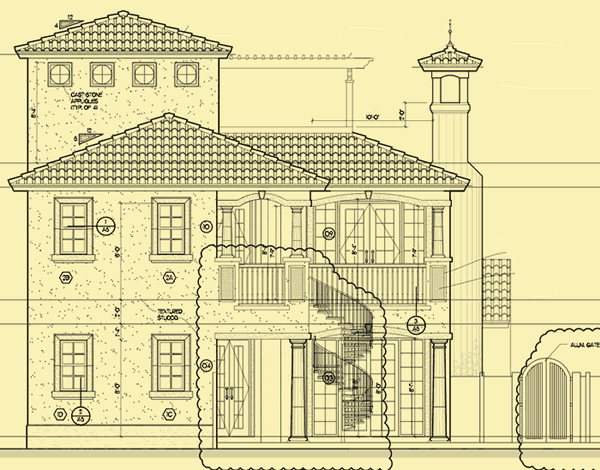 Side 2 Elevation For Florida Coastline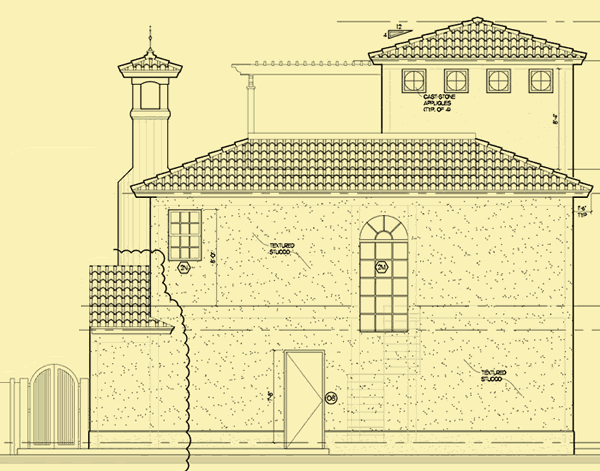 Brief Description
This traditional Mediterranean style home features a prominent stone chimney at the front, an L–shaped covered entryway, a matching L–shaped covered balcony on the second level, and an upper loft reached by a spiral staircase that opens to a beautiful sundeck. Double door off both the dining room and the breakfast nook open to a long porch at the rear of the house. There's also an office space that can be accessed directly from the covered entryway.