Mediterranean Style Villa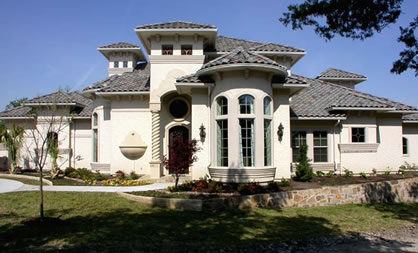 Specifications
Square Footage
Total Above-ground living area
4623
Main Level
3414
Upper Level
1209
Lower level living area
Footprint

The dimensions shown are for the house only (indicating the smallest area needed to build). They do not include the garage, porches, or decks, unless they are an integral part of the design.

85 W x 67.667 D
Rooms
| | |
| --- | --- |
| Above-ground bedrooms | 4 |
| Above-ground bathrooms | 4.5 |
| Master suite | Main |
| Lower-level bedrooms | 0 |
| Lower-level bathrooms | 0 |
Attributes
Stories
2
Parking
garage
Number of stalls
3
House height

Traditionally, the overall height of a house is determined by measuring from the top of the finished floor on the main level, to the highest peak of the roof.

23' 0"
Ceiling heights

Raising or lowering the height of the ceilings on one or more floors of a house is often a simple change that can be made by your builder. However, if you want to raise the ceiling of the main floor of a two-story home, there has to be room to add steps to the existing staircase.

Main level
10
Upper level
10
Vaulted ceilings

We consider a room to be vaulted if the ceiling - whether flat, angled, or curved - is above 10 feet at its highest point. If you prefer that one or more rooms not be vaulted in your new home, this is a very simple change that your builder can make for you.

KEY TO SYMBOLS:

LR = Living Room/Great Room
DR = Dining Room
FAM = Family Room
FOY = Foyer
STU = Study/Library/Den
KIT = Kitchen
SUN = Sunroom
MBR = Master Bedroom
MB = Master Bath
LOF = Loft
OFF = Office/Guest Room
REC = Recreation/Game Room
ALL = Entire Level

DR, FAM, FOY, STU, KIT, MBR, MB, BR2, REC
Printer Friendly Version
Main Level Floor Plans For Mediterranean Style Villa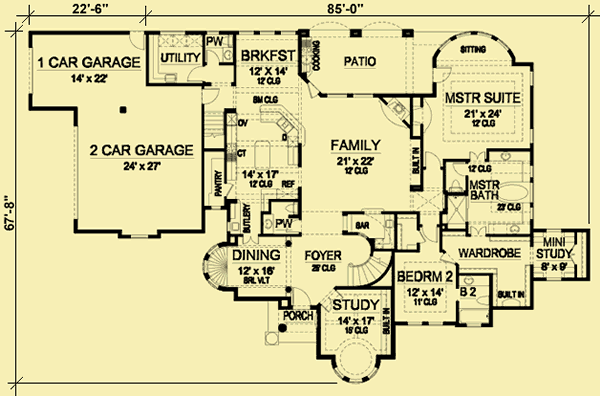 Upper Level Floor Plans For Mediterranean Style Villa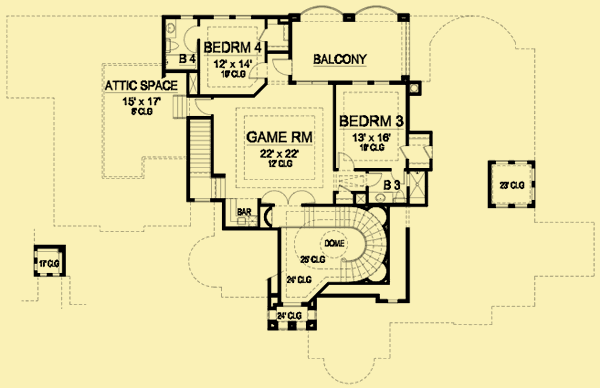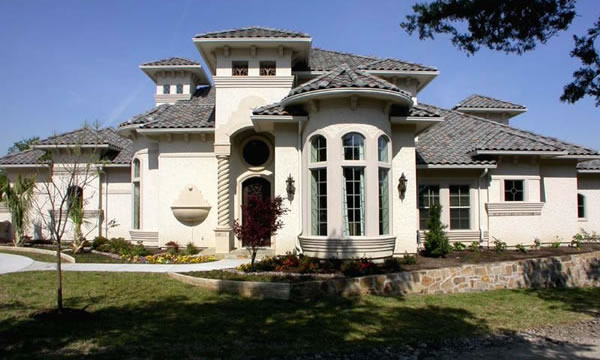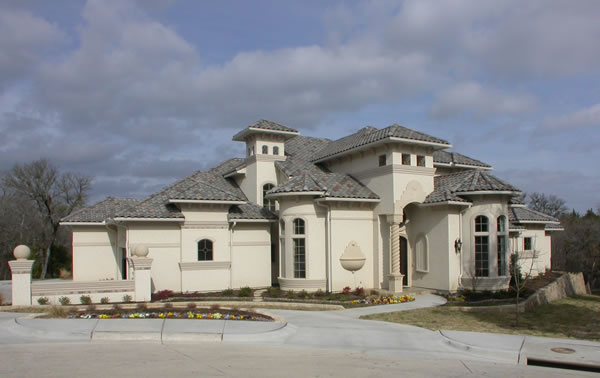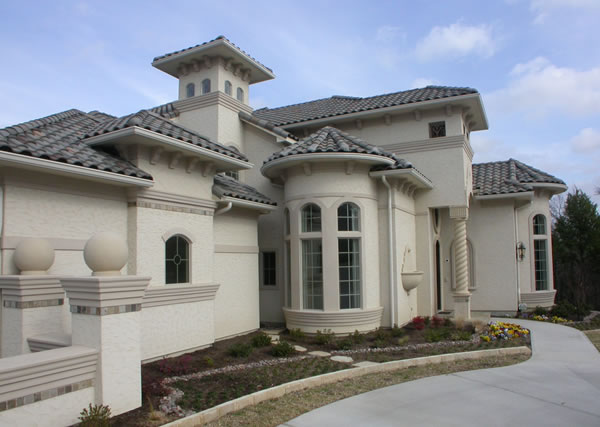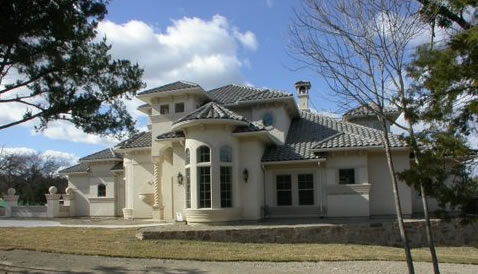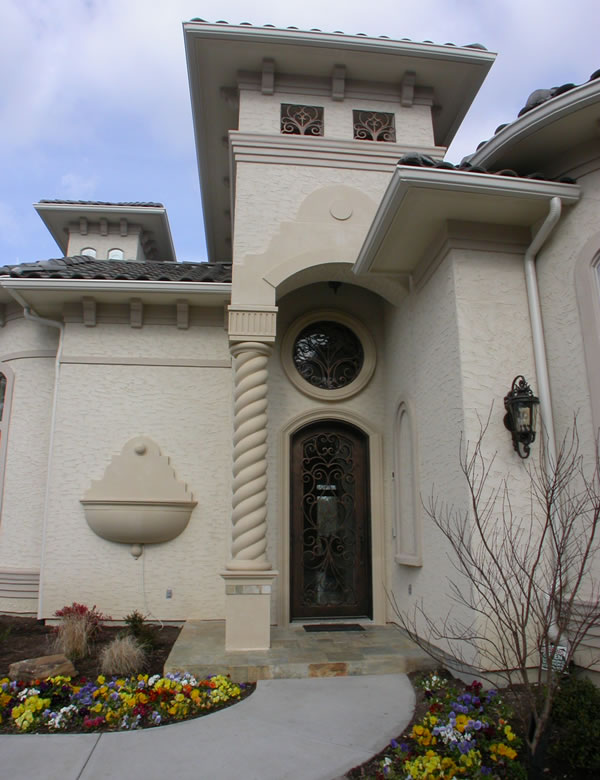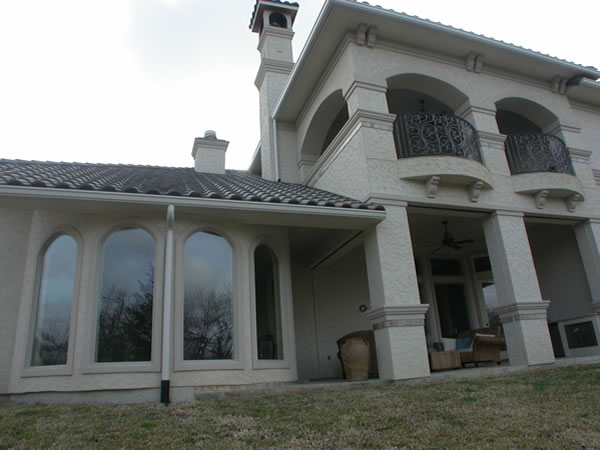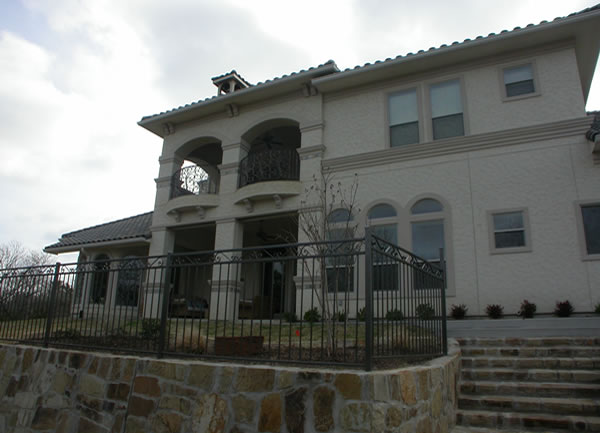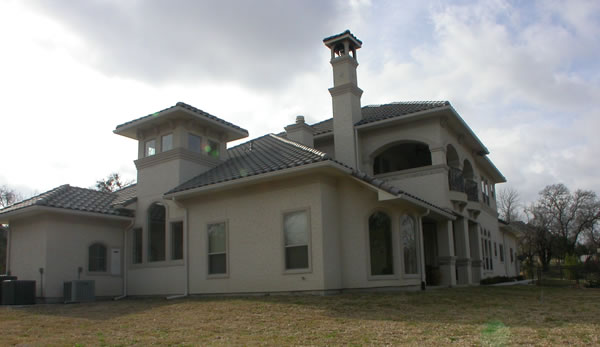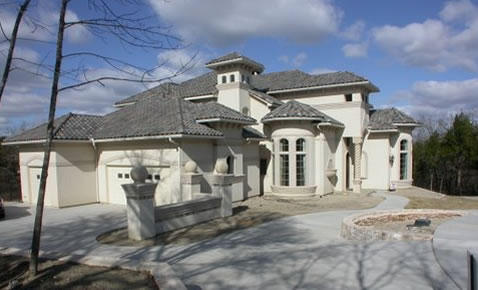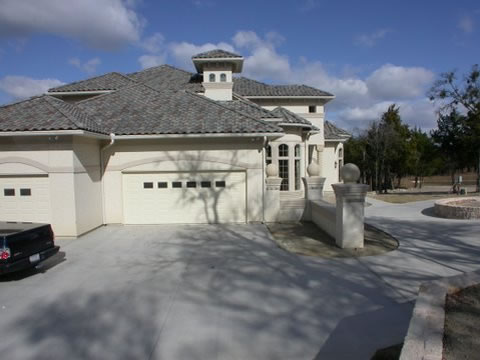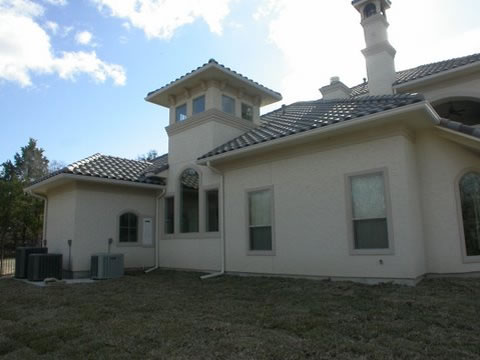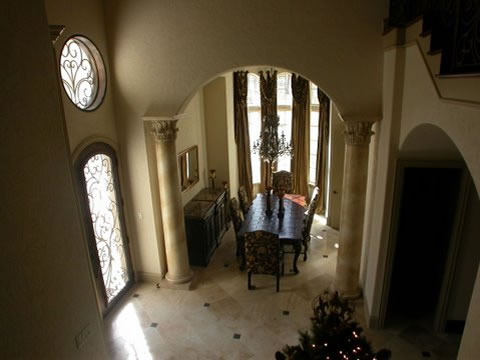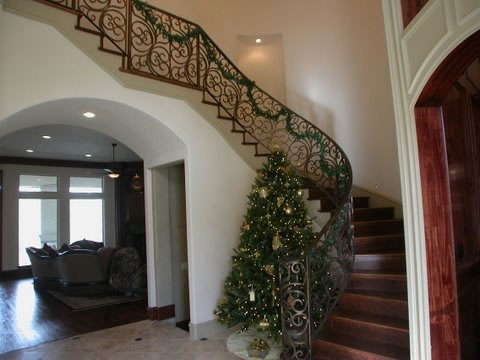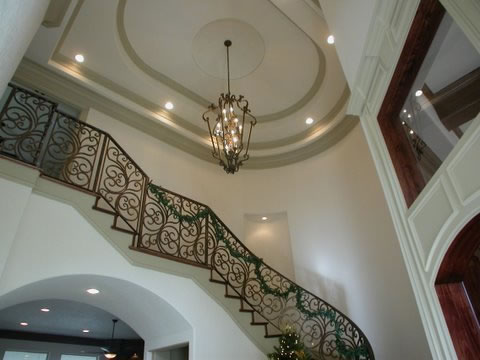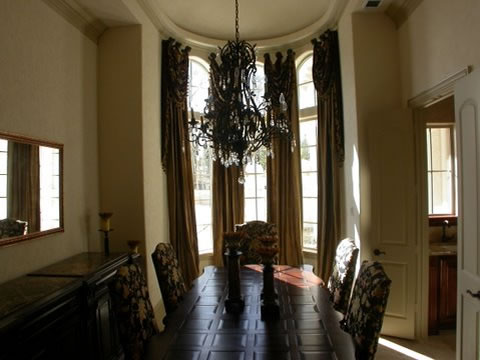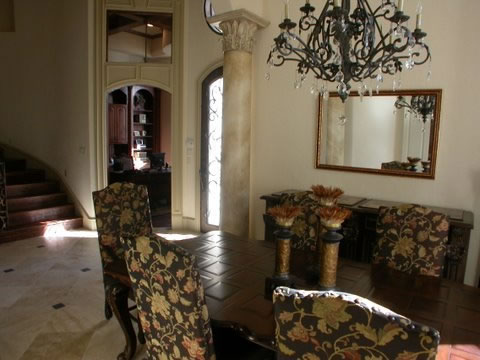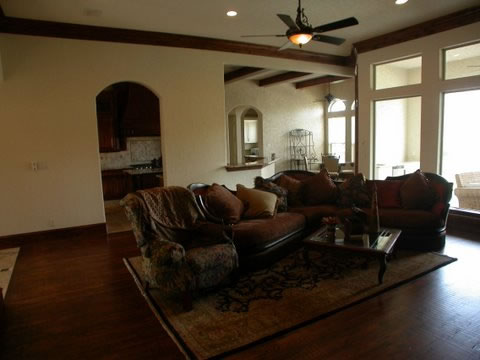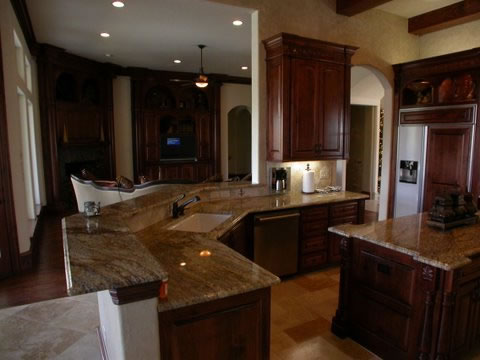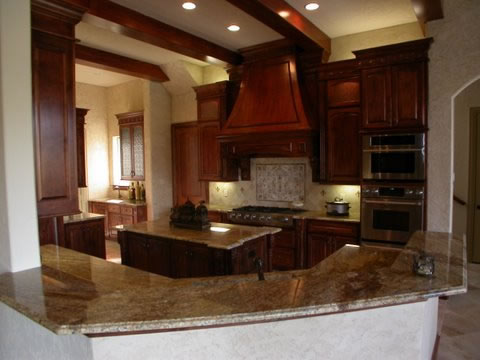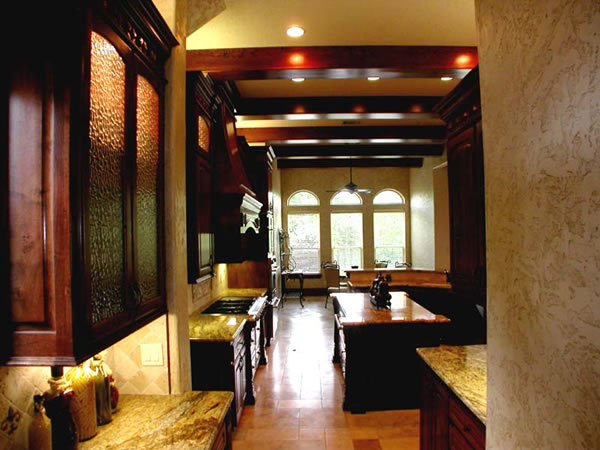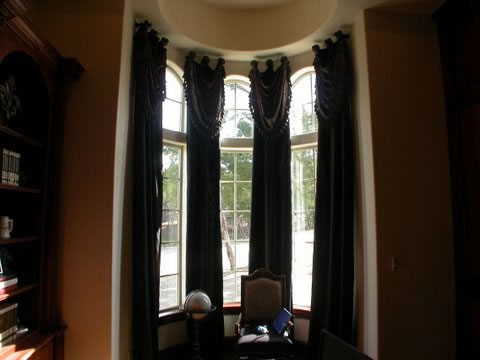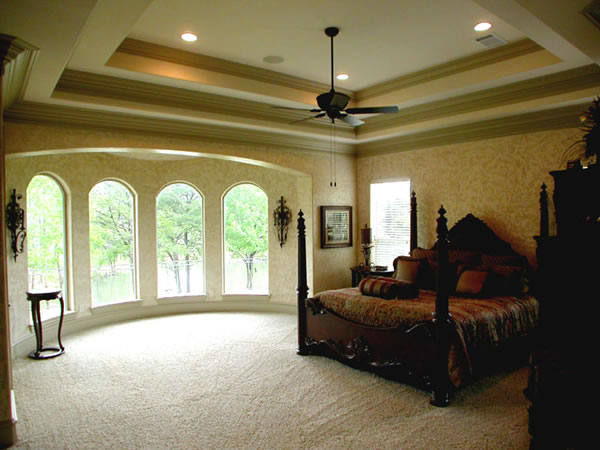 This stately Mediterranean–style home embodies luxury living at its very finest. The elegant facade – with its three round bumped–out areas with tall windows in the study, dining room, and master bedroom; 1"–thick concrete stucco with a skip trowel textured finish; and its numerous and diverse tile–clad roof sections – lets you know immediately that you're about to enter a truly unique and stunning home. This feeling is reinforced – and then amplified – as you enter and then walk through the house.
From the covered entry, you step into a large foyer space with a ceiling that soars to 25' with a dome in the center! Double doors just to your right open into a study that features a 15' ceiling, built–ins along one wall, and a half–round space with three floor to ceiling windows that projects out from the front of the house. Just beyond the study doors is a curving staircase that brings you to the upper level.
To the left off the foyer, a tall arched opening supported by 10'–tall, 16"–thick columns with Tuscan caps frames the formal dining room. There's a barrel vault ceiling in this room, and just like the study, a rounded space with a trio of windows projects from the house. Straight ahead from the front door you pass beneath another tall arched opening that brings you to the family room. On the way, you pass a powder room on your left, and an opening to a wet bar that faces the family room on your right.
The family room features a lofty 12' ceiling, a large fireplace in the corner, and built–ins along one wall. Tall pictures windows with transoms above them at the far end of the room look out to a covered patio space with a gas cooking area for outdoor dining. An arched opening provides access to the gourmet kitchen, which also has a 12' ceiling. This room features a center island, a large walk–in pantry, and a butler's area with a sink between it and the dining room.
At the far end of the kitchen there's an angled peninsula whose three sides face the family room, the rear patio, and a breakfast nook with a wall of windows facing to the rear. The inner portion has a pair of sinks, while the outer area is raised for serving or casual dining. An opening next to the nook leads to another powder room, a laundry room, a second stairway to the upper level, and the 3–car garage.
The right side of the house is devoted to the master suite and a second bedroom with a walk–in closet and a full bath. The master bedroom features a 12' tray ceiling, a large curved sitting area surrounded by windows, and a fireplace. A door near the sitting area accesses the covered patio at the rear of the house, and the opposite wall has two windows flanking the bed area. The area surrounding the tub in the master bath rises to an astonishing 23', while the tub itself sits beneath a trio of windows. The master bath also features two completely separated sinks, a private toilet, and an extra–large shower. Double doors open to a huge walk–in closet, off of which is placed a small study/office space with a closet and windows facing front and rear. At the top of the curved stairs to the upper level there's a huge game room with a 12' ceiling and a wet bar in the corner. Radiating off of the game room are bedrooms 3 and 4 (each with its own walk–in closet and full bath), a large attic space for storage, and an open balcony positioned above the rear patio on the main level.
Click here to watch a video tour of this gorgeous home and then click on Your 360–Degree Immersive Tour
Please Note
Due to licensing agreements, this home may not be built within a 50–mile radius of the zip code 75032 in Texas.
Printer Friendly Version
Front Elevation For Mediterranean Style Villa

Front Elevation For Mediterranean Style Villa

Rear Elevation For Mediterranean Style Villa

Side 1 Elevation For Mediterranean Style Villa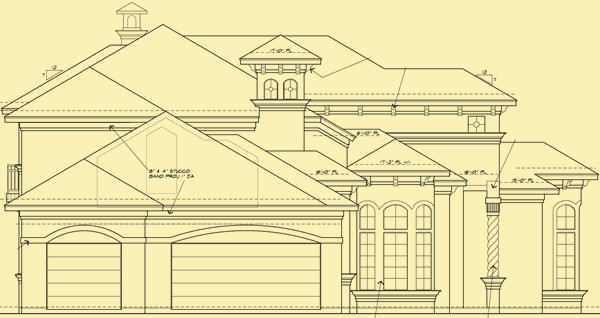 Side 2 Elevation For Mediterranean Style Villa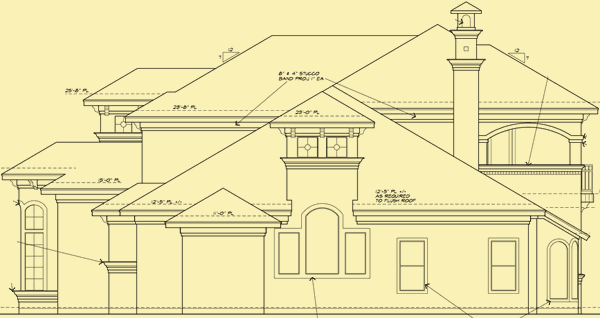 Brief Description
This magnificent luxury home was designed by the architect for his son, so it was clearly a special project. The exterior's shape, multiple rooflines, and fine detailing combine to create a house that is truly unique and utterly stunning! This attention to detail of course carries into the interior, which is best described as opulent. It's distinguished by soaring ceilings, classic columns, arched openings, and luxurious materials. If you're looking for a four–bedroom luxury home, you need to take a look at this Mediterranean–style masterpiece.